700 schoolgirls. 4 teachers: this is one fight club you want to know about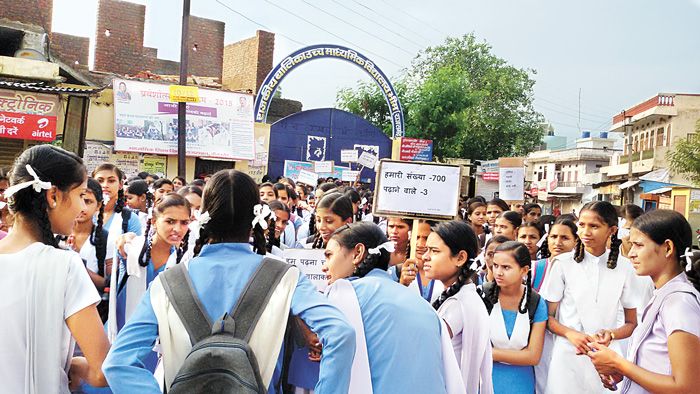 The girls stand up
1,200 girls from three villages in Rajasthan are protesting. Reason: their schools have no teachers
The protests began with 700 girls in Bhim village in Rajsamand district
Not one girl\'s school was included in the government\'s Adarsh Vidyalaya Yojana
Pathetic numbers
Headmasters: Total positions: 9,442. Vacancies: 3,535
Senior and junior teachers: Total positions: 82,467. Vacancies: 27,359
The context
Rajasthan has the fourth most skewed sex ratio among Indian states
It had 882 girls for 1,000 boys in 2010. This dipped to 874 by 2013
Rural girls from SC/ST communities face a triple marginalisation. But the government doesn\'t realise this
The protest
\'Shiksha ka sawaal\' - a question of education
Started by activists Aruna Roy and Nikhil Dey and their NGO MKSS
Their aim is to use the RTI, citizen action and media to make 85,000 schools comply with Right to Education Act
An exhilarating revolution is brewing in the villages of Rajasthan. A wave of school-girls is on the rise. They have had enough. They refuse to accept the status quo.
On 23 July, 1,200 school-girls from the villages of Bhim, Barar and Dewair in Rajsamand district, 240 kilometres from Jaipur, broke out of their school gates and took to the street. They had just one question to ask: why don't our schools have teachers?
It is a very stark question.
Across Rajasthan, government schools - especially for girls - have shocking statistics.
Take just the Government Girls Senior Secondary School in Bhim for example:
It has 700 students and only 4 teachers.
The school has not had a principal for the past 8 years.
It has had no political science teacher for the past 17 years.
No home science teacher for 13 years.
It has no math teacher, no Sanskrit teacher, no geography teacher.
It has no science lab, no computer lab, no library, no playground.
This is not a stand-out case.
Here's what the stats across the state look like: Out of 4,587 positions for principals 2,027 are lying vacant. 20,908 senior teacher positions in the state have not been filled; 6,451 junior teachers are missing.
This is not the first time the school girls of Bhim have gone on strike.
Last October, on Gandhi Jayanti, all 700 students in the school had taken to the street. "We spend Rs 20 every day and travel miles to come to school," the girls shouted. "And all we get are empty classrooms." They marched in a sea of blue up the dirt road of their little town. It was a stirring sight. (You can experience their passion and anger in the video below.)
The administration was shaken enough to respond. The teacher count in the school went from four to seven. Among them, miraculously, a math teacher was appointed.
However, the victory - such as it was - was short-lived. Two months later, the three temporary teachers were transferred out. The school was back to four.
To make matters worse, the government announced an 'adarsh school' scheme, which promised to make five schools in the district into model schools. Not a single girls school was included in the list.
The hard face of a dream
Eighteen-year-old Hemlatha Chauhan is in Class 11 this year. She has only one goal: to pass the Rajasthan state board exam next year.
Right now, all the odds are stacked against her. Hemlatha got married in February this year. "You're married now, what is the use of you trying to complete Class 12?" her in-laws had asked.
But Hemlatha insisted she would live with her parents until she completed school. She forced both families to agree. She braves two hours a day traveling 30 kilometres of bad roads and family disapproval from Jelwa village to make it to the Government Girl's Higher Secondary School in neighbouring Bhim.
To be faced with empty blackboards and hours of empty time, waiting for someone to teach.
Having a class is always a game of chance. After all there's only that much 4 teachers can go around for 700 students.
Hemlatha's story - and the hard face of her dream - repeats itself across the region.
A positive contagion
On 23 July, when the girls of Bhim went on strike a second time, the Government Girls Higher Secondary Schools from Barar and Dewair joined in.
The school in Dewair has just one teacher for 300 students -- ranging from standard one to ten. Take a moment for the enormity of that to sink in: one teacher for 300 students from classes 1 to 10.
The school also has no water connections in its toilet and no playground.
The story in Barar is equally dismal. On average, the percentage of those who pass tenth or twelfth grade in these schools is 44%.
The day the 1,200 girls came together, there was chaos at the protest site. The police tried to stop the students from striking. The girls were undeterred. They chanted fearlessly for more teachers, better infrastructure, drinking water, toilets, playgrounds and a management committee in each school.
Finally, the sub-divisional district magistrate and the block education officer had to relent. A set of 5 students from each of the three schools went to them as a delegation. They demanded the appointment of new teachers; they took the orders in writing.
The first strike had yielded important learnings: this time the demand was for permanent teachers, not temporary ones.
The school at Bhim was promised a geography, math, political science and English teacher.
If the promise is kept, Hemlatha may just have a chance of fulfilling her dream: to at least be one of the 44 of every 100 students who makes it through 12th grade.
The movement
The stirrings in Bhim and Barar and Dewair are poised to sweep through Rajasthan over the coming year.
They are the start of an important movement called 'Shiksha ka Sawal' - a question of education.
The goal is to use the RTI, citizen action and media to make 85,000 schools in the state comply with the norms set by the Right to Education Act.
Started by activists Aruna Roy and Nikhil Dey and their NGO MKSS, the campaign is a collaborative initiative between a 150 civil society organisations and the Patrika media group.
Over the last four months, nearly a 1,000 local volunteers and interns from colleges across the country have been conducting surveys of government schools and holding village level meetings. As a part of this exercise, local residents' committees have been formed who are being trained to file RTI applications in schools and monitor the functioning of village schools on a regular basis.
But the most exciting part of the campaign is the transformation of the girl students themselves.
The potency of this cannot be overstated.
The gap years
According to the 2011 Census data, female literacy in Rajasthan stands at 47.76% while the male literacy rate is 79.19%.
This poor showing in female literacy is closely tied with the practice of child marriage in the state.
Hemalatha is not an exception: 15.6% of Rajasthan's girls - aged between 10 to 18 - are married.
It is also closely tied with schooling opportunities. In just the block area of Bhim, there are 35 schools, but only three are for girls. Most parents are reluctant to let their daughters join co-ed schools.
Little wonder then that the girls of Bhim, Barar and Dewair are shouting: 'Ladkon ka school adarsh bana, hamara kyun nahin?' (If boys' schools can be turned into 'model schools', why not ours?)
"The government does acknowledge the marginalisation of girls in its rhetoric," says Nikhil Dey. "From the prime minister's 'Beti bachao beti padao' initiative to Vasundara Raje talking about the importance of education for girls. But to be a girl within an SC/ST community in a rural area is a whole other level of battling disempowerment," says Nikhil Dey.
The double-binds
On 23 July, when the students gheraoed the block education officer, Prithvi Singh Kachawa, he cited the historically low levels of education in Rajsamand district as one of the causes behind the missing teachers.
"Very few locals have attained higher educational degrees and taken up teaching as a profession. Teachers are, hence, posted here from outside who seek transfers after a while," he said apologetically, explaining the lack of a permanent solution.
'Boys' schools were made 'Model Schools' so why not ours?' ask the girls of Bhim village in Rajasthan
"We used to get temporary guest lecturers but the government did away with that system for want of a more permanent solution. But they haven't come up with an alternative either. The students struggle to pass exams without any tuition or help with studies," says Meena Mehta, who was appointed to be the acting principal at the Government Girls' Higher Secondary School in Bhim.
A careful response
"It's a complex problem. Until a whole generation has managed to educate itself and returns to teach in these areas, what we need are better incentives for teachers from outside to come here," says Poorvi Kulkarni from MKSS.
The Minister of State for Education Vasudev Devnani was too busy to respond on telephone. He was aware of the protests, he said, and sent a brief message on Whatsapp when Patrika asked him to respond to some of the students' requests:
"On infrastructure, the government is working with RMSA, SSA and CSR along with NREGA for fencing school boundaries. We are also working with energy department for connections. Toilets are already done for girls and boys. Many girl schools are part of the 'adarsh vidhyalays'."
So, is change happening?
"They are trying. Tomorrow three new teachers are joining. Let's see how long they stay," says Mehta.
(With inputs from Poorvi Kulkarni and Kshipra Mathur)