Rulers always protected Bihar's Sonpur fair. Modi's note ban has destroyed it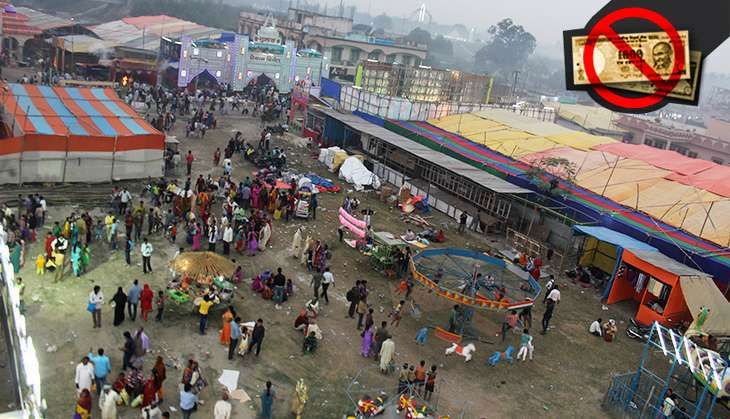 The historic Sonpur animal fair in Bihar began on 12 November. Every year, the month-long festival attracts buyers and sellers from many states. It is one of the most famous congregations for cattle trade since ancient times.
According to folklore, the tradition of the fair dates back to the Mauryan empire. It is said that people from as far as Central Asia came to attend the event in those times. It is through these traders that horses were introduced to the Indian civilisation. The horse market is still one of the main attractions of the Sonpur Mela.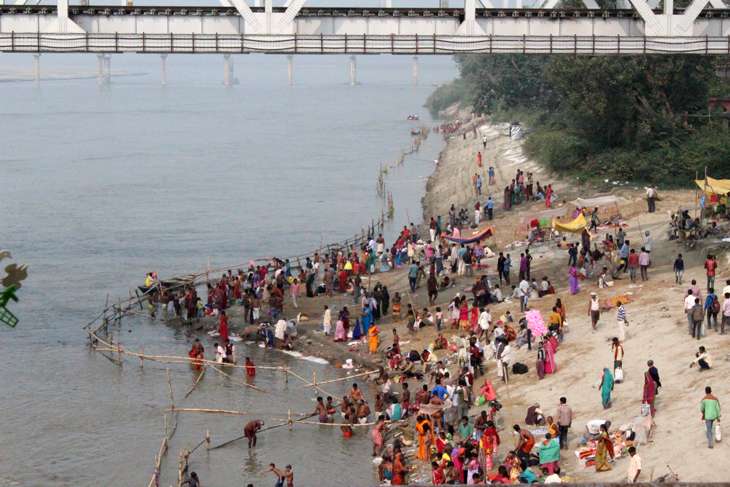 The mela began on 12 November but has hardly seen any crowds. (Photo: Achintya Tripathi)
However, as fate would have it, this time, the fair began days after the demonetisation drive was launched by Prime Minister Narendra Modi.
Like other places in the country, there are more people outside banks and ATMs than the venue of the fair. Both cattle and people are missing from the mela ground.
Traders' woes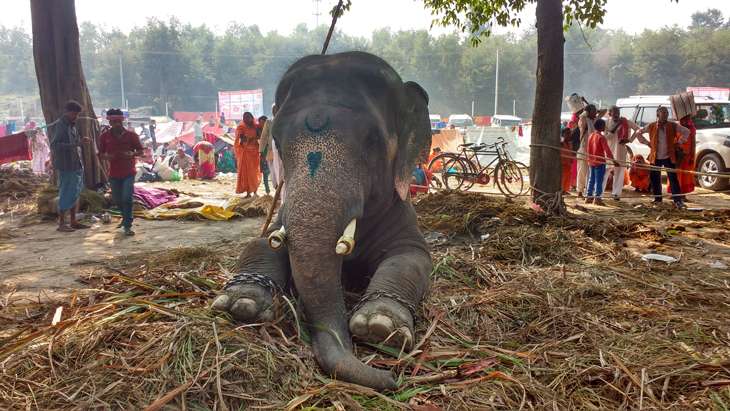 An elephant awaits buyers at the Sonpur animal fair. (Photo: Achintya Tripathi)
Catch spoke to traders who have come from various regions to attend the fair.
Arjun, a 15-year-old cow-breeder from Madhya Pradesh's Ujjain, could barely hide his agony. "We are spending our days standing outside banks, while evenings are spent bargaining with buyers," he complained. This schedule leaves little time for Arjun to enjoy the festivities.
Arjun's father Sohan Lal has even greater worries. He has no idea how he will feed his cattle, as not a single successful deal has come his way so far.
Sohan Lal has been attending the fair with his sons for the past 15 years. "I have never seen such a slump in the market. The note ban is the only reason for the sluggish trade. People are hardly left with any money," he said.
"Last year, we had managed to sell 20 calves during the first week itself. We were making preparations to return during the second week. But this time, not a single buyer has turned up. Those coming are offering notes of Rs 500 or Rs 1000, which are of little use."
He vented his anger on black money hoarders. "Those with black money have no difficulty. It is people like us who are suffering," he lamented.
Arjun said his father had come to Sonpur with Rs 20,000 cash. Now, he faces a challenge to exchange this amount.
Arjun and his brother spend their days outside banks, waiting for their turn to exchange notes. The other two brothers look after the cattle.
Jeet Rai, another cattle-trader from Chhapra, had a similar story to tell. "I used to sell 2-3 goats on average every day. It is difficult to find even a single buyer this year," he said.
Fairs like Sonpur work on cash transactions only. Therefore, they are worst hit by the demonetisation. The banking structure in this area is rickety, to say the least. There are only four banks in the area. But only one or two of them receive money every day. Since there is no fixed time for the cash to arrive, people have no option but to wait in queues. Many of them have to return empty-handed.
"How can anyone expect us to do business when all of our time is spent standing outside the banks?" Rai asked.
Demand for horses is higher than before
The Sonpur fair is special because animals of all varieties - from elephants to small birds - are sold here. Even bird sellers are feeling the heat of demonetisation. The sale of parrots and starlings has virtually come to a standstill.
Obviously, birds are a luxury few can afford when it is difficult to garner cash for daily survival.
Sonu, one of the traders, said: "Last year, the rate for every parrot was around Rs 300-400. It has come down to Rs 200-250 this year. Yet, it is difficult to find customers. Villagers are left with no money. Who will come to the fair?"
There are barely 50 shopkeepers in the bird market. According to the organisers, around 25-30 traders have cancelled their bookings.
Things are slightly better in the horse market. People are still coming in good numbers to buy horses. The reason for this exception to the trend can be found in the feudal social structure of Bihar.
Owning a horse is still considered a matter of prestige among the landowners of the state. The powerful mafia don Anant Singh is known to have a special liking for the equine. A flourishing horse barn is a symbol of social standing and influence in rural society. Therefore, the high and mighty of the state are keeping the horse market in Sonpur alive.
Around 40-50 horses have already been sold during the first week of the fair. In contrast, only 10-15 of them were bought in the opening days last year.
Nand Kumar, a horse trader from Siwan, is already packing his bags to return home. He has been lucky enough to sell all six horses he came with. When asked how much he earned this year, Nand Kumar only smiles. But, his fellow trader pegs the amount at Rs 10-12 lakh.
No razzmatazz
Local theatres are yet another attraction at the fair, known far and wide for their lewd dances. Hundreds of people used to throng these theatres every year. However, the note ban has hit their business badly.
"We are trying our best to save money this year. We are suffering a double calamity, as the liquor ban has also affected our business. The police is keeping a close eye on us. This is the reason people are shying away from the theatre," said Mantu, who works at the ticket window of the Vikas Gulab Theatre.
With changing times, the Sonpur fair has also emerged as a market for electronic items like TV, refrigerators, cellphones and washing machines. Various electronic companies offer discounts to attract customers to the mela. But, few home appliance companies have turned up for the fair this year.
It is said that local royal families came to the aid of the Sonpur fair whenever it was afflicted by economic woes. The emperor Chandra Gupta Maurya had once bought 500 horses from here.
Similarly, Mughal emperor Aurangzeb had come to buy rare white elephants from the fair to induct them into the royal army.
It is ironic that a decision madeby the modern-day ruler has ruined the fair this time around.
Edited by Shreyas Sharma
More in Catch
Farm to factories, brick kilns to cane crushers. Demonetisation pinches all
Demonetisation Q&A: govt answers in Parliament reveal startling facts
Note ban leaves foreign tourists stranded & cashless, Bengal tourism sees a 50% drop