Remove Mujib bust from Kolkata hostel says minority group. Finds no takers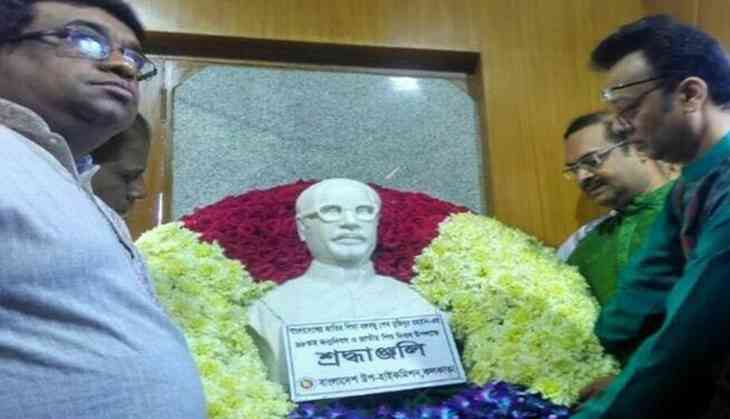 (Sulagna Sengupta/Catch News)
A controversy is brewing over a minority group's demand to remove a marble bust of Sheikh Mujibur Rahman from a Kolkata hostel.
The bust stands on the third floor of the 110-year-old Baker Hostel, which stands near the Maulana Azad College on Rafi Ahmed Kidwai Road. It is home to many students who study at this government-run college.
The All Bengal Minority Youth Federation (ABMYF) claims that the bust is un-Islamic, and ought to be replaced by a plaque commemorating Mujib, the founder of Bangladesh, who had resided at the hostel in 1945-46. The bust has been in place since 2011.
The ABMYF's demand has drawn criticism from Opposition parties, as well as students' bodies, who claim that it's trying to impose its wishes upon the college authorities.
Letters sent to bigwigs
The ABMYF has already urged the Bangladesh Deputy High Commissioner in Kolkata, Zokey Ahad, to look into a matter.
It also sent a letter in this regard to CM Mamata Banerjee on Wednesday, demanding the removal of the bust.
Mohammad Quamruzzaman, general secretary of the ABMYF, said: "We have requested the Bangladesh Deputy High Commissioner to get the bust removed, as we feel that it hurts the sentiments of Muslims."
Several interpretations of Islam do not allow the representation of human figures in pictorial or sculptural form.
"We have also sent a letter to the Minister of External Affairs Sushma Swaraj to look into the matter," he added.
Asked if the government had received a letter, state education minister Partha Chatterjee said: "We will look into the matter after we receive the letter from them."
The Kolkata Police has already received a copy of the letter from the organisation on Tuesday.
SFI's allegations
The Students Federation of India (SFI), the students' wing of CPI(M), has alleged that the state government is trying to turn West Bengal into a 'mini Bangladesh', which is why an organisation like the ABMYF is emboldened enough to ask for the removal of Mujib's bust.
SFI leader Sayandip Mitra said: "We are opposing the stand taken by the federation. It's a state of anarchy in West Bengal, with total collapse of law and order. The government is trying to turn the state into a mini Bangladesh."
CPI(M)leader Sujan Chakraborty agreed: "The statue had been placed in 2011. Why is this organisation suddenly demanding its removal? We are sure that the state government is supporting such organisations in raising such demands."
Opposition from students
The ABMYF's demand has split the student community as well. A section of students believe that some former students of Maulana Azad College are trying to disturb the peace.
Abdul Rahman, a first-year undergraduate student of English, said: "We do not support the federation's demand. Some former students are trying to disturb the peaceful atmosphere of the hostel."