Pull up your socks Maharaja: Air India is being a laggard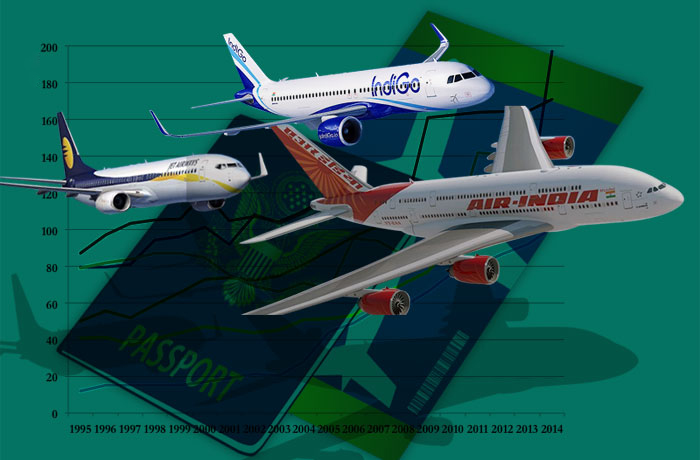 At a time when airlines are flying gloomy across the world, India seems to be standing out. According to a civil aviation ministry report released earlier this week, the country's domestic airlines flew more passengers last year.
The flipside: Air India was still not managed as well as the private carriers. At a time when the the ninth-largest aviation market is growing the fastest in the world, the public sector carrier has to show more spunk to match up to the rest. Take a look:
passengers were affected by delays.
Cancellations were the next bugbear, affecting 19,277 passengers; 2,077 had to suffer denial of boarding.

A total 127,195 passengers were paid Rs 2 crore in compensation.

58% of them were scheduled on AI flights; the airline had to pay Rs 1.5 crore in compensation.
Also read: Air India plans to remove 130 flight attendants because they are too 'fat' to work
of Air India flights were 'on time' in December, according to data from Bangalore, Delhi, Mumbai and Hyderabad airports.
Of seven airlines analysed, AI was worse on timeliness.

At Mumbai airport, only 51.5% AI flights were on time.

The biggest reason for delays in India's domestic airlines was 'reactionary' - caused by previous late departures or arrivals.
- the number of complaints received by Air India (domestic) for every 10,000 passengers it flew last month.
- That's exceptionally high compared with the average of 1.4 complaints. Go Air was a distant second to AI with 1.5 complaints.

- The airline received a total 552 complaints - mostly related to 'baggage'; 377 of those were addressed. Others had no complaints unaddressed.

- A total 1,091 complaints were registered in December 2015. That's 35 on an average day.

- AI has maintained its record of the most number of passenger complaints and scores poorly in redressal.

- Sudhakar Reddy founded the Air Passengers Association of India after became a victim of an AI operational delay. "It's the worst-run airline, if you ask me," he told the Wall Street Journal in 2014.
was the number of domestic airline passengers in India in 2015.
That's a jump from 67 million in 2014.

No wonder, the market grew 20.34%.

However, the Indian market still trailed the 104 million domestic passengers reported in China, the second-largest domestic airline market.
Also read: Air India becomes 'preferred carrier' of Indian cricket team for a year
was Spice Jet's Passenger Load Factor (PLF) - an indicator of how full the planes were - as of December.
That was the highest in domestic aviation; Indigo has a PLF of 88.5% and Air Costa 87.1%.

Among the 11 domestic airlines, only Air Asia had a slight fall in PLF.

Spice Jet's has been a turn-around story: Its fleet got grounded in December 2014 as were several staff member and fuel suppliers refused to refill.

With a change of guard, the company returned to black and its share price moved north.
- was the cancellation rate for Air Pegasus in December - the highest.
- Another new, low-cost airline Air Costa followed with 14.59%.

- Spice Jet had the least (0.34%) cancellations; the all-India rate was 2.49%.

- 'Weather' seemed to be the primary reason for flight cancellations.
Clearly, with the exception of some new, low-cost carriers, most of our airlines are doing well. And Air India has no option but to up its game. Depite a 16.4% share of the domestic market last year, the company led in accumulated losses, unprofitable routes and meaningless acquisition.
Estimates suggest that India is slated to becomes the third-biggest airline market by 2020. That will attract more foreign investment and employment. Given that, its high time that the public carrier starts taking customer satisfaction seriously to improve financial health.
More in Catch:
Health hazard: In many states, obesity has doubled in the last 10 years
244 mn people, 48% women: breaking down the largest migration since WWII
India sees 1.4 lakh road accident deaths every year. Time for action
The US spends $615,482 an hour to fight ISIS: terror in shock figures