Know thy enemy: Hafiz Saeed talks about himself and his exploits
Catch Team
| Updated on: 14 February 2017, 5:55 IST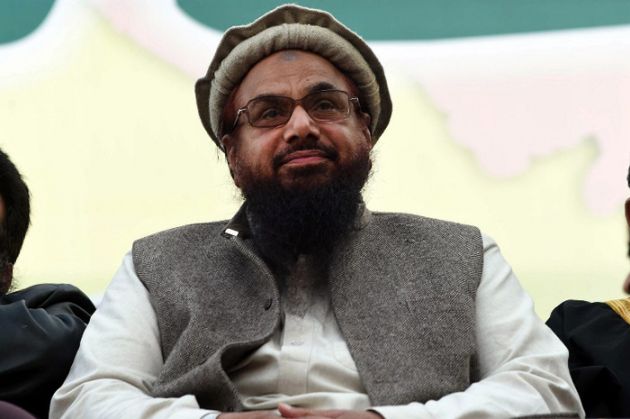 Hafiz Sayeed has long been India's bugbear. He's seen as the chief architect of much of the terrorist violence the country has suffered over the past decade or so, most notoriously the 2008 strikes in Mumbai. And although New Delhi has supplied evidence against him, Islamabad has been frustratingly reluctant to bring him to book.
In his own country though, he's a more ambivalent figure - reviled by some as a symbol of the terrorist menace plaguing their nation, but supported by a vast population, not least because of the social work his Jamat-ud-Dawa has been doing.
Also read - 'A growing number of Pakistanis are against Hafiz Saeed now'
In a wide-ranging interview with the Pakistani magazine Urdu Digest, Saeed talks about what shaped his life and outlook, terrorism, Taliban, the Kashmir dispute, and, of course, Pakistan's relationship with India. Excerpts:
On his early life
My family migrated to Pakistan from Haryana in India. We lived at Ropad near Ambala and were among the landlords there. But we were better known for propagating the religion. My maternal grandfather ran a madrasa.
Our family supported the Muslim League. My uncle Hafiz Abdullah, who had studied at Aligarh Muslim University, was quite close to Quaid-i-Azam (Ali Mohammad Jinnah). Quad-i-Azam had sent him to Sindh as the leader of a Muslim League group tasked with mobilising public support for the demand for Pakistan.
Hindus were his sworn enemies. One, because he was close to Quad-i-Azam; two, because we used to sacrifice cow on Eid. Hindus and Sikhs were against this. In 1944, a communal riot broke out over the issue, and all our extended family participated in it. The riot only deepened the animosity between the two communities.
During the Partition, my father Kamal-ud-Din as well as my maternal uncle Hafiz Abdullah, were killed. My family had decided that all the Muslims of the area would gather at one place and proceed in a caravan towards Pakistan. It was an 80,000-strong caravan. Hafiz Abdullah was its leader.
Hindus killed 32 of my family members during the Partition, including all the children: Hafiz Saeed
The caravan was attacked along the way and many people were martyred. Thirty-two members of my family lost their lives, including all the children. The attacks were so ruthless the mothers flung their infants into the Satluj river because they didn't want them to be put to the sword.
The caravan somehow reached the Walten camp in Lahore. The camp was later shifted to the one-room tenements built near Faletti's hotel. We went to Jaranwala, where I was born in 1948. I was the first child in my entire family; all other children had been killed during the migration. My father later moved our family to Salanwali near Sargodha.
On association with Saudi Arabia
I spent two years in Saudi Arabia for my higher education. The Saudi Grand Mufti Sheikh Abdul Aziz was very kind to me. He led the biggest mosque in Riyadh as its Khateeb. He would start giving lessons after morning prayers and continue till 10 in the night. I loved to attend his lessons. It added to my knowledge of the religion, and it allowed me to observe and understand how his organisation operated. It was a massive network, and thousands of youth studied there. They were sent to other countries for the propagation of Islam. The students were taught many languages. It inspired me to create a similar network in Pakistan.
Sheikh Sahib had a soft spot for me. He wanted me to propagate Islam in some western country, but I preferred my own country. I returned in 1984. Sheikh Sahib's headquarters was called Markaz Dawat-ul-Irshad. It was on the same lines that I set up Jamat-ud-Dawa in Pakistan.
Also read - Pathankot attack: Hafiz Saeed warns of escalation. Will Modi government react?
On his time in Afghanistan
I went to Afghanistan in 1987. There, I got a chance to interact with the Mujahideen who had come from all parts of the world. I heard horrifying stories of atrocities being committed by Russian soldiers. I also observed it myself. Then I started formally helping Afghanis in their jihad - with funds, my pen and even with our lives. I and Amir Hamza would together preach jihad and urge Afghanis to take on the Russians.
On Kashmir
When the Russians left Afghanistan after their defeat, the Mujahideen fell apart, which was agonising for us. But our minds were set on jihad, and Kashmir became our next focus. We wanted the (Pakistan) government to announce jihad so that we could jointly work to liberate Kashmir. We didn't want to work separately since that leads to differences and infighting. Until 2001, this was the policy of the government. But Pervez Musharraf changed this and imposed restrictions on us. Lashkar-e-Tayyiba was banned but we accepted it.
We packed off the entire organisation of the Lashkar to Kashmir, and continued our work in Pakistan under the flag of Jamat-ud-Dawa. The Lashkar now operates in Indian Occupied Kashmir and is led by Abdul Wahid, who is of Kashmiri ethnicity.
'They created my fake twitter account and wrote about JNU. My denial embarrassed their home minister'
Jamat-ud-Dawa is involved in relief and religious activities. But that does not mean we are not doing anything for jihad. We are doing whatever we can. We support Kashmiris and would always help them. This is the reason why India has unleashed a poisonous propaganda against us.
Pakistan has to support the ongoing freedom struggle in Kashmir. It must focus its energies on the implementation of the UN resolutions on Kashmir. Let the friendship with India go to hell.
Those who talk about strengthening Pakistan before seeking a resolution of the dispute Kashmir need to know that by the time we become strong, India will be far stronger. So let's not delude ourselves. I have faith in Allah. We just have to remain steadfast and the Kashmir issue will be resolved.
On Pathankot attack
The attack has been owned by Kashmiri groups. I will go by what they are saying and by the official position of the Pakistan government. What Syed Salahuddin said should be acceptable to us, too.
On JNU crackdown
It was said that the JNU protests were triggered by my tweet. They first created my fake twitter account and then posted a message on it. I quickly denied it through a video programme. My message embarrassed the Indian home minister as the entire Indian media mocked his statement.
On Pakistani Taliban
When the Afghan jihad ended, the Mujahideen fell apart. But many among them who were genuine "jihadis" went to Kashmir. Others started jihad in Bosnia; some went to Chechnya, Sudan and Indonesia. But there were many who didn't go anywhere. These people didn't return to their countries as they feared their governments would kill them. They were from Libya, Egypt, Iraq and Algiers. They are Takfiri - they believe in excommunicating or declaring as infidel Muslim individuals and groups, thereby making it legitimate to kill them.
Over time, the Takfiri established base in North and South Waziristan. They married into the local community and adopted the local culture. Then, they became part of the organised conspiracies against Pakistan's government. At their back are America and its NATO allies who use them against Pakistan.
Pakistani Taliban and ISIS aren't doing jihad. And we're in the field fighting ISIS: Hafiz Saeed
Now, India is also investing in them. This has boosted Takfiri thought in Pakistan. I say it with authority that none of them is a Mujahid. They were first with Tehreek-i-Taliban and now they are in the vanguard of the Islamic State. Both the TTP and the Islamic State are Takfiri. They don't do jihad; they don't fight rancorous unbelievers, instead they kill Muslims.
I am aware that the TTP considers Maulana Samiul Haq as their mentor. I know Maulana Samiul Haq; I have been his companion. It was he who had given the name Taliban to the Islamic movement that overran Afghanistan. Mullah Omar was his student.
Now, there are two kinds of Taliban - the Afghan Taliban and the TTP. The TTP is taking advantage of the good reputation of the Afghan Taliban, but it is actually an enemy of the Afghan Taliban, and of Pakistan as well. I know for a fact that Mullah Omar was not happy with them.
It is said that the TTP had sworn an oath of allegiance to Mullah Omar. But the Takfiri thrive in deception. If they swear an oath of allegiance to a person one day, they will kill him the next. Maulana Samiul Haq is sympathetic to the Taliban but he has no relationship with these Takfiris.
See, Takfiris won't fight in Kashmir against India nor in Palestine against Israel.
Anti-Muslim forces want the Islamic State to become a representative organisation of all Muslims. That is why they are getting all the media attention. But we are in the field fighting against the ISIS.
More in Catch - Lashkar-e-Taiba, JuD, FIF and the Hafiz Saeed connection
JNU row: Twitter asks Rajnath Singh if he got his Hafiz Saeed information from a 'fake' account
Crackdown on terrorism? Pak admits Hafiz Saeed's outfit is Lashkar wing, bans media coverage