No water: tribals in a Chhattisgarh village take their kitchen to the river
MD Soni
| Updated on: 10 February 2017, 1:50 IST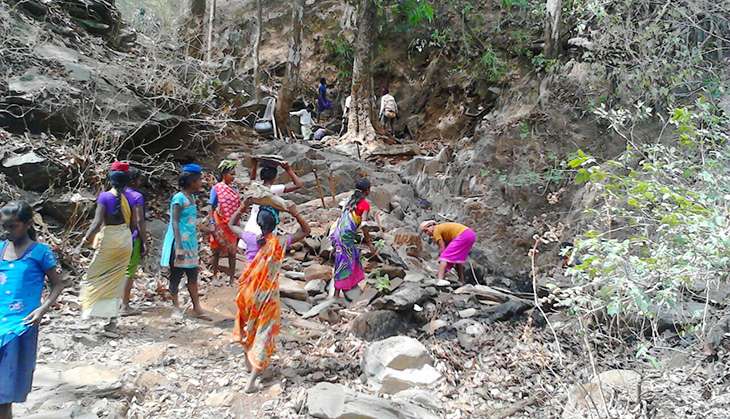 People walking for kilometres to fetch water is not an uncommon sight in many parts of rural India.
However, there's a village in Chhattisgarh's Kawardha region where residents bring their kitchen to the river every day to cook their meals.
While most of the villages of Pandaria division are dependent on small watering holes called Jhiriyas for water supply, the tribals of Basulalut village do not have this luxury.
Situated in the thick of the hilly forest, the village has only one hand pump which dries up during every summer. This leaves the inhabitants with only one option - going to the Agar river, situated five kilometres from Basulalut.
Also read - Drought-hit farmers on the brink: Chhattisgarh govt bungles relief distribution
But as the river lies downhill, and the terrain is not exactly smooth, it is not possible for the villagers to go there frequently for water.
Therefore, every morning these villagers take their kitchen utensils and ration to the river bed and cook food on its banks.
"It is the daily routine of every family in the village to carry rations and utensils to the river in the morning. We bathe and cook meals at the riverside. We take along our dinner us. This enables us to store water only for drinking in our homes," says Nainsing Baiga, a resident of Basulalut.
Patrika
Patrika
Even the river dries up during the peak summer and the people have to dig small holes on its bank to get some water. Although, the water is muddy, but it is still better than not having any food at all.
The residents of Basulalut have been cooking their food near the river every summer for the past 15 years.
Earlier, it was difficult to reach the river with belongings as the track was treacherous. Now, an NGO called Goonj has helped the villagers to build a trail. The small watering holes near the river have also been covered with stones to ensure that water is not polluted.
There are around 70 families in two settlements of Basulalut villages. One of the settlements is of Baiga tribals while the other is housed by Gond Adivasis. They have designated specific spots near the river for cooking to avoid any dispute.
Patrika
Patrika
More in Catch - Disaster map: how the spreading drought has ravaged India