#NFHS4 says India still has a nutrition problem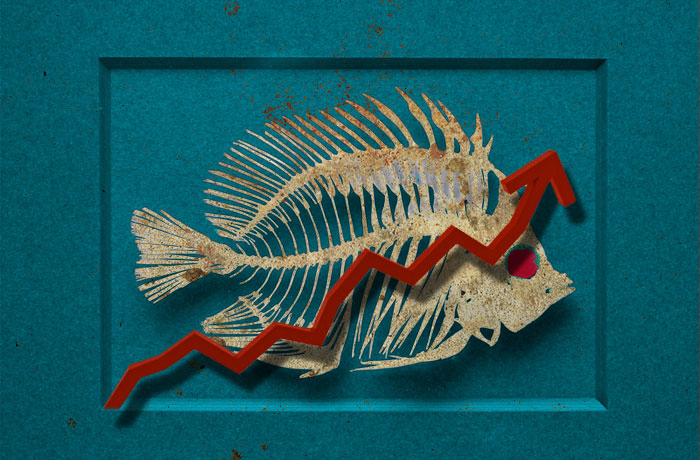 Health of the nation
The fourth National Family Health Survey on 13 states came out recently
The average Indian is healthier now than a decade ago
But serious problems persist
The dark corners
Many mothers still don\'t follow healthy breastfeeding process
Millions of children are still stunted
Nourishment is an issue despite better food security
More in the story
What needs to be done to tackle stunting?
Activists share there experience
News reports on the latest National Family Health Survey of 13 states released last week suggest that Indians enjoy better health today than they did last decade. Our children, too, are significantly healthier.
Last year itself, International Food Policy Research Institute's global hunger index announced that the percentage of underweight children (up to the age of five) fell to 30.7% from 43.5% in India between 2005 and 2014. The country's hunger situation is now at 'serious' from the earlier 'alarming'.
Also read - Health hazard: In many states, obesity has doubled in the last 10 years
The NFHS 4 data further substantiates that: be it a clear trend of decreasing infant and maternal mortality - thanks to more institutional deliveries of newborns - or a reduced number of underweight and severely malnourished children, the improvement in nutrition and child survival is evident.
So does India still have a nutrition challenge? What should we focus our energies on?
Efforts well their worth
Flashback 2008: Insect-limbed, pot-bellied, frizzy-haired children from India's villages made headlines. The global hunger index placed India 66 out of 88 countries - similar to impoverished African nations - pointing at alarming levels of hunger.
Madhya Pradesh was then the Hunger Capital of India. The state's tribal population infamously bore the most acutely malnourished children.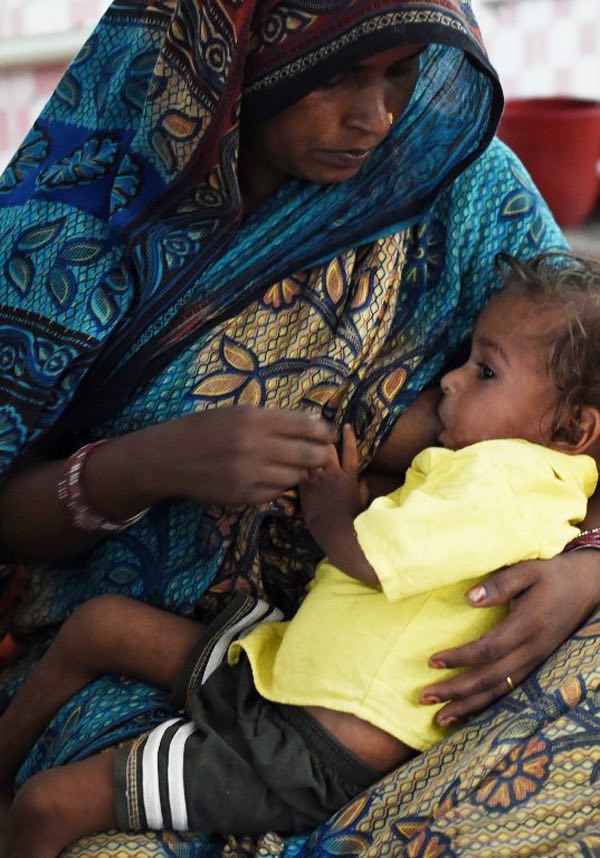 In 2005, when the last NFHS data was released, 60% of its children were underweight and 35% percent were wasted (a weight for height ratio). Today, MP is bettered placed with 42.8% underweight children and 25% wasted.
The situation has also improved in other states coping with varying degrees of malnutrition:
* Haryana: 29.4% (from 39.6% earlier)
* Bihar: 43.9% (from 55.9%)
* West Bengal: 31.5% (38.7%)
States with good indicators have also bettered themselves:
* Sikkim: 14.2% (19.7%)
* Tamil Nadu: 23.8% (29.8%)
"We have come a long way," said Dipa Sinha of Delhi-based Right to Food Campaign. According to her, the civil society should get credit for pursuing state governments to at least acknowledge the problem. "The last decade has seen a definite shift to acceptance from denial," she said.
Maneka Gandhi said budget cut hit fight against malnutrition. This time we should get it right
This acceptance led governments to wake up and implement measures such as:
* invigorating the Integrated Child Development Scheme, by opening more anganwadis
* launching the mid-day meal scheme in 2004
* improving the quality of food served
* opening more primary healthcare centres
* starting the Accredited Social Health Activist (ASHA) program as part of the National Rural Health Mission in 2005, a sort of barefoot doctor program to ensure each child gets basic immunisation and preventive healthcare at doorstep.
"It also goes to show how much effort needs to be put in for every percentage of an improvement," Sinha said, pointing out that the improvement took 10 years of active campaigning and launching various schemes. "We must realise how much more collective effort the issue needs."
Seema Prakash, a food rights activist, said the situation of rural areas were more desperate than urban ones.
Also read - Half of slum children in India's national capital are underweight: study
"In Khandwa district, we used to have only 200 anganwadis in 2008. Today, after much policy push from civil society, we have crossed 300 anganwadis. Still, rural MP falls short in progress made on nutrition compared with urban areas. There is lots of work to do," said Prakash, the founder Spandan Samaj Sewa Samiti, which works among the Korku tribe of MP's Khandwa district.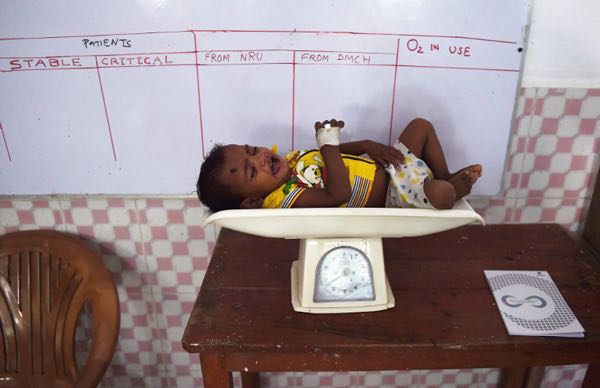 Even now, 43.6 percent of children are stunted (a weight-to-height measure) in rural MP, compared with 37.5 in the state's urban areas.
The divide is clear in Bihar too - rural: 49.4% vs urban: 39.8%.
We need more breastfeeding, less Cerelac
One of the reasons to push for institutional birth is not just so that the mother has a safe delivery, but also so that proper breast feeding practices are inculcated early on.
For instance, breastfeeding the child within an hour of the birth, commonly referred to as the 'golden rule', is crucial in giving the child colostrum - the first shot of natural immunisation and antibodies required to resist early infection.
The practice can reduce infant mortality by 22%, the World Health Organisation has said.
According too a recent Lancet report, an exclusively breastfed baby is 14 times more likely to survive the first year of birth, compared with those not breastfed at all.
'For more food security, push families to grow indigenous crops and kitchen gardens'
All the states on which NFHS 4 data is available have shown remarkable improvements in institutional births, helping to reduce infant and maternal mortality.
Thanks to advocacy by ASHA workers and more district-level hospitals, the increase in public awareness is evident.
* Tamil Nadu nothched up 99% institutional births.
* Bihar increased the rate phenomenally to 63.8% from 19.9%
* Madhya Pradesh recorded a jump to 80.8% from 26.2%
Food rights activists, however, pointed out a worrying trend: despite the phenomenal increase in institutional births, most states still fare poorly in adopting healthy breastfeeding practices.
* In MP, only 34.5% mothers breastfeed within an hour of birth
* In Bihar 34.9%
* In West Bengal 47.5%
* In Tamil Nadu 54.7%
Needed: convergence of several factors: food, jobs, health, nutrition, water and sanitation
The numbers are also low for mothers who exclusively breastfeed for the first six months.
"This shows that more than half the women who deliver in a hospital are not taught to breastfeed in the first hour. Also, most don't continue the practice properly. We must investigate why we haven't been successful in bringing about this crucial behavioural shift," Sachin Jain, a Bhopal-based social activist and a food analyst, said.
Stunting: The silent emergency
The emergency that India is staring at is stunting. We have made little progress on the issue. Consider the percentage of children stunted in the following states:
* MP: 42%
* Bihar: 48.3%
* Haryana: 34%
* West Bengal: 32.5%
Stunting is a measure of height for weight and is perhaps least commonly understood term.
"The problem with stunting is that it is not visible right away," Jain said. "Parents usually ignore it, thinking their child is just short."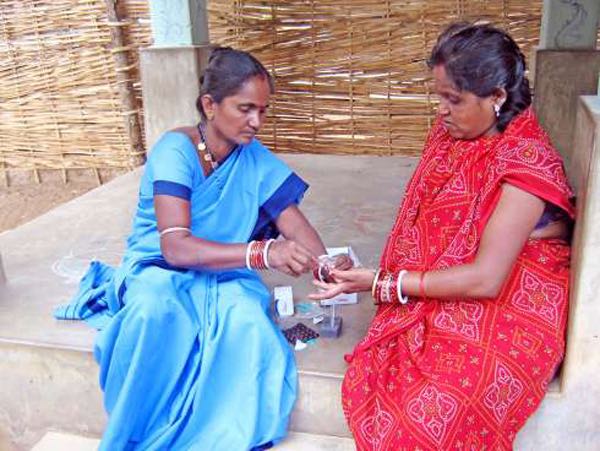 Stunting has immense implications if not checked in the first five years of life. When ignored, it affects the brain and impedes learning, she said.
"One can really tie this to the high drop-out rate in Indian schools - most are simply unable to cope." she pointed out.
Stunting is complicated: it is an inter-generational phenomenon that occurs because the parents themselves are poorly nourished.
More than half the women who deliver in hospital are not taught to breastfeed in the first hour
"Stunting can be genetic if both parents have seen inter-generational poverty. But it can also happen in one lifetime, if the mother has not had a balanced diet while being pregnant," said Dr. Amitava Chowdhury, a public health specialist based in Kolkata.
Take the instance of MP again:
The count of anemic women with a below-normal body-mass index (BMI) reduced from 41.7% to 28.3%. Men with low BMI are now 28.4%, down from 41.6%.
But pregnant women who are anemic (aged 15-49) reduced to only 54.6% from 57.9% in the last 10 years.
In West Bengal the count of all anemic women in the same age group bettered only by a percentage point from 63.2 to 62.5 in a decade.
"The way to understand malnutrition is to look at immediate causes which focusses on food intake. But then there are also structural causes, an example of which is stunting," Jain said.
"To correct it requires the convergence of several factors: food, employment, health, nutrition, water and sanitation, not just for the child but for the parents too."
'The improvement took 10 years of active campaigning and launching various schemes'
So, to tackle stunting, the approach towards malnutrition needs to be more holistic. Can our rural health, water and sanitation, women and child development and food and agriculture departments come together without passing the buck?
We also need to prepare to keep up our social sector expenditure and not be complacent.
"We need to factor in dal and oils into the National Food Security Act. There are families in rural India who haven't eaten Dal in years. When will we recognise that our nutrition intake needs to be more diversified?" Jain asked.
Children meet a third of their food needs at the Anganwadis, but the remaining two-third has to be met at homes. Several rural Indian homes still don't provide the minimum level of calorie intake required for a child.
"An important solution to develop more food security is to push for families to grow indigenous crops and kitchen gardens, which are far more nutritious and sustainable," Prakash said.
Indians enjoy better health today than a decade ago; our children are significantly healthier too
Last year's budget ate heavily into social sector expenditure and made way for infrastructure spending that would supposedly boost the economy.
In October, Women and Child Development Minister Maneka Gandhi explicitly said the 2015 February budget cut, which saw her ministry's budget slashed by half hit her plans to strengthen the fight against malnutrition.
The next year's budget will be announced in about a month. It's time we set our priorities right.
More in Catch -
Take India's hunger test. See how much you know
Lancet concerned with healthcare in India. Did we expect anything else with such budget cuts?
Ramdev and centre to collaborate in finding a cure for malnutrition