Mid-term review: MEA bats for continuing engagement with Pakistan
Catch Team
| Updated on: 4 January 2017, 22:51 IST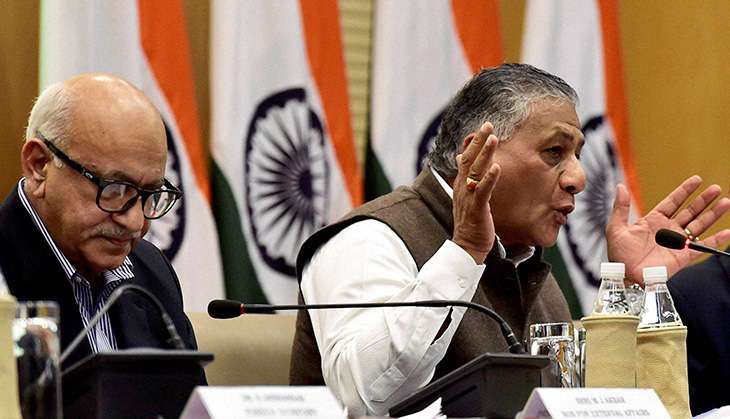 After a year of hostilities, India has reiterated that engagement with Pakistan needs to continue.
Invoking former Prime Minister Atal Bihari Vajpayee, MJ Akbar, Minister of State for External Affairs, Wednesday said that while one cannot change one's neighbours, "we have to deal with them eyes open, and not deal with them with closed minds".
Akbar was speaking to the media on his ministry's mid-term review. "Let there be peace and there will be a dialogue," he said, reminding Islamabad that terror and talks cannot go together.
Also Read: Don't be fooled by his Balochistan rhetoric, Modi's Pakistan policy is rash
His colleague VK Singh was even more stern, saying India would not accept "continuance of terrorism as the new normal". "The aim of the surgical strike was to convey to Pakistan that we will not accept continuance of terrorism as the new normal. Our own good faith has been amply demonstrated time and again through repeated initiatives to normalise the relationship," he said. "However, as we have often stated, talks and terror cannot go together."
External Affairs Minister Sushma Swaraj, who is recovering from a surgery, did not attend the mid-term review press meet.
After taking over in May 2014, the NDA government of Narendra Modi unexpectedly began an aggressive outreach to the neighbouring countries, including Pakistan. Modi even undertook an unplanned visit to Lahore to wish Nawaz Sharif on his birthday, before a series of terror attacks, India's surgical strikes and the resultant tension along the border derailed the renewed engagement.
Besides engaging with Pakistan, Modi went the extra mile to strengthen relations with the US, a country which did had refused him a visa until he was declared the BJP's prime ministerial candidate in 2013. However, with Donald Trump's election as the US president, there is apprehension that he could reset the terms of the engagement.
Akbar dismissed such fears. "We are clear that the future of the India-US relations is brighter than in the immediate past," he said, explaining there have been high-level engagements with the incoming Trump administration, not least visits by NSA Ajit Doval and Foreign Secretary S Jaishankar.
India's growing proximity to the US has come at the cost of strategic realignments in its own neighbourhood, with China moving closer to Pakistan by making its biggest overseas investment in the China Pakistan Economic Corridor, something that India has been opposing.
China is also blocking India's bid for permanent membership to the Nuclear Supplier's Group even as it continues to block Masood Azhar, Pakistan-based chief of the Jaish-e-Mohammad, being designated as a terrorist by the United Nations Security Council.
"China has its own problem of terrorism. China recognises it. China addresses it in bilateral agreements. We hope and are sure that China can be persuaded to see the depth and evil of the menace," Akbar said, adding that India will continue to point out this "absurdity".
Also Read: Modi's Pakistan policy is unclear and confusing
VK Singh mentioned how India continued to engage with member countries, including China, over its NSG bid. India's bid for the NSG has been criticised within some quarters of the diplomatic establishment who argue that it is not required since India already enjoys the status of a special invitee.
A top MEA official, however, disagrees. "We have ambitions for unhindered entry to that group. What is wrong in that? We don't want to be in a situation where we always need a ticket to enter," the official said.
Singh explained the need to see the relationship with China "as a whole". "Our engagement with China is driven by our national interest. Certainly, there are areas of divergence with China but that happens in any matured relationship," he said, pointing to the progress made by Chinese Industrial Parks in Pune and Vadodara.
China and Pakistan were recently joined by Russia in discussions on the future of Afghanistan, much to India's anguish. The move again puts Pakistan in the driving seat when it comes to Afghanistan.
Russians, who are wary of the growing threat of the Islamic State in Afghanistan, have lately been pushing for engaging with the Taliban, something that both Islamabad and Beijing have been trying for some time, but little success.
Akbar downplayed this development. A top diplomat claimed that such talks "do not mean much". "Mere meeting of three-four countries does not make a difference," the minister said at the press meet, adding that India stands for an Afghan-led, Afghan-owned and Afghan-controlled peace process.
"Surely, you do not believe that because of the very our strong bilateral relationship Russia can not engage or consult with other nations. Of course, it can. We are absolutely confident in saying that we do not believe that Russia will do anything that is injurious to our security interest and injurious to our national interest," he said.
Also Read: Buddha in a diplomatic jam: Nepal-China take on India over Buddhist heritage