Meet: minister's wife failed for cheating, train thief who stole to party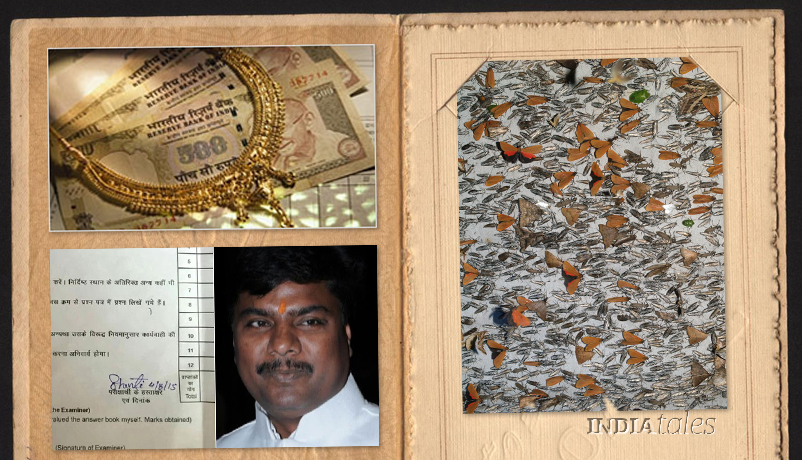 01
Power play: insects give sleepless nights to Hockey League organisers
Organisers of the World Hockey League have run into an unusual problem: insects.
The tournament gets underway at the Sardar Vallabhbhai Patel Stadium on 27 November, and the Chhattisgarh Hockey Federation can't figure out how to keep the swarms of moths and other insects away from the floodlights, newly installed at a cost of Rs 8 crore.
Also read - Bride won't stay in house without toilet, doctor tries to remove live foetus
Most international hockey stadiums are located in residential areas where insects aren't much of a problem, but the Sardar Vallabhbhai Patel Stadium has been built in open space in Raipur.
"The insects are not likely to affect play much but they may be an irritant to the spectators," said Chhattisgarh Sports Minister Bhaiya Lal Rajwade.
[twittable]Insects aren't likely to affect play much but they may be an irritant to spectators: sports minister[/twittable]
The state hockey federation had appealed to Hockey India for assistance, but to no avail. Now, it has sought the help of international experts to resolve the problem.
"We are facing this problem for the first time. But matches won't be postponed due to this," said Firoz Ansari, Secretary, Chhattisgarh Hockey Federation.
The world's top eight teams are participating in the tournament spanning 10 days. The matches will be telecast live in over 120 countries.
02
Grade down: scorecard of education minister's 'cheater' wife goes viral
Shanti Kashyap has failed her final postgraduate exam in English. And her report card has gone viral on social media.
But why?
One, because she is the wife of Chhattisgarh Education Minister Kedar Kashyap. Two, the result column says "UFM". That is shorthand for using "Unfair Means" or, simply, cheating.
In August, during the exams, a dummy candidate was caught appearing for Shanti in Lohandiguda.
Also read - Sham exam: system was abused to benefit Chhattisgarh minister's wife
Shanti scorecard also shows her absent in Study of Fiction, Going Through Shakespeare and Literary Theory papers.
Pandit Sunderlal Sharma Open University, Jagdalpur, said it hasn't yet issued Shanti's marksheet, but didn't deny that it was genuine.
"The marksheet will be issued only after it is signed by the Pro VC. The result of Shanti Kashyap has been withheld as the matter is before the Unfair Means Committee," said KK Verma, the university's Controller of Exams.
"The panel will take a final call on this case in a few days. The marksheet that has been leaked to the social media is unsigned."
When the dummy candidate was caught, it created a political storm in the state with opposition parties demanding Kedar Kashyap's resignation. The minister, on his part, claimed ignorance of the entire matter.
The police had registered a complaint against an unknown woman after a committee set up by the university to probe the incident filed its report. They are yet to interrogate Shanti Kashyap in the case.
03
Life in the fast lane: train thief mortgaged loot to throw lavish parties
For years, a thief from Gwalior stole jewellery from train passengers. But not to sell and make a quick buck.
Instead, he would mortgage the gold to take bank loans and spend it on parties.
His luck ran out last week. The railway police arrested Ashwini Shrivastava, along with his associate, and Sonu Pal from the city's posh Windsor Hill.
[twittable]Gwalior thief stole jewellery from trains, but not to sell. He mortgaged it to get bank loans[/twittable]
They confiscated jewellery worth over Rs 7 lakh from Ashwini's bank account. The police also found 45 trolley bags, 10 backpacks and handbags, and Rs 60,000 in cash in Ashwini's flat.
According to SP Avdhesh Goswami, Ashwini was also in possession of train passes of former Madhya Pradesh legislator Rajendra Bharti which he stole about a year ago. He also had a batch of TTE and passenger passes for second class coaches.
The police claim Ashwini has admitted to over 50 thefts on various trains.
Goswami said preliminary "investigations have revealed that Ashwini used loot to throw lavish parties for friends". "The police have recovered several bottles of imported liquor from his rented flat at Windsor Hill."
READ MORE - Cold, hard cash: boy killed for Rs 105, family gets Rs 35 rent after 52 years
Why e-commerce is a boon for Kashi's pundit, bane for Mumbai's Dabbawala