Meet Basant Rath, the maverick poet-cop who has won the hearts of Kashmiris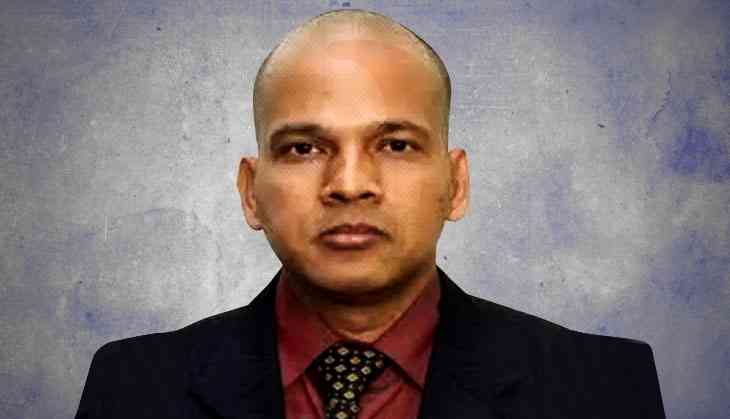 On Jammu's roads, one often comes across a slender policeman with a tonsured head walking around in civvies, either incognito or followed by uniformed security guards. He talks informally to passersby, smiles at children but his eyes are firmly on the lookout for violators of traffic rules. And if he sees anything wrong, he promptly springs into action, taking the violators to task. One such offender who faced his wrath was his friend and the fellow IG JP Singh's son Angad Singh.
Meet Basant Rath, a 2000 batch IPS officer and the new Inspector General of Police, Traffic, J&K.
Ever since he took over his new assignment, Rath has not only remarkably improved the traffic scene in Jammu, J&K's winter capital, but also made himself an endearing but controversial figure who is admired and slammed in equal measure. He has become a real life version of Singham. But for some he is nothing but a showboat.
His eccentrically efficient traffic management has made him a darling of the masses but his unconventional approach towards the job hasn't gone down well with his seniors including the Director General of Police SP Vaid, who recently ticked him off for his "illegal, unbecoming conduct", including the habit of going out without uniform.
"A number of videos, posts and pictures are being circulated on social media, in which you are seen moving in civvies on the roads, doing strange activities unwarranted of a police officer," the DGPs letter to Rath read. "Other videos uploaded by some commuters allege manhandling, use of abusive language and damage to their property like cell phones, helmets, spectacles and vehicles".
But this hasn't made much of a difference to Rath's style of working or his antics. On social media, many viral videos show him going about his job with a demonstrative zeal. He can be seen drinking water from a public tap, giving chocolates to children, holding 'durbar' with ordinary people on the roadside and joking about his "hairless" head and pleading with them not to make him "noseless" too by persisting with traffic violations.
He is no less of a star on social media as well. His daily posts have become a talk of the town: he writes about his mission to improve traffic in "ninety days", says he is Shoaib Akhtar "not Venkatesh Prasad", as far as the pace of his work goes. He also updates people about his plans, dismisses critical media reports saying "my name is Basant, I do what I do" and even takes on his seniors for their criticism.
"My dear senior, who thinks I am all gas on Facebook and Twitter and no guts. Please ask your PSOs to drive their bikes without wearing helmet. I will ruin their day. And yours. I don't think I love you," he wrote on Twitter.
It is posts like these, his actions on the ground and the redeeming difference he has made to the traffic in Jammu, that has built Rath's brand, not only in Jammu but also in Kashmir Valley where people want him back badly.
"We really need more and more Basant Raths in Kashmir," one Sameer Lone posted on Facebook.
But Rath's feat is not so much the improvement in traffic as the rehabilitation of the image of a cop in the eyes of the people, and much more astoundingly so in Kashmir than in Jammu – albeit the motivation to like him are different in the two places.
In Jammu, Rath has won hearts for making a conspicuous difference to the traffic management and for connecting with the ordinary people unlike the elitist distance maintained by IPS officers or the officers from the state service KPS. Besides, he is perceived to have applied law equally to everybody, including the policemen themselves as the action against the son of the fellow IG, his senior in the department, underlined. What is more, he even challaned a police vehicle which was moving without a number plate.
But in the Kashmir Valley, the growing admiration for him is an exceptionally unusual development. Originally from Odisha, Rath could be the first cop, the Valley may have ever taken a fancy towards. Though constituted mostly of locals, the police force hasn't really been very popular in the Valley, owing to the role they play whenever violent protests erupt, which is quite often, and whenever the encounters break out with the militants, who enjoy substantial public support.
Making it further difficult for the police personnel is that their job enjoys little social respectability as many see them as being at war against their own people. Admiration for them is therefore a taboo. But not so for Rath. Kashmiris have openly supported him on social media and express their desire to have him in their region.
True, Rath's being in the traffic department has helped as it involves staying away from the murder and mayhem of the counter-insurgency, but this hardly detracts from the credibility and the trust he has managed to earn by dint of his inclusive messaging and the outreach to the people of both regions.
Rath's Twitter account is "@Kangri-carrier". Kangri in Kashmiri means firepot which is used by Kashmiris under a long cloak in winter for warmth. He frequently ends his posts with Inshallah, an Arabic word which means 'God willing'. And yes, Rath is also a poet whose poetry reflects the deep pain of Kashmir and Kashmiris. For instance, he refers to the the Line of Control for him is a "Caesarian baby born six grenade decades ago".
Rath's poetry is a nostalgic journey through Kashmir, which he calls his "second home". One of his poems expresses a desire for Kashmir to accept him as one of its own.
"Own me, Srinagar.'
I pray every evening.
Do I own her?
She must be guessing."
His wish seems to have finally been granted. He has become the only J&K cop whom Jammuites admire and Kashmiris support. He has managed to find a small welcoming space for himself in the public mind, beyond the binary of the supporters of Azadi and those combating them. What is more, local journalists can write favourably about him without worrying about adverse feedback.