Letter to PMO claims Varun Gandhi honey-trapped into divulging defence secrets
Catch Team
| Updated on: 11 February 2017, 5:45 IST
Varun Gandhi, who once was on the Parliamentary consultative committee on defence, was honey-trapped and forced to divulge serious national security related matters to arms dealer Abhishek Verma, a former business partner of Verma has claimed in a letter written to the Prime Minister of India.
In two letters written to the PM, the Defence Minister and the National Security Advisor, Edmunds Allen claims that Verma possessed pictures of Gandhi with various foreign escorts and prostitutes, which he used to blackmail to extract information of national security importance out of Gandhi.
In his letter to the PMO on 16 September, Allen is also reported to have given a Compact Disc containing dozens of photographs to back his claim.
The letters were revealed by Swaraj Abhiyan leaders Yogendra Yadav and Prashant Bhushan in a press conference on Thursday.
In response, Varun Gandhi called the allegations made by Swaraj Abhiyan leaders and by Allen as 'insane claims', and said he would drag its leaders to court for defamation.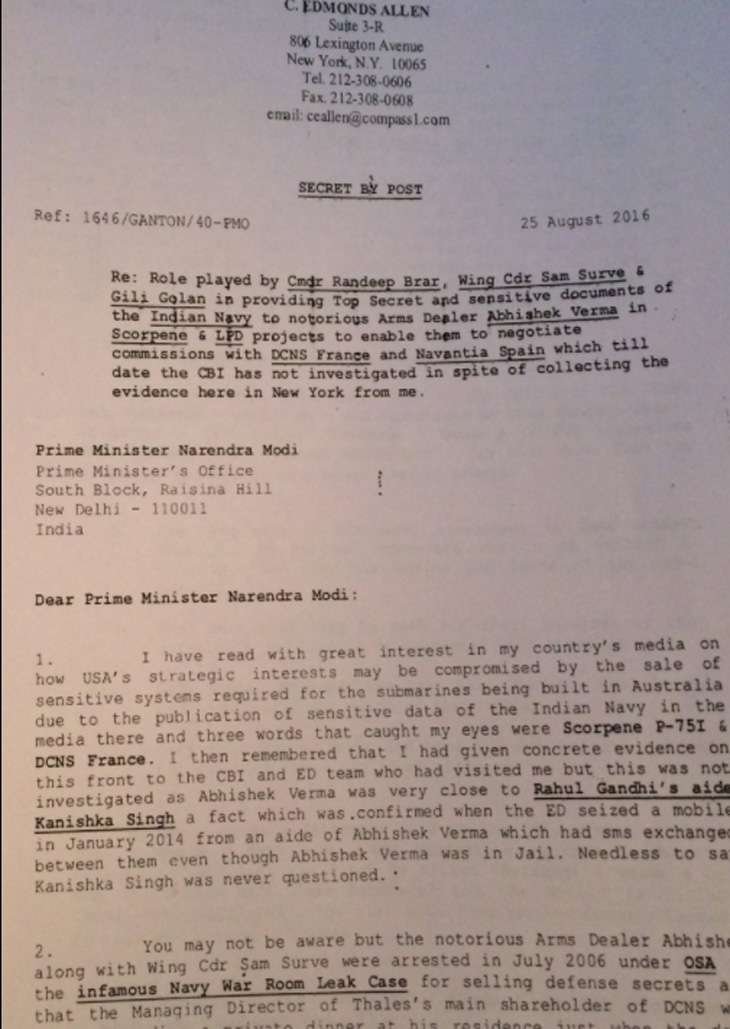 Edmunds Allen's letter to the PMO about Varun Gandhi being honey-trapped.
Allen's letter and evidence
Allen, in his letters, had hinted that it was Verma, through Gandhi, who was behind the infamous 2005 Naval war room leak, and the subsequent leaks relating to technical specifications of Scorpene submarines, which are being inducted into the Indian Navy.
Allen, in his letter states that crucial Indian defence secrets were sold to foreign defence entities, but the Indian probe agencies, which were investigating Navy war room leaks, did not pursue the matter, despite the information provided by Allen to the agencies.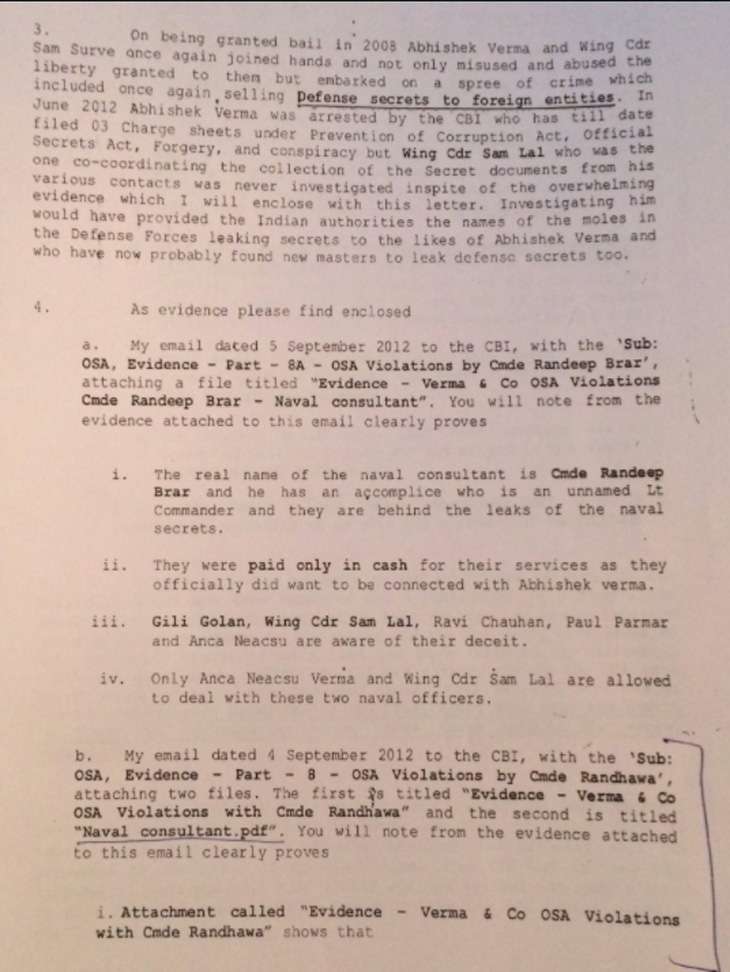 Edmunds Allen's letter to the PMO about Varun Gandhi being honey-trapped.
He claimed that the role of a person considered considered to be very close to a senior Congress leader was not probed by the Enforcement Directorate (ED) or the Central Bureau of Information (CBI).
Allen named an officer of the Indian Air Force, who, he said, "was the one coordinating the collection of the secret documents from his various contacts, was never investigated, in spite of the overwhelming evidence which I will enclose with this letter. Investigating him would have provided the Indian authorities the names of the moles in the defence forces leaking secrets to the likes of Abhishek Verma, and who have now probably found new masters to leak defence secrets to".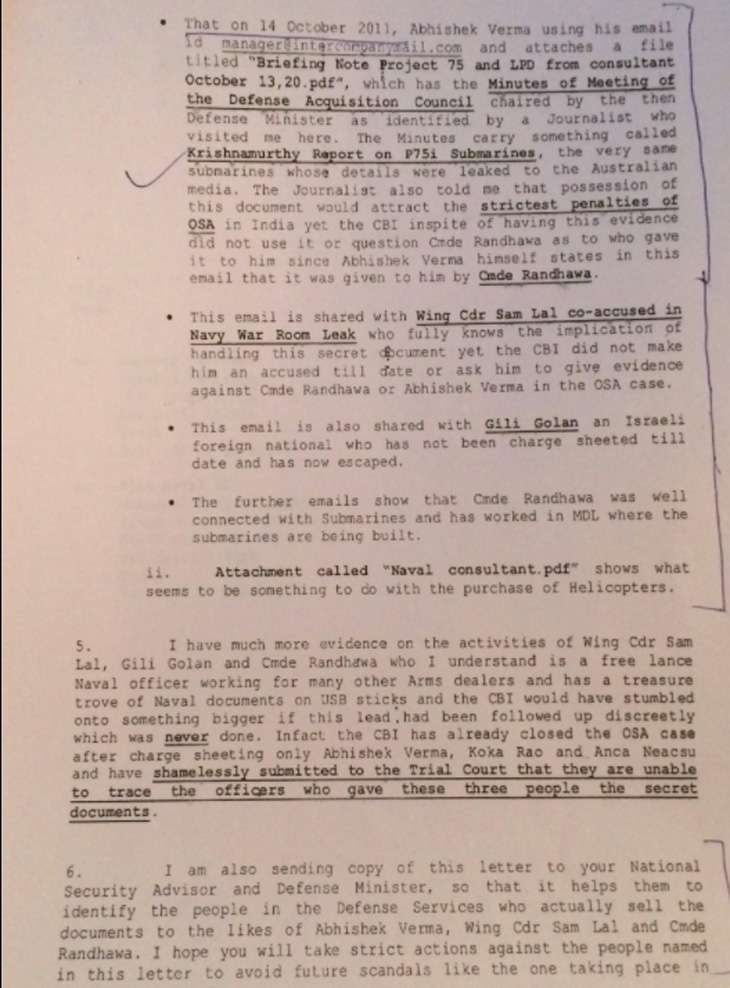 Edmunds Allen's letter to the PMO about Varun Gandhi being honey-trapped.
Allen provided the example of an email sent from Verma's email account, giving details of a top secret Defence Acquisition Council meeting chaired by the Defence Minister, to take a call on a report on the Indian submarine program. The same data, he says, was later leaked to an Australian news agency.
The data leak, which gave vital details of the submarines being developed by a French firm - DCNS - happened in the last week of August this year, had seriously embarrassed the Indian Navy.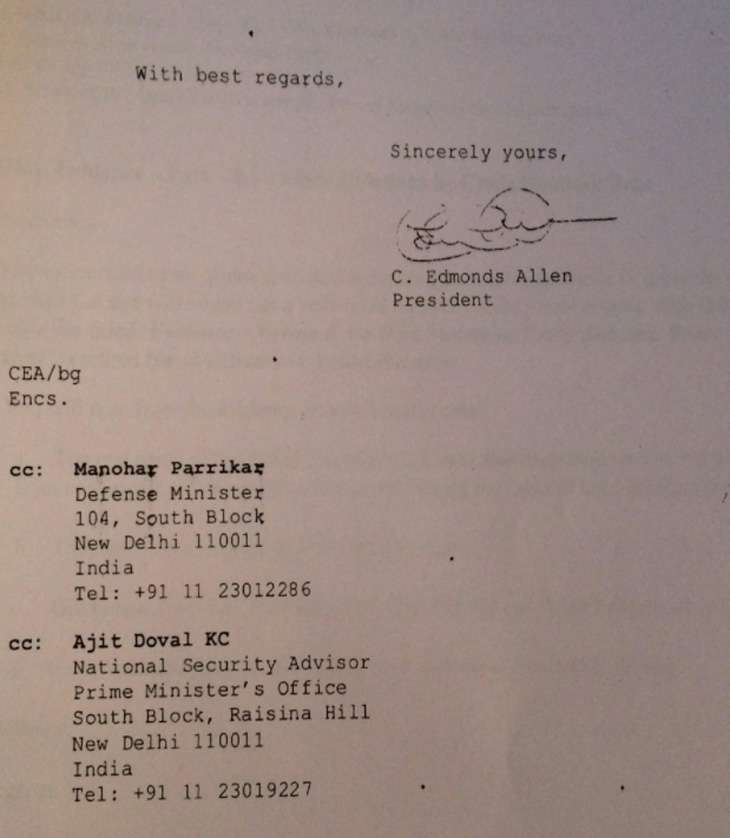 Edmunds Allen's letter to the PMO about Varun Gandhi being honey-trapped.
Many experts had claimed that the leak of operational details of Scorpene submarines had effectively compromised their security and made them 'sitting ducks'.
The US-based Allen was an agent for Verma, and had shared several documents with Indian investigating agencies about wrongdoings by his estranged business partner. In 2012, which led to cases under several sections, including the Official Secrets Act (OSA), being levelled against him.
Edited by Shreyas Sharma
More in Catch
Why $3.5 billion Scorpene deal leak can harm India's naval capabilities
The lowdown on Project 75: India's scorpene submarines, four years behind schedule
Fall from grace: why is the BJP brass angry with Varun Gandhi?