JLF 2017: Shashi Tharoor takes a subtle dig at Modi government's love for Gandhi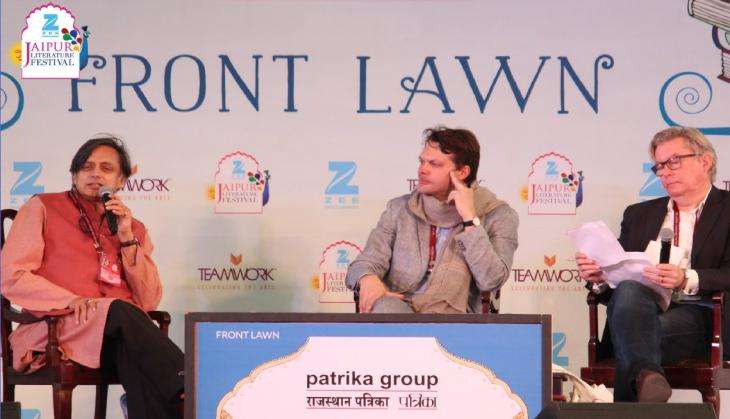 Sunday morning at Jaipur Literature Festival 2017 saw Shashi Tharoor in a panel with John Wilson, author of India Conquered, and moderator Michael Dwyer.
Tharoor's book, An Era of Darkness: The British Empire in India, was the subject of discussion. And much like the viral Oxford speech the book is inspired by, Tharoor wasn't in attendance to mince words.
In a widely speculated 'right wing' JLF, with RSS at some of the sessions, Tharoor chose to speak about nationalism - both in the context of the Indian struggle with the British imperialists, and the current understanding of it.
Tharoor wrote a book because his Oxford speech went viral. The virality established a need for people to know more. Learnings at #zeeJLF

— Durga M Sengupta (@the_bongrel) January 22, 2017
No burden for the white man
"Before the British came, India was one of the most prosperous countries, with 23% of the world's GDP. In the duration of their rule, they turned the country into one of the poorest," said Tharoor, setting the tone for the session.
Mocking imperial apologists such as Niall Ferguson, Tharoor quipped, "You don't need to go to the trouble of being colonised to get a railway line". This, of course, was widely appreciated with thunderous applause.
There was a moral and ethical critique of the British even within British terms (religion/language etc): Tharoor #zeeJLF @CatchNews

— Durga M Sengupta (@the_bongrel) January 22, 2017
"You're in power and your only purpose in power is to be in power," said Tharoor, making a point about how British imperialism was in no way looking to improve the conditions of its colonies. He further insinuated that it was that living in colonies was in fact an option B for many, having failed to make something of themselves back home.
"During the British Raj, India was the easiest place in the world for an untalented Englishman to thrive," he said.
Tharoor, statement after statement, established how the British rule was perhaps the most unnecessary thing that happened to India. To celebrate it or allow room for respect for it, he seemed to suggest, was laughable.
This sat very well with the audience who clapped, hooted and roared like they would at drunkenbar. After gaining their attention though, Tharoor chose to switch to nationalism today - a rather tricky subject.
Not the same nationalism
Speaking about Prime Minister Narendra Modi's appropriation of Mahatma Gandhi, Tharoor made it quite clear that it made absolutely no sense.
Right wing politics, such as that of the ruling party, he reminded the audience, has always clashed with Gandhi's ideals of decentralisation.
Tharoor thinks it's bizarre that Modi government is hailing Gandhi given the BJP has always stood against him #zeeJLF @CatchNews

— Durga M Sengupta (@the_bongrel) January 22, 2017
The neo-nationalism we see today, Tharoor said, is in favour of holding up the nation above the individual, and that wasn't what Gandhi preached. "It's the easiest to pay lip service to the Mahatma," he said.
"It's more natural for Sakshi Maharaj to rally behind Godse" than Modi rally behind Gandhi, Tharoor suggested.
'Nationalists' in the audience couldn't object. For they had already gone too far in celebrating what they saw as 'Britain bashing'.
Some laughed nervously, others continued clapping.
Tharoor won this round.