Jan Dhan account holders are damned if they heed Modi's advice, doomed if they don't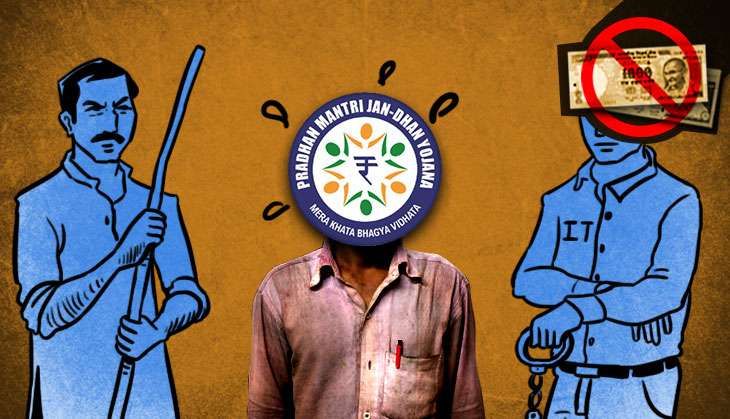 "Na lagaaoon samman daanv pe, na lagaaoon khaate bhaav pe" (I will not put my self-respect at stake, nor will I put up my account for hire) These are the opening lines of a public service message doing the rounds on radio these days.
It is sponsored by the income tax department and urges holders of Jan Dan accounts not to deposit others' money in their own accounts. If you listen to the entire message carefully, it is at variance with Prime Minister Narendra Modi's exhortation to such account holders to keep this money for themselves.
Given the crazy surge witnessed in Jan Dhan deposits after demonetisation, it has become quite clear now that some people may have actually succeeded in getting their unaccounted cash deposited in these accounts after all!
Modi's statement from the rally in Moradabad essentially assumed for a fact that this had indeed happened. He asked the holders of such accounts not to withdraw anything when they are asked to and keep it for themselves. He also said that if they don't withdraw, he will "find a way" to send this the money to their houses and these people to jail.
What the radio spot says, quite on the contrary, is that when such misuse of Jan Dhan accounts will finally be unearthed, action will be taken not only against those whom the money is traced to, but also against the account-holder whose account was misused.
This is exactly what a statement by the Income Tax department had said a day before the Moradabad rally - "misuse of their accounts...would expose them to the dangers of being held responsible for the tax evasion by unscrupulous elements".
Detected undisclosed income will be brought to tax as per IT Act,1961, apart from other actions depending upon outcome of investigations

— Income Tax India (@IncomeTaxIndia) December 5, 2016
CBDT again urges A/c holders not to consent to misuse theirA/cs which would expose them to dangers of being held responsible for tax evasion

— Income Tax India (@IncomeTaxIndia) December 5, 2016
Endangering lives of the poor
This is a classic case of double-speak by the government against an under-privileged section of the population. Such people whose accounts have been misused for evading tax authorities are already victims of our system.
The very fact that the rich have succeeded in forcing them to make their bank accounts available for fraud establishes their weak position in the scheme of things. Does anyone seriously believe that they will find the strength to stand up to the fraudsters and not worry about the consequences?
As this media report has confirmed, voices from the ground are already saying that the PM's words did not factor in ground realities.
Villagers aired the obvious reality - that if any Jan Dhan account holder who let his bank account be used by someone else dared to keep that money, it would put his as well as his family's life at risk. A driver reportedly said that the 'betrayed' person would ensure no member of his family got a job in the area.
However, that is not the real tragedy, for it is quite likely that the poor will 'manage' the situation vis-a-vis the local powers that be, as they do every day. All they have to do is not report whose money is lying idle in their accounts, and that will buy them peace and security wherever they are.
What they will not be able to deal with are the consequences of action against them by Income Tax authorities, which is imminent once the illegality of the transactions in their accounts is established.
A deadly predicament surfaces
As the I-T statement has made amply clear, action will be taken not just against those whom the money is traced to but also against the account owners.
Demonetisation has trapped the poor. First, their meagre savings came under threat. Then their livelihood received a major jolt. And now, their bank account has landed them in a critical predicament - should they listen to the prime minister or listen to the income tax authorities?
If they listen to the prime minister and help the taxmen in identifying and cornering defaulters, they run the risk of rubbing local patrons the wrong way. If they ignore the prime minister's advice and stay mum, I-T will hound them.
To cap it all, whichever choice they make will have at least one common consequence - they will find themselves at the wrong end of law having established their complicity in what was essentially an act of getting around a system that doesn't work for them anyway.
The million-dollar question for them now is - will the taxmen be lenient towards them?