Indrajit Lankesh: Grieving brother or political opportunist?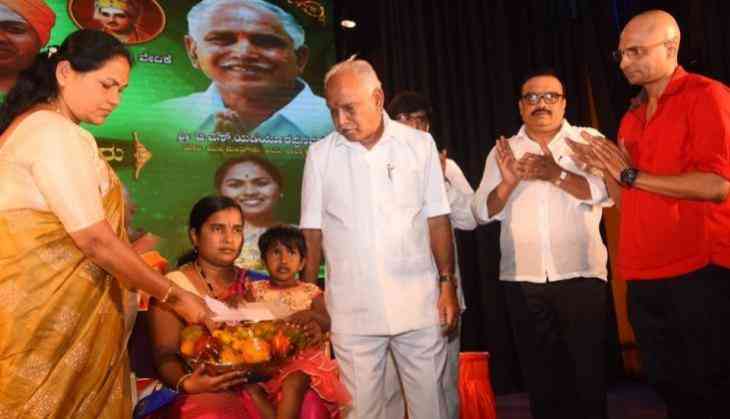 Indrajit Lankesh shares the stage with BJP leaders BS Yeddyurappa and Shobha Karandlaje. (Indrajit Lankesh/Facebook)
Veteran scribe Gauri Lankesh was killed on 5 September, when three motorcycle-borne assailants shot her at point blank range outside her Bengaluru residence. As her death gained mainstream news attention, various theories began to circulate about the motives behind her killing.

Given the modus operandi of her killers – similar to the murders of rationalists MM Kalburgi, Govind Pansare and Narendra Dabholkar, as well as her opposition to Hindutva and the Narendra Modi government, the most commonly voiced suspicion was that the attack was carried out by extremist Hindu groups.
This theory has only gained credence since, with the pistol used in Lankesh's murder being of the same make as the ones used in the murders of other rationalists.

However, Lankesh's brother Indrajit has cast doubt on this theory. As the bereaved brother, he has appeared on various news channels to propagate an alternative narrative – Gauri was killed by naxals. While it is tempting to buy into the views of what seems like a grieving sibling, a closer look at Indrajit Lankesh reveals that things are not as simple as they might seem.
Estranged siblings
Since Lankesh's death, the right wing has done its best to deflect suspicion away from itself. A concerted effort has been made to build a narrative that Lankesh, a naxal sympathiser who'd worked extensively to establish dialogue between Karnataka's Naxalite movement and the government, had become a victim of disgruntled Naxals.

This is the same narrative that Indrajit Lankesh has propped up since. In various interviews, Indrajit, who originally called for a CBI enquiry, has directed blame for the crime squarely at the Naxalite movement. Lankesh claims that, while Gauri had never told her family of the same, his 'sources' had informed him that she had been receiving threats from Naxals.
Though Indrajit has now taken centrestage, the duo's sister, Kavitha, has made it clear that Indrajit doesn't know what he's talking about.

"He has no clue about Naxals. Gauri worked for the Naxals for years together and against the Sangh Parivar. I am not sure why my brother is speaking what he is speaking. He had no clue about her life, she lived with us," Kavitha has stated.
Family feud and BJP connection
Whether Indrajit's suspicions are true or not cannot be established without further investigation. However, Gauri's strained history with Indrajit does not do his credibility any favours.

After the passing of their father, P Lankesh, Indrajit inherited the family's weekly tabloid, Lankesh Patrike, with Gauri serving as editor-in-chief. This arrangement though, was short-lived.

In 2005, Indrajit forced Gauri out of the family business, alleging that she was pro-Naxal. He even filed a police complaint accusing her of stealing equipment from Lankesh Patrike. Gauri, in a counter-complaint, alleged that her brother had threatened her with a revolver.
Subsequently, she would go on to form her own publication, Gauri Lankesh Patrike, where she continued to voice her Left-leaning views. Given his contempt for her politics, it is only natural that Indrajit would prefer a narrative in line with his own views.

Further, Indrajit's anti-Left views have, in recent times, manifested in a decided right wing connection. While he has denied joining the BJP, an interview of Indrajit in the New Indian Express as recently as July speaks to the contrary. In it, he calls politics "a new responsibility".

More proof of this can be seen in the pictures of Indrajit [Lead image] in the company of BJP stalwarts BS Yeddyurappa and Shobha Karandlaje at a function in honour of the Kannada reformer Basavanna. At the function, Indrajit hinted at joining the BJP, even going so far as to compare corruption-tainted Yeddyurappa to Basavanna. These images are on Indrajit's Facebook page.

Given that a Hindu extremist angle would hurt the BJP the most, especially with Karnataka assembly polls just around the corner, it is hardly surprising that Lankesh would try to protect the party.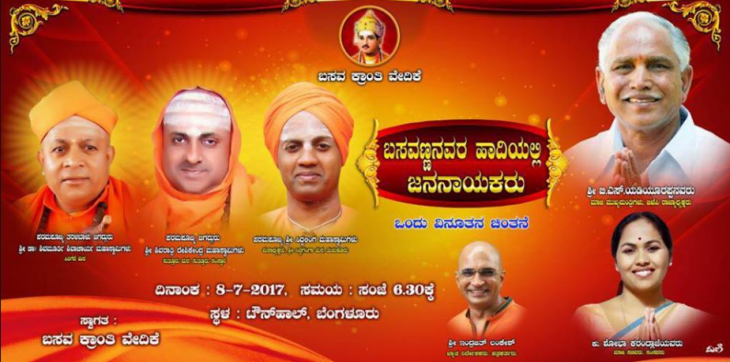 A poster for the function where Indrajit shared the stage with Yeddyurappa and Karandlaje. (Indrajit Lankesh/Facebook)