India Tales: MP man tried to stop his wife from remarrying. How?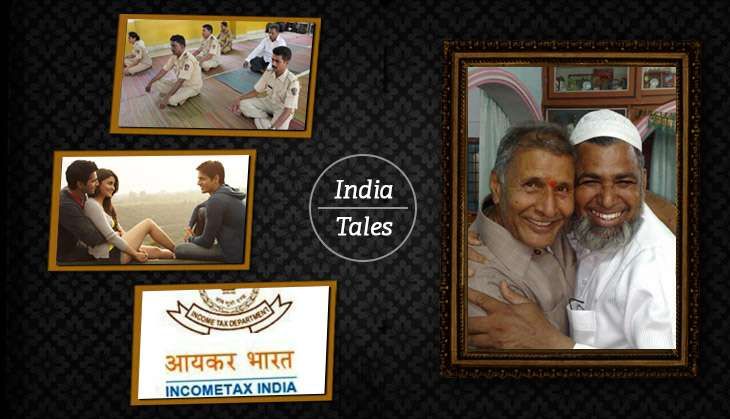 01
Tired and stressed, Madhya Pradesh cops ordered to do yoga daily
Finding them "tired on account of overwork, pressures and mental stress", Madhya Pradesh's police chief has asked his personnel to do yoga for one hour daily.
A plan has already been drafted to teach yoga to two personnel from every police station, and they in turn will train others. The initial training will be imparted by experts at government and non-government yoga centres. The experts will later "monitor whether yoga is being taught properly by the trained staff or not". To ensure compliance, "data of personnel participating in yoga training will be maintained".
As part of the initiative, a three-day camp called 'From Crime To Spirituality' was held by Darshan Parmarthik Trust at Bhopal Central Jail. The founder of the trust, yoga expert Swami Harshananda, said the aim was to teach "yogic kriyas to balance body, prana and thought to both police personnel and jail inmates".
According to a police officer who participated in the camp, "long working hours make it a challenge for us to keep fit. Statistics reveal that policemen are facing an increase in health problems. The main objective of the yoga is to promote positive health and relieve tension".
02
Made homeless by apathetic babus, neighbours come to couple's help
Abdul Fareed of Sanganer town, Rajasthan, wonders what would have befallen him and his wife had their neighbour Siyaram not come to the rescue.
Fareed and his wife were forced out on the street due to the apathy of the Jaipur Development Authority. The JDA had dug deep trenches for canals on either side of their house in Govindpura. Last week, heavy rain flooded the trenches and eroded the loosened ground under the house, felling it.
"We had no house to live in and no food to eat. But our neighbour gave us shelter under his roof and fed us," said Fareed. Siyaram, on his part, said he was just doing the "duty of a neighbour". Not just Siyaram, other neighbours are doing their bit as well. Just yesterday, Hazarilal Sharma came and gave Fareed 10 kg flour.
Fareed said he had pleaded with the contractor and JDA officers not to dig during the rainy reason, but they paid no heed. The officials have admitted that the house collapsed because of their digging work, but have blamed the "carelessness of the building contractor" for it. The contractor has now been asked to rebuild the house and provide monetary help to the couple.
Although the police have filed a complaint against the contractor and unnamed officials of the JDA, they have not yet registered a "case of carelessness" as demanded by Fareed and his neighbours.
Fareed said he had built the house with his "lifetime's earnings". "To see it turn into a pile of debris breaks my heart. Our entire belongings are buried under the rubble. We don't even have clothes to change," he added.
03
Chhattisgarh: state takes away farmers land, then asks them to pay tax
Farmers in Naya Raipur, Chhattisgarh, are stunned. Income Tax officials have sent tax notices to over 3,000 of them. What's interesting is that these farmers are mostly landless; their land was acquired by the government.
The notices ask the farmers for information about the land acquired from them, the amount received, the mode of payment and details of investment. IT officials insist this is "legally binding on them" and they have given the farmers seven days time to respond.
The farmers are in shock and many are seeking help from political leaders, officials and lawyers. The farmers say this is "double punishment" for them: first the state "forcibly acquired" their land for "inadequate compensation" and now it's demanding they pay tax on the "little money" they were given.
According to IT officials, those farmers who have used the compensation money to buy agricultural land or houses, or spend it on family functions "will not have to pay income tax". "Income tax is payable on the remaining amount". Also, for the compensation amount received recently, the tax rate will be 30% and for the money received before this fiscal, a rate of 20% be levied.
"The notices have been served to the farmers to seek details. Tax will be recovered as per rules after receipt of details," said KC Ghumaria, Chief Commissioner, Income Tax.
04
Don't let my wife remarry: young man protests in Ratlam, half naked
Frustrated by the "apathy of the administration", Sheikh Shoaib of Khandwa, Madhya Pradesh, took matters in his own hands: he sat on dharna half-naked. But what exactly was he protesting?
Shoaib said he was married to Rukhsar from Ratlam in February this year. Soon after the wedding, they had an argument and his wife left to stay with her parents in Ratlam, to never come back.
Then, sometime ago, he learnt that Rukhsar was marrying another man. He rushed to Ratlam and went straight to the collector's office and complained about his wife's "intentions". The collector suggested Shoaib meet the SDM who in turn directed him to the police. At the police station, he was advised that if wanted to stop the marriage from taking place he better go to court.
Shoaib had had enough: "If I do what they are saying, I will continue running from pillar to post. By the time I am done, the marriage will have take place."
So, dejected, he walked to the town square, which is in sight of the court, stripped down to his waist and sat down on a dharna. He held up a piece of paper which read: "My wife is remarrying and the police isn't helping me".
It didn't take long for the passersby to notice him. A crowd gathered around him, blocking traffic. It was then that the police sprung into action and took the young man away.