India Tales: Great granddad weds live-in partner of 50 years in Udaipur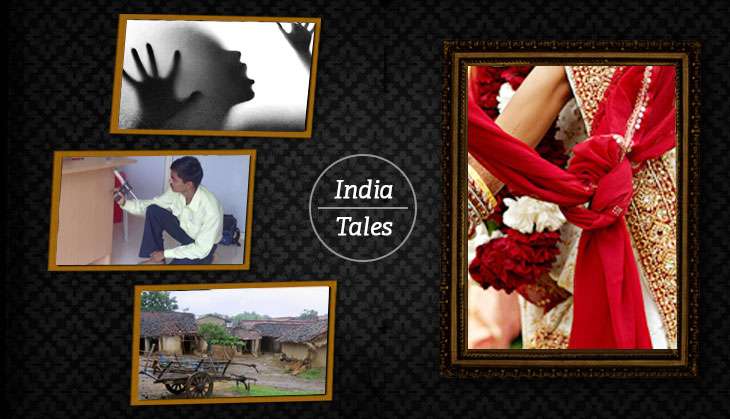 01
Rajasthan: 80-year-old man marries live-in partner of 50 years
Early this month, Pabura married Rupli in a traditional ceremony at Rupani village in Udaipur, Rajasthan. What is special about this marriage, you might ask? For one, Pabura is 80 years old and Rupli only a few years younger. And they have been live-in partners for 50 years.
The wedding was celebrated by their 30 family members - two sons and three daughters, and their 25 children and grandchildren.
Why did they wait 50 years to get married? Because they were poor, Pabura said. Rupli had reservations about getting married at this age. I too was a bit hesitant doing it in presence of all our grandkids and great grandkids. But I said to myself that this is the woman who has always stood by me and our family all this time, then why should I feel shy in giving our relationship a formal status," Pabura added.
Also read - India Tales: how 7 poor Bhopal villagers found themselves 'dead'
Pabura and Rupli belong to tribal community. Rupani's pradhan Murarilal Bumbria said it was common in their society for a man and woman to live together without getting married although the practice is on the wane. Still, he added, a couple getting married after living together for over 50 years is rare.
02
Meet the man ostracised for a 'mistake' committed 40 years ago
Three families of Bararmundi in Rajnandgaon district of Chattisgarh have asked the police to put an end to their social boycott by fellow villagers. The villagers don't even talk to them and they get no work, said Padum Gajbhaye, the head of one of the affected families.
Anybody who talks to any family member of Gajanand Lenjhare, Padum Gajbhaye and Devsharan are fined Rs 1,000. "Anyone who maintains social relations has to pay Rs 15,000 fine," said a villager who did not want to be named. "Ten people have already paid a fine of Rs 1,000 each."
Gajbhaye claimed he was being "punished for the only mistake I have ever made" - accompanying Gajanand's family to the local police station when they were booked for building a house on state land. That was 40 years ago.
"I am being punished for that mistake now. This boycott started more than a year ago," he said.
Gajbhaye had earlier been fined Rs 5,000 by the elders for taking Gajanand's side against the villagers. "Even after paying the fine, my family continues to be boycotted. We want the police to take action action against two elders who are behind this, Getram and Chetan."
Sachin Gomasta, the officer in charge of Ambagarh police station, said they have received a "complaint from these individuals". "Order has been issued for enquiry. If the allegations are proved, the accused will be punished," he added.
03
Shocking: UP woman raped for a year, murdered by moneylender
In a shocking incident, a widow from Uttar Pradesh was gang-raped for over a year for failing to pay interest on a loan. She finally mustered the courage to resist her rapists, only to be murdered.
The woman had taken a Rs 20,000 loan at an interest rate of 15% from a moneylender in her village. Her husband had died 10 years back, leaving her to raise their daughter alone. When her daughter turned 20, she fixed her marriage. To pay for the wedding, she sold her one bigha of land but was still short of Rs 20,000. So, she took the loan.
The moneylender started demanding she pay the interest just a month after the marriage. When she requested for deferment of payment, the police said, "he told her that he won't demand interest payment if she agreed to have a relationship with him".
"When the woman refused, the moneylender took possession of her house, forcing her to give in to his demand. Then, the moneylender and two other men sexually exploited her for about a year. Not satisfied with this, the moneylender told her that since the loan and interest amount had grown very large, she will have to entertain other customers," said a police officer.
"When she refused, she was abducted and gang-raped by a group of men. She threatened to report them to the police, so they strangulated her and hung her body from a tree to make it look like suicide," the officer said.
She was found by her cousin who informed the police. The police registered a case of suicide and sent the body for postmortem. "The villagers who knew about her ordeal meanwhile told her cousin," the officer said. "He then filed a complaint against the moneylender Ramsanjivan and history-sheeters Chunnu and Laxmi. Later, the postmortem report also confirmed murder by strangulation."
Although the cousin has questioned the police's "attitude" and accused them of trying the "protect the
murderers", SHO Nafees Siddiqui said a case has been registered and raids are being conducted to trace the three accused and arrest them".
04
On a wing and a prayer: Brazilian flies to rid Chhattisgarh of weed
Flies imported from Brazil, along with chemicals, will be used to combat a fast spreading weed in Chhattisgarh.
Shell flower, a pink-tipped white weed resembling a seashell, has blighted watercress across the state. The farmers had been struggling to get rid of it for months, so the Directorate of Weed Science Research Institute allowed the use of the Brazilian flies and chemicals such as Paraphono Methyl Glycene.
Shaheed Gundadhur Agriculture College and Research Institute, Raipur, made the recommendation to use this fly. Nearly the size of a large ant, the fly eats the weed, breeds on it and finally dies within it.
According to Dr Aikant Pradhan of the research institute, a net house would be developed on a lake to increase the population of the fly, after which they would be set free.
The use of Paraphono Methyl Glycene has also shown positive results in combating the weed, and the chemical will be used alongside the fly.
Dr SC Mukherjee, Dean of Shagukrum and Research Centre, said all the "required permissions" have been taken from the authorities concerned to implement the new methods of weed control.
More in Catch - India Tales: how this Madhya Pradesh farmer found himself 'dead'
India Tales: kept from school by father, Andhra kids go to police