India's got a good deal for Rafale jets. But when will other gaps get filled?
Catch Team
| Updated on: 10 February 2017, 1:47 IST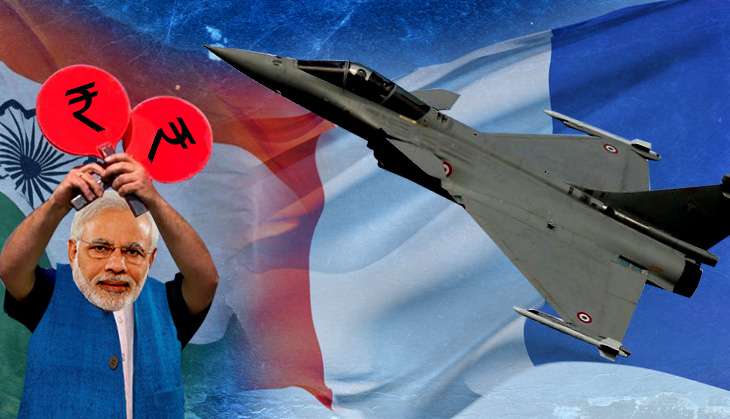 Many would like to have seen India and France sign the deal for 36 nuclear capable Rafale fighter jets a long time ago - at least 17 months ago, when Modi had first promised the deal in France.
It could have resulted in India already possessing some of these jets right now, when it needs them the most, since France was more than eager to sell some of these jets in 'fly-away' condition.
But after the deal was formally signed after protracted negotiations on Friday, the delivery of the jets will only begin in 2018.
Details of the deal
The deal India has managed to cut with France's Dassault Aviation is still admirable. Hard negotiations on India's part in these 17 months have resulted in the country being able to bring the cost of the aircraft down substantially, and also get advanced missiles, weapons and aircraft training for its personnel as part of the package.
Dassault's initial offer was worth 12 billion euros, but India has brought down the costs to 7.878 billion euros. This includes the cost of the fighters, the full weapons package, performance-based logistics, India-specific enhancements and associated supplies.
India has also managed to get Dassault to invest 50% of the total worth of the deal back in India. This is expected to bring a lot of jobs and more investments to the country.
India on the back foot
One question remains after the deal - how will India plug the remaining, massive deficiency of 80-100 fighters in the Indian Air Force?
After the Uri attack, one can't question the volatility in the mood in both India and Pakistan right now. Pakistan has gone as far as to completely lock down its northern airspace, to allow for drills of its military aircraft.
In the worst case scenario, China will jump to Pakistan's side if and when it feels that the very security of Pakistan has come under direct threat from India.
At such a time, a few squadrons of superior fighter aircraft like Rafale would have given India's armed forces a lot of confidence to deal with the adversaries. Rafales aren't meant just to shoot objects in the air and on land. Rafale fighters can be used for air dominance, ground support, aerial reconnaissance, and, most importantly, to deliver nuclear weapons.
Even if they aren't pressed into service, the mere possession of nuclear-capable fighter aircraft could act as a deterrence.
According to the Indian Air Force's own plan, if India was hit by a twin attack from Pakistan and China, it would need a strength of at least 44 squadrons to hold its own. But at the moment, India has only 33 squadrons.
Of these, there are 14 squadrons of out-of-date MiG-21s and MiG-27s, which have to be retired starting in 2017. Some of the other squadrons of Mirage-2000s and Jaguars are also in the process of being upgraded.
The Indian Air Force is already suffering a lot of problems - even the Sukhoi fighters that have been bought from Russia have problems with spare parts. Just over 50% of these aircraft are operable.
At the same time, Pakistan and China have been working to modernise their air forces. China, which, because of arms restrictions, cannot collaborate with Western countries in defence, has been working with the Russians to develop advanced fighter jets. The JF-17s are a result of this, and more projects are in the pipeline.
Pakistan, on the other hand, is updating its air force with the help of the Americans, which have sold it 80 F-16s.
Options in front of India
There are some encouraging reports that India is not going to wait after inking the deal for the Rafales. India has been offered some very lucrative deals by the Americans, through Boeing's F-18 Super Hornets, and Lockheed Martin's F-16s. Lockheed Martin have even offered to bring in their whole assembly line to India if assured contracts are given.
India is also exploring the option of buying Swedish Gripen fighters. Defence Minister Manohar Parrikar is expected to leave for Sweden next month to explore the options of a tie up.
Even if the tensions created by the Uri attacks get defused, the attacks in themselves aren't likely to stop. And for this reason, one hopes the next leg of acquisition of fighter aircraft will begin soon.
Edited by Shreyas Sharma
More in Catch
Union Cabinet gives nod for purchase of 36 Rafale fighter jets
4 reasons why the Rafale fighter jet deal is of prime importance to India
Rafale: how the "mother of all deals" ended up like an "unplanned child"