India, Balochistan, Pakistan: what Modi must do next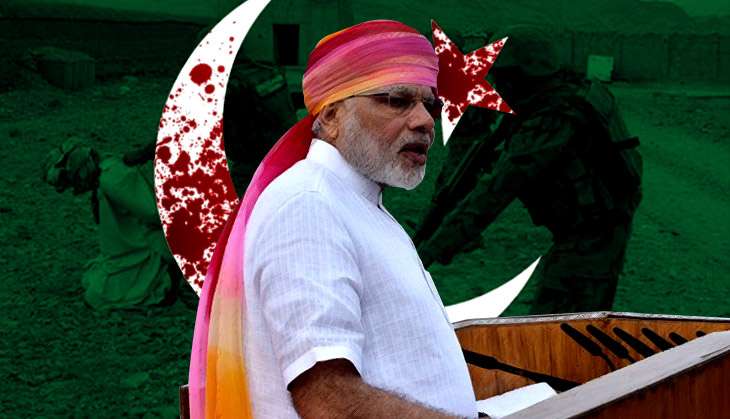 If a week is a long time in politics it can be full of drama and moves and counter-moves in diplomacy as well, especially in relationships such as the one between India and Pakistan.
The past week witnessed all this and the end to this round is not in sight yet; nor is its outcome clear.
It all started with Prime Minister Narendra Modi referring to the human rights situation in Balochistan and Pakistan-occupied Kashmir (PoK) and Gilgit in his intervention at the all-parties meeting on 12 August on the situation in the Kashmir Valley.
In doing so, Modi gave an indication that, unlike his predecessors, he was willing to seriously go on the diplomatic offensive with Pakistan.
He startlingly escalated this impression by the very fact of mentioning these areas in his 15 August address.
Significantly, Modi did not actually go beyond his original reference; for all his rhetoric from the Red Fort, he merely thanked those Balochis and the people of PoK and Gilgit who had responded enthusiastically to his comments.
Matter of words
Such references though, are the very stuff of diplomatic signalling even if their precise intent is left unclear, sometimes deliberately to allow room for manoeuvre.
Was Modi, in fact, going so far as Max Bearak said in his 16 August report in the Washington Post: "In a way that will certainly appeal to his hawkish electorate that brought him to power he is telling the world that India can use its influence in Balochistan, and may already be doing so, as a bargaining chip for Pakistan's acquiescence in Kashmir?"
There is little doubt that Modi, by merely talking of Balochistan and PoK, has given the impression that India is fed up of Pakistan meddling in Jammu and Kashmir and will no longer simply seek to absorb, as it has in the past, all that a hostile neighbour is throwing at it.
Since terrorist Burhan Wani's killing, Pakistan has gone all out to control and exploit the developments in the Kashmir Valley, in keeping with its constant intrusiveness in the state.
Prime Minister Nawaz Sharif, who has always been one with the Pakistan Army on the Kashmir issue, has led the charge.
It is Pakistani aggressiveness in Kashmir and lack of any movement on the Pathankot Airbase attack that has led to Modi's current decision to embark on diplomatic aggression.
Counter ploy
How is Pakistan countering Modi and what does the future hold?
While making all predictable points to counter India's current move, the Pakistani establishment has been surprisingly low key in the tone of its response to Modi's charge.
It obviously sees a trap, set by India, to shift the focus away from the Valley to Balochistan, where it has vulnerabilities, and to J&K territories under its occupation where its record is questionable.
So far despite pressures from sections of its domestic opinion and the media, to respond vigorously on Balochistan and PoK, Pakistani authorities, including the army, have kept their propaganda centred on Kashmir.
Attention games
In keeping up with this approach, it was not Nawaz Sharif who responded to Modi , but his foreign policy advisor Sartaj Aziz.
Sartaj Aziz, who is the virtual foreign minister, said on 1 5August itself that Modi was trying to divert attention from the Kashmir situation.
He reiterated known Pakistani positions: that what is happening in Kashmir has "nothing to do with terrorism. It is an indigenous movement for self-determination, a right promised to the Kashmiris by the UN Security Council."
On Balochistan, he claimed that what Modi said, "only proves Pakistan's contention that India through its main intelligence agency RAW has been fomenting terrorism in Baluchistan."
Three days later the spokesperson of the Pakistan Foreign Ministry went further to assert that in violation of the UN Charter, Modi had, "crossed the red line by talking about Balochistan."
Tactical moves
To keep the focus on Kashmir, Pakistan decided to go ahead with an earlier decision of inviting the Indian Foreign Secretary to Islamabad to talk about the state.
In his letter to the Indian Foreign Secretary given to the Indian High Commissioner in Islamabad on 15 August, a date obviously and crudely chosen, the Pakistan Foreign Secretary reminded India of the UN resolutions.
Pakistan would have known well that India would effectively dismiss the suggestion.
India has done just that but the Indian diplomatic counter thrust has not dismissed a meeting but has set the terms of the meeting in a manner that Pakistan will reject.
It has demanded the usual -- end cross-border terrorism, progress on Mumbai case, briefing on Pathankot, handing over Indian terrorists in Pakistan, closure of terrorist training camps -- but much more as well.
It has asked Pakistan to discuss its vacation of territories it is controlling in the state.
This has never been put on the table earlier by India, and if carried through, marks a decisive and welcome shift in Indian diplomatic strategy on the Kashmir issue.
The caution is only because Modi has shifted gears so often in his Pakistan policy since he assumed power in May 2016.
Caution and wisdom
It would be diplomatically wise for the government and its different wings to keep the focus on the human rights situation in Balochistan and refrain from any other comments on that Pakistani province.
It was quite unnecessary for the Press Information Bureau to re-tweet the responses of Balochi nationalists to Modi's comments.
If Balochi nationalists interpret Modi's comments, as was done in an article in a leading Indian daily, that they have "granted them recognition" as a separate entity from Pakistan, it is their outlook.
It is not based on what Modi actually said.
As the major powers keep drawing attention to the denial of human rights in different countries, they can be countered if they complain about India highlighting the Balochistan situation.
Modi will lose credibility if he now goes back to business as usual with Pakistan but diplomatic finesse will be needed in this phase of India-Pakistan relations.
Edited by Jhinuk Sen
Also read: Modi raises Balochistan & PoK on Independence Day: What about India, sir?
Also read: PM Modi's Balochistan offensive has got the Congress in a churn
Also read: Modi crossed 'red line' by talking about Balochistan: Pakistan