How Pakistan is using social media to reach out to alienated Kashmiris
Catch Team
| Updated on: 7 February 2017, 21:03 IST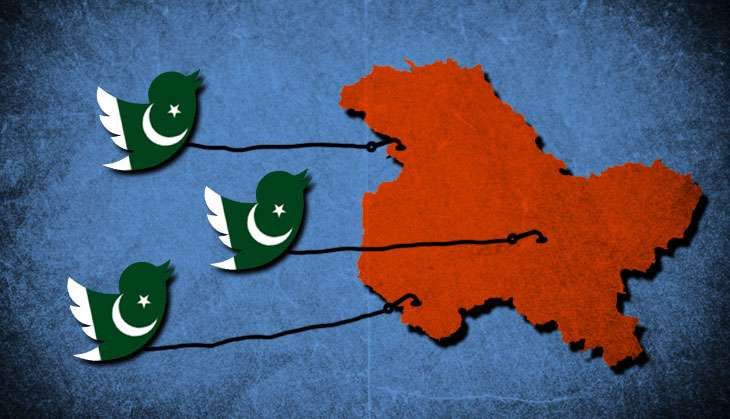 The 3.57 minute video starts with a ringing slogan recorded at a protest in Kashmir during last summer's unrest: "We will snatch it come what may... Azadi! We will wrest it from Bharat... Azadi!"
And then follow the visuals of the protests and the blindings, accompanied by a song: "You can blind our eyes but you can't snatch our dreams." The song and the visuals build up to crescendo to deliver this message: "Kashmir is a heaven and the non-believers aren't entitled to it."
This is the Pakistan Army's media wing ISPR's Kashmir video for you, its third such video since the killing of the popular Hizbul Mujahideen leader Burhan Wani last July which tipped Kashmir into a five-month long unrest.
Also Read: These images will stay in your head for a long time, just like the pellets in Kashmir
The video was released on the eve of Kashmir Solidarity Day on 5 February, observed with great fanfare since 1990. The day was marked across Pakistan by protest rallies and solidarity speeches. It began with a moment of silence as a mark of solidarity with Kashmiris, bringing traffic in that country to a halt for a minute.
What was conspicuously missing was a massive rally addressed by the Jamat-ud-Dawa chief Hafiz Saeed, who is under detention, although the terror outfit's rebranded avatar Tehrik-e-Azadi Jammu Kashmir staged many rallies, conferences and marches across the country. In Lahore, the outfit organised a massive gathering at Nasir Bagh. It was led by Abdul Rehman Makki, the second in command to Saeed. In his speech, Makki opposed the Pakistan government's Kashmir stance and Saeed's detention, but stayed short of making vitriolic statements against India.
This Kashmir Solidarity Day is, therefore, seen as a conscious attempt by the Pakistan government to not let the extremist outfits hog the limelight and instead let its civil society and the people at large take the centrestage.
However, more than Solidarity Day, an annual event, it is Pakistan's social media outreach to Kashmir since Burhan Wani's killing that is deserving of greater notice.
In November 2016, a music album titled "Kashmir Anthem" was released. Dedicated to Burhan, it featured singers Ali Azmat, Umair Jaswal and Alycia Dias. The president of Pakistan Administered Kashmir, Sardar Masood Khan, was present at its launch. A blend of folk, sufi and pop music, the album glorified the separatist struggle in Kashmir.
At the peak of unrest, a citizens' collective from Pakistan had posted searing morphed images of Indian celebrities and politicians on Facebook, with their eyes blinded by pellet guns. Some of those whose faces were shown to have been disfigured by the pellets included Amitabh Bachchan, Shah Rukh Khan, Virat Kohli, Hrithik Roshan, Kajol, Saif Ali Khan, Alia Bhatt, Aishwarya Rai, Sonia Gandhi and Narendra Modi. Those images went viral across India and Pakistan, focussing attention on the then poignant state of affairs in Kashmir.
There were also scores of short videos or text messages for Kashmiris by groups and citizens in Pakistan's circulating on the internet on a daily basis.
Also Read: Art as resistance - 12 images that remind us of the violence in Kashmir
Now an upcoming Pakistani film, Azadi, is taking this Kashmir solidarity narrative further. The film, starring Nadeem Baig, Moammar Rana and Sonya Hussayn, lends a rationale to the militancy in Kashmir. It tells the story of a man, possibly a take-off on Burhan Wani, "who sacrifices it all for the freedom of Kashmir and how his vision is carried forward by young people he inspires". The director Imran Malik says a film has never been attempted on such a big canvas in Pakistan before.
What is more, Azadi, according to the Dawn newspaper, is being shot by Australian cinematographer Ben Jasper, who also shot the Hrithik Roshan-starrer Bang Bang, and features a soundtrack by Sahir Ali Bagga and tracks by Rahat Fateh Ali Khan, Quratulain Baloch and Shafqat Amanat Ali Khan.
For Kashmir watchers, this aggressive social media focus on Kashmir through songs, videos and now a full-length film has come as a force multiplier to Pakistan's vaunted Kashmir propaganda machine. In the early 90s, Pakistan had flooded Kashmir with songs glorifying jihad. Some of those songs have become a part of Kashmir's militant folklore. One was called "Jago, jago subah huiee (Wake up, the dawn has broken)", another was titled "Kashmir Hamara Hai (Kashmir is ours)". A more famous one opened with "Nider Diler Bachiyan, Srinagar ki Betiyan (Brave and intrepid are the daughters of Srinagar)".
Such songs have traditionally had a huge impact on the ground. According to security experts, they have inspired youth to take up the gun and participate in the protests.
But the key reason for their appeal, civil society activists in the valley point out, is a conspicuous lack of empathy for Kashmir in the mainstream Indian discourse.
"A factor that lends the Pakistani songs powerful resonance is the general apathy towards the plight of Kashmiris shown by the civil society and the vocal sections of the media in India," said an activist, on the condition of anonymity. "Pakistani solidarity songs and videos thus reassure Kashmiris that they are not alone."
Also Read: Why Kashmiris feel that India and the world have abandoned them