How Dalit unrest is assuming centre-stage in Punjab politics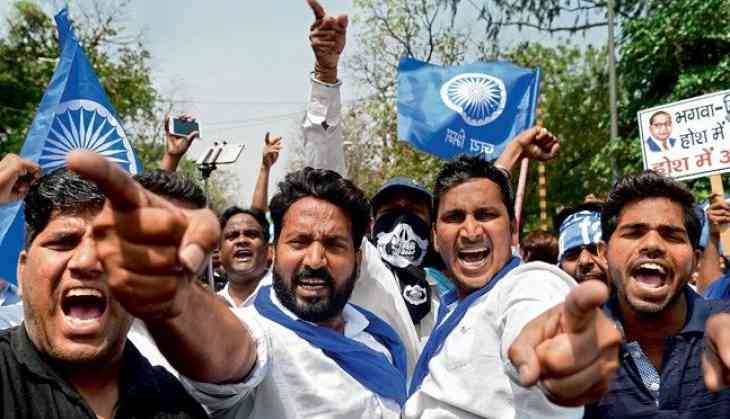 Picture for representation only
Dalit unrest in Punjab is all set to have long term social and political repercussions. With the narrative on Dalits fast taking a centre-stage ahead of the 2019 Lok Sabha polls, the political parties as well as the social platforms outside the political domain have started upping their ante to ensure the backing of the Dalits who constitute close to 32 per cent of the voters in Punjab which is the maximum in the country in terms of voter percentage.
Punjab has been on the tenterhooks ever since the movement against the Bharatiya Janata Party (BJP)-led central government started gathering steam on its failure to make amends for the alleged dilution of The Scheduled Castes (SC), Scheduled Tribes (ST) (Prevention of Atrocities) Act by the Supreme Court. The state saw a massive response and some violence during the 2 April 'Bharat Bandh' called by the Dalit organisations.
Before this issue could settle down, there was unrest in the Doaba region that had its nerve centre in Phagwara where members of some right wing Hindu organisations clashed with Dalits on the eve of Dr BR Ambedkar's birthday over renaming of 'Gol Chowk' as 'Samvidhan Chowk' (Constitution Chowk) despite the fact that the renaming was being done following a resolution being passed by the local civic body. To make matters worse a Dalit youth who was injured in the clash died a few days later.
Phagwara is a constituency represented by the BJP MLA Som Prakash. Punjab Chief Minister Captain Amarinder Singh was quick to give in-principle approval for renaming the crossroads. On the demand for withdrawal of FIRs against Dalit youth, he directed the Inspector General of Police (Jalandhar Range) to examine all such cases and submit a report to the state police chief. The Shiromani Akali Dal (SAD) too raised a noise demanding that the Congress government withdraw all cross cases registered against Dalits who were attacked and fired upon by Hindutva elements allegedly affiliated to Punjab Shiv Sena.
Meanwhile, the National Scheduled Castes Alliance (NSCA), a Dalit organisation outside the ambit of political parties, has decided to hold demonstrations and submit memorandums after regular intervals at all the five divisional headquarters in Punjab at Ropar, Jalandhar, Faridkot, Ferozepur and Patiala. He process will start from Ropar on 18 May.
"These memorandums will be addressed to Prime Minister Narendra Modi. The Dalits are upset over the central government not making amends at the dilution of the SC/ST (Prevention of Atrocities) Act. There is also a feeling that the Supreme Court could have interpret it differently. The Dalit anger was visible during he April 2 Bharat Bandh but the government chose to ignore the Dalit sentiments. Modi should sack the law minister Ravi Shankar Prasad for not taking timely measures and bring Dalits into conflict with other sections of he society," said NSCA president Paramjit Singh Kainth.
Meanwhile Aam Aadmi Party (AAP) leader Palwinder Kaur Hareayu who had contested the state assembly polls from Shatrana constituency unsuccessfully joined the NSCA on Friday. She said that her decision was government by the fact that the elected Dalit MPs and MLAs have failed to speak out for the community or take up their issues and hence the only choice left for the community is to speak out through social non political platforms.
She said, "There are 35 Dalit MLAs from different parties and five MPs have preferred to maintain a silence over issues like sexual exploitation of Dalit women by upper caste men. Take for example the rape of the Dalit teacher of Adarsh School in Faridkot where the accused have been flaunting their political connections. This is the Lok Sabha constituency of AAP MP Sadhu Singh and the victim resides in the assembly constituency of Jagraon represented by AAP's Sarabjit Kaur. The victim even attempted suicide before the matter was assigned to a Special Investigation Team (SIT) by the state Director General of Police (DGP) Suresh Arora."
"In Punjab the Manuvaad gets interwoven with Jattvaad. Here it is the Upper Caste Jatts who are the main perpetrators of Manuvaad. The most vulnerable targets are Dalit women who are exploited in every form. Since they come from a community that is still bereft of education and their male members reel under abject poverty, they do not have any say in anything. It is through this prism that the dilution of SC/ST (Prevention of Atrocities) Act needs to be seen. The new form of the Act calls for a Senior Superintendent of Police (SSP) probing and deciding whether to arrest someone on charges of atrocity or not. Do you think that a Dalit in the villages who is scared even to approach an Assistant Sub Inspector with a complaint at a Police Post would even think of going to a city to approach a SSP and that too when he has to spend close to Rs 150 for his bus fare," Palwinder told Catch.
She further pointed that the Dalits are not allowed to have any say in Gurudwaras built by Jatts, not allowed to perform Ardas and there is discrimination when it comes to having langar there. "The recent declaration by the Shiromani Gurudwara Prabandhak Committee (SGPC) to do away with multiple Gurudwaras n villages built and managed by different castes under the campaign 'Ik Gurudwara, Ik Pind' is nothing but a statement."
She pointed that Dalits are even compelled to build separate crematoriums. "AAP MP Dr Dharamvira Gandhi has been the only one to start an initiative under which he offered a special grant to a village that went in for only one crematorium for all the castes. No one else has taken any step in this direction. The fact remains that there is no cultural participation of Dalits in any institution."
Palwinder, who is also a Sarpanch of her village, pointed that there is an immediate need for three basic interventions for Dalits in Punjab. She said the first one is to ensure quality education for the Dalits.
"This would ensure that Dalits, particularly women, become aware of their rights. The second intervention required is to give them their cultivation rights over 33 per cent of village common lands for which agitations are on and the third one is to ensure proper healthcare to them. Dalits who work as farm labour are the most prone to the side effects of pesticides they spray in the fields. We do not want Mid Day Meal or Atta Dal schemes. We can take care if these interventions are made," she said.
Several local level Dalit groups are active across Punjab working on various issues. Activists feel that they need to be brought on to a common platform to achieve early results. Having one third of voter strength the community can dictate the politics in the state. Many of the Dalit activists point out that the failure of any Dalit leadership to emerge after Kanshi Ram is a big factor that has resulted in activities of groups being reduced to only local level activism.