Hit hard by cash crunch, Kolkata traders threaten to hit streets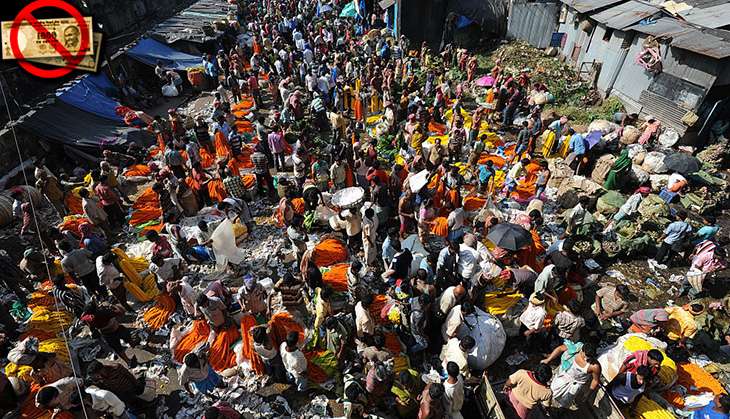 The demonitisation of Rs 500 and Rs 1000 notes has hit the wholesale traders of Kolkata quite hard. Business is down by as much as a fourth.
According to the Forum of Traders Organisation, around 50 lakh traders in West Bengal are feeling the pain. In Kolkata alone, as per the government's figures, some 15,000 wholesale traders operate in Burabazzar, about 2,000 in Koley Market and over 3,000 in Jagannath Ghat.
Also Read: Pronab Sen: Demonetisation will hit GDP growth by 0.4%
The daily losses being incurred by traders at Burabazzar and Koley Market are estimated at around Rs 70 lakh each. At Jagannath Ghat, know for its flower market, traders claim they are losing Rs 40 lakh per day.
"Most of them are having a trying time earning their livelihoods due to this financial constraint," said the forum's general secretary Rabindranath Koley. "The situation is grave as most of the traders cannot sell or buy."
The traders plan to meet with Chief Minister Mamata Banerjee to raise the issue, Koley added. He threatened they would "hit the streets if the situation does not improve within the next few days".
Also Read: 'Bandh kar diya kya?' Shocked & starving sellers at traffic signals unaware of Rs 500, Rs 1,000 ban
Subir Laha, a vegetable trader at Koley Market, said, "For the past few days since Modiji made the announcement regarding the demonitisation of Rs 500 and Rs 1000 notes, there has been a sharp drop in business. We are unable to supply to the retail market due to the cash crunch."
Bhisnu Das, a cloth merchant at Burabazzar, remarked, "Everyday the central government is issuing new orders making it ever more difficult for us to carry out our business. We support this move of Narendra Modi but before issuing new orders, the RBI should ensure that enough notes are available in banks."
He added, "For three days now, I have been going to the bank to withdraw money, but each time the manger said there was no money and asked me to wait for a few more days. The situation is getting worse by the day; the central government must look into this as early as possible."
Also Read: Kejriwal & Mamata sound demonetisation war cry: "Modi is PM of the rich"