High hopes dashed: Himachal govt to weed out drugs in the state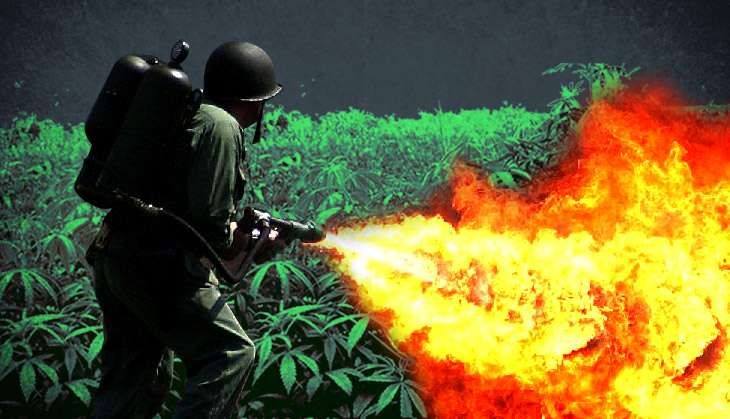 While drugs are at the centre of a political battle in Punjab with the assembly elections right around the corner, its neighbour Himachal Pradesh is all set to launch a series of new initiatives to check the use of both herbal as well as synthetic versions.
Besides a campaign to weed out cannabis, the state government has chalked out a road map that includes legislation to check the abuse of synthetic drugs.
Also read - Toxic trail: how Punjab's drug trade may have enabled #PathankotAttack
To begin with, Chief Minister Virbhadra Singh has directed the launch of an intense 15-day campaign to weed out cannabis from 22 August onwards since this is the season when the plants bloom.
Up high in the mountains
For decades now, Himachal Pradesh has been known for its cannabis and its derivatives, particularly joints of charas (also called hashish), that have drawn visitors from across the globe. Malana cream is among the most famous varieties, and is found in the areas surrounding Malana village in Kullu district. The village is also popular for following a centuries-old democracy model and the locals claim it to be the oldest republic on earth.
Besides Kullu, cannabis consumers also throng the districts of Mandi, Shimla, Solan and Sirmour. Hashish is widely smuggled out from the state to other parts of the country and even abroad.
While cannabis and its derivatives have been traditionally consumed and are not harmful as they are organic, it is the synthetic drugs that have started taking a heavy toll as the youngsters are quickly getting hooked to them, particularly in the urban areas that have seen the mushrooming of private educational institutions and industrial hubs.
The roadmap
State chief secretary V C Pharka has asked the people of the state to extend support for the campaign. The police, personnel of forest, revenue, rural development and panchayati raj departments will all be part of the initiative.
The government also plans to involve yuvak mandals, mahila mandals and volunteers of the NSS and NCC. Pharka, while asking for society to be more vigilant in providing the right information to law enforcement agencies, has also asked temple authorities, educational institutions and power projects etc to contribute under the Corporate Social Responsibility (CSR) to help set up drug de-addiction centres.
The economics of the trade
Many villagers treat cannabis as a cash crop. Several even employ labour to rub the charas.
Recent findings claim that at time even a cheaper version is imported from Nepal and sold to visitors from other states while original Himachali stash is smuggled to Goa and abroad - ensuring it more or less entirely consumed by foreigners. The difference in cost between the Nepalese variety and the original Himachali variety can be up to 15 times.
Sources say that hashish from Nepal costs Rs 10,000 to Rs 12,000 per kg while Malana hash is sold for anything between Rs 2.5 lakh to Rs 3 lakh per kg. There is a huge margin of profit for drug suppliers and youngsters drawn to the state by the drug lure can hardly make out the quality difference. Reports say that youngsters from Punjab, Haryana and Delhi outnumber foreigners who want to buy smoke.To smuggle the drugs out, there are many innovative methods used, that include using condoms, coconuts, religious books, fruit boxes and even pickle and honey jars to avoid sniffer dogs.
Challenges ahead
But despite weed being naturally grown in the state, the biggest challenge for Himachal Pradesh today is synthetic drugs.
"Cannabis has not been a major problem within Himachal. Its smuggling and the foreign connection has been an embarrassment. But synthetic drugs are something that have come home to haunt the locals. The government needs to get surveys done by reliable agencies to get to the root of the problem, its extent and come out with both short and long term strategies. Of late, the menace of synthetic drugs has become a serious concern as the youngsters are quickly getting hooked to them, particularly in the urban areas," says a senior media person based in Shimla.
CM Singh has pointed that the need of the hour is to take stringent action on the drug manufacturers along with bringing few amendments in rules and regulations to break the nexus between drug manufacturers, sellers and drug peddlers which are pushing the youth to addiction of psychotropic and other form of drugs.
While underlining the need to promote cultivation of other cash crops and construction of roads in interior areas to help check the cultivation of cannabis, he said, "Though we have miles to go before we make Himachal a completely drug free state, yet the steps or decisions we have taken are required to be supplemented by 'one and all' in true perspective to root out the evil."
At a meeting held in Shimla a couple of days back he came up with the decision of recruitment of more drug inspectors in the health department to bring the chemists involved in sale of psychotropic drugs to book.
Singh has called upon the civil society organisations to open more de-addiction centres, particularly in Baddi-Barotiwala-Nalagarh area that has emerged as a major industrial hub and has also seen an increase in drug abuse by the youngsters.
Principal secretary (Health) Prabodh Saxena has come up with a proposal to amend the Drugs and Cosmetics Act to make its violations a cognisable and non-bailable offence. He has also suggested that a letter be written to the union health minister requesting him to declare few drugs as controlled drugs, so that check could be kept on chemists by conducting raids regarding the quantity of drugs in store.
State drug controller Navneet Marwaha told Catch, "There is a move to amend the Section 18 (c) of the Drugs and Cosmetics Act following which no one would be able to possess the synthetic drugs without a license. Even the common consumers of pharmaceutical products (cough syrups, pain killers, sedatives etc) that are consumed by addicts will have to have a prescription if they possess them. This will go a long way in checking the synthetic drug abuse."
More in Catch - A California chef's secret to delicious food - pot
The great Himachal road situation: negotiating multiple dilemmas