Prince of Bhutan steals the show as royal family visits India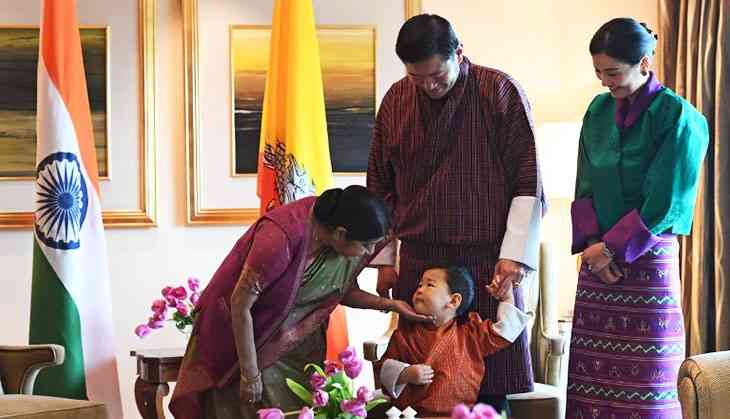 Indian Foreign Minister Sushma Swaraj (L) interacts with Bhutan's prince Jigme Namgyel Wangchuck (C) as Bhutanís King Jigme Khesar Namgyel Wangchuck (2R) and Queen Jetsun Pema (R) look on prior to a meeting in New Delhi. (AFP PHOTO / PRAKASH SINGH)
Bhutan's royal couple – King Jigme Khesar Namgyel Wangchuck, and queen Jetsun Pema Wangchuck, arrived in New Delhi on Tuesday on a four-day-long visit. However, it is their young son, Prince Jigme Namgyel Wangchuck, who is stealing the show.

After photos of the young prince with External Affairs Minister Sushma Swaraj appeared in the media, several took to Twitter and other social media platforms to express just how cute they thought he was.

The royal family was received at the airport by Swaraj, who also had a detailed discussion with the King. The Bhutanese royals later met President Ram Nath Kovind and are expected to meet Prime Minister Narendra Modi.

The visit also has strategic significance as it comes barely a month after the resolution of the standoff at Doklam between India and China. The standoff took place on Bhutanese territory after Indian troops refused to let China go ahead with road construction at the strategically important tri-junction.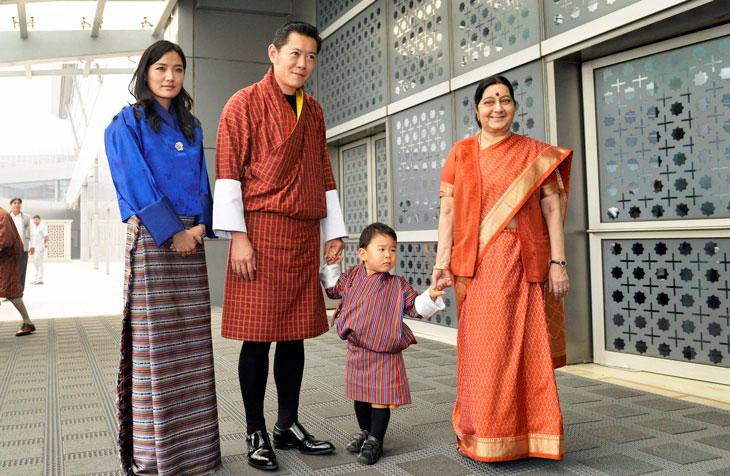 Sushma Swaraj with Bhutan's king Jigme Khesar Namgyal Wangchuk, Queen Jestun Pema and their son Jigme Namgyel Wangchuck at the IGI airport in New Delhi. (PTI)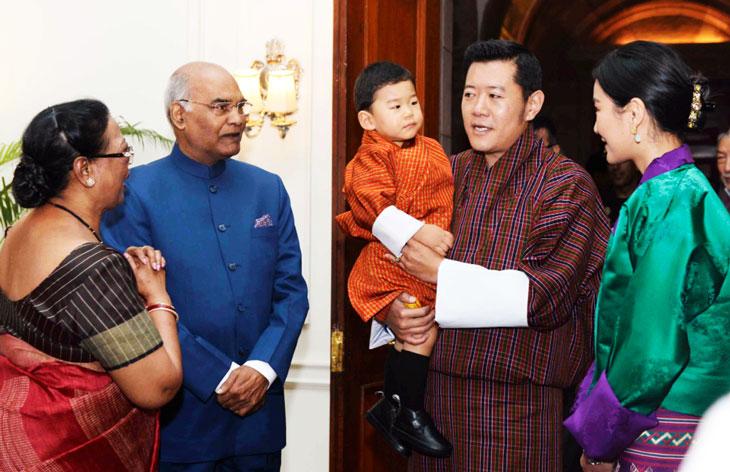 President Kovind met Bhutan King Jigme Khesar Namgyel Wangchuck, the queen and the prince at Rashtrapati Bhavan. (Twitter)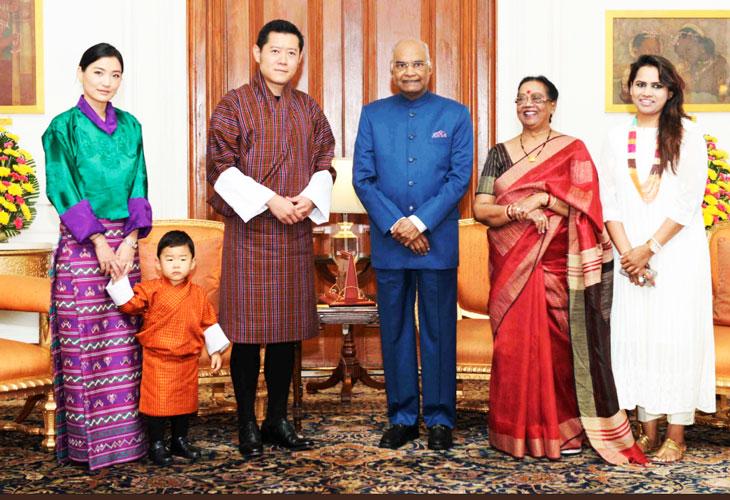 President Kovind met Bhutan King Jigme Khesar Namgyel Wangchuck, the queen and the prince at Rashtrapati Bhavan. (Twitter)
President Kovind met Bhutan King Jigme Khesar Namgyel Wangchuck, the queen and the prince at Rashtrapati Bhavan. (Twitter)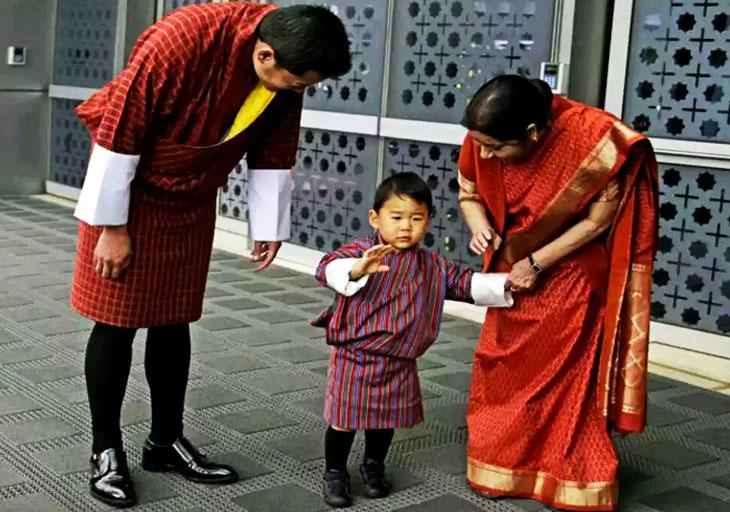 ANI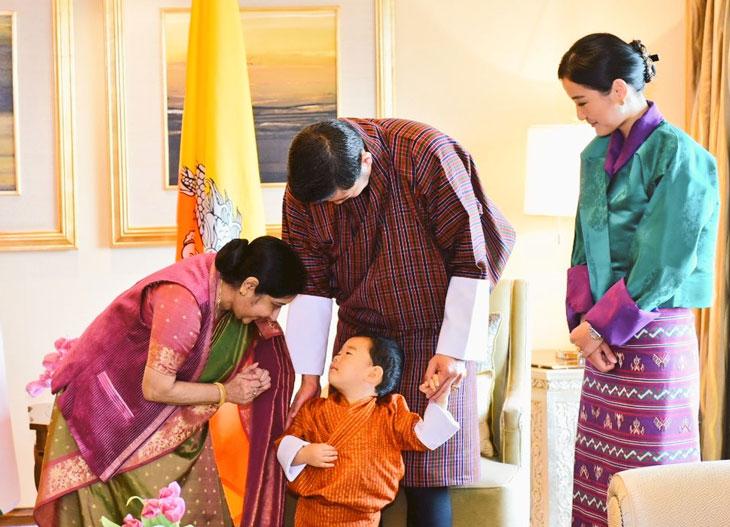 Sushma Swaraj (L) interacts with Bhutan's prince Jigme Namgyel Wangchuck (C) as Bhutanís King Jigme Khesar Namgyel Wangchuck (2R) and Queen Jetsun Pema (R) look on prior to a meeting in New Delhi. (Twitter)
Sushma Swaraj (R) presents gifts to Bhutan's King Jigme Khesar Namgyel Wangchuck (2R) as Queen Jetsun Pema (L) and prince Jigme Namgyel Wangchuck (C) look on prior to a meeting in New Delhi. ( AFP PHOTO / PRAKASH SINGH)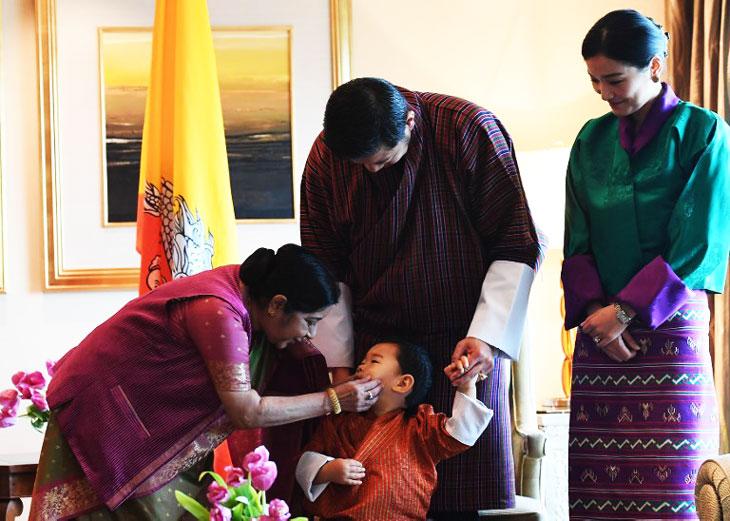 Sushma Swaraj (R) presents gifts to Bhutanís King Jigme Khesar Namgyel Wangchuck (2R) as Queen Jetsun Pema (L) and prince Jigme Namgyel Wangchuck (C) look on prior to a meeting in New Delhi. (AFP PHOTO / PRAKASH SINGH)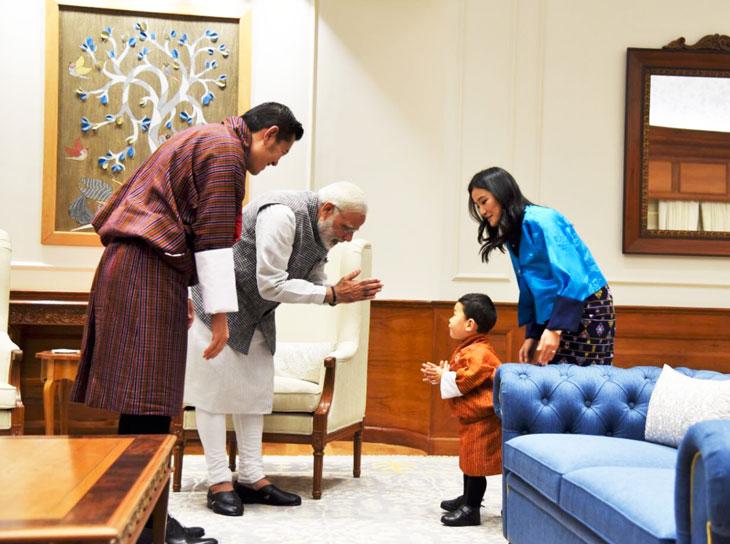 Prime Minister Narendra Modi with King of Bhutan Jigme Khesar Namgyel Wangchuck, the queen and their son. (Twitter)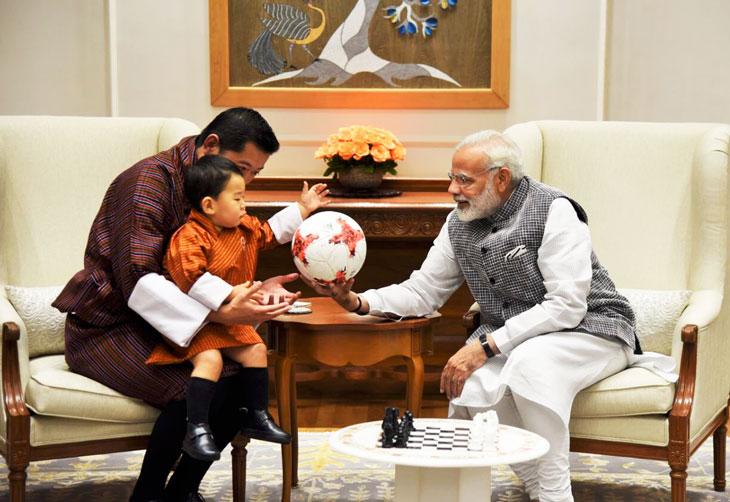 Twitter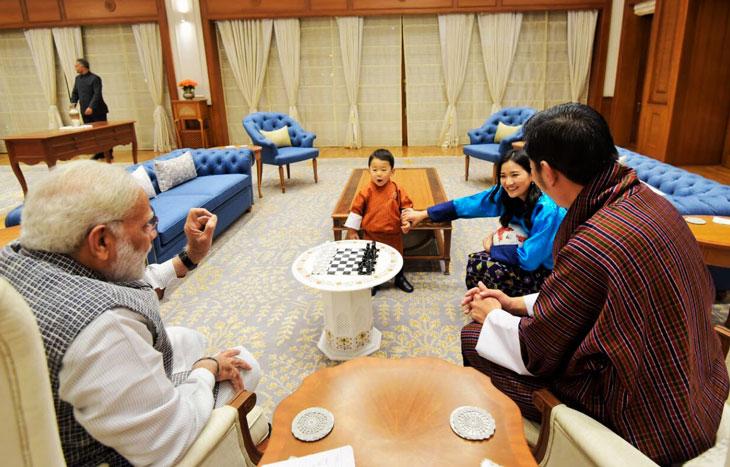 Prime Minister Narendra Modi with King of Bhutan Jigme Khesar Namgyel Wangchuck, the queen and their son. (Twitter)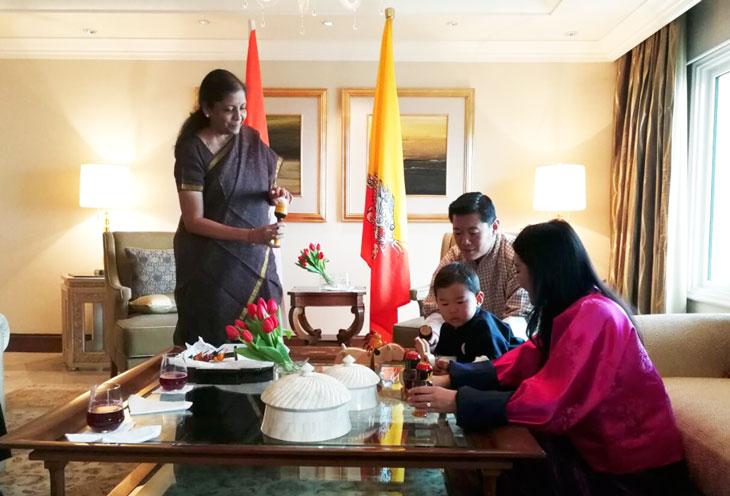 Nirmala Sitharaman‏ with King of Bhutan Jigme Khesar Namgyel Wangchuck, the queen and their son. (Twitter)