Gujarat Dalits attacked again, this time for demanding justice
Rathin Das
| Updated on: 10 February 2017, 1:47 IST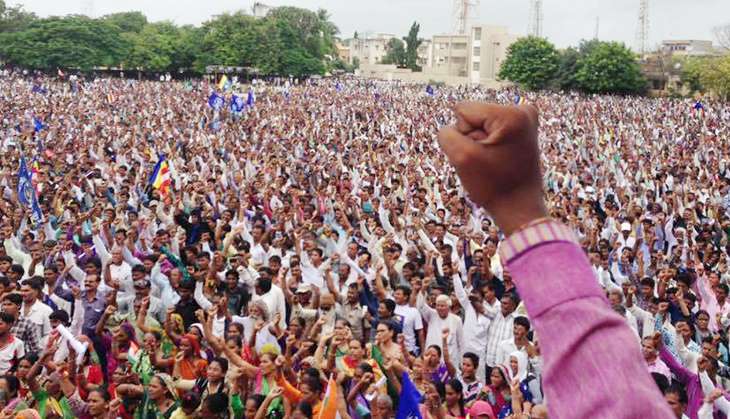 It is a telling commentary on the plight of Dalits in the 'developed' state of Gujarat. At least 50 Dalits were injured in attacks by upper caste people, who were annoyed over the former's rally in Una on 15 August.
The upper castes - cow vigilantes or otherwise - took out their wrath on the Dalits because some of their own have been arrested for publicly flogging four Dalits for skinning a dead cow on 11 July.
Mevani's allegation
Lawyer-turned-activist Jignesh Mevani, who led the 10-day, 350-kilometre Dalit Asmita Yatra from Ahmedabad to Una, alleged that this would not have happened if the police had acted on their complaint, and taken timely action.
Dalits returning from Una after the rally on the morning of Independence Day were waylaid at different places, and attacked with iron pipes and sticks. Stones were also pelted at them, Mevani told Catch on Tuesday.
About 50 to 60 people have received injuries of different kinds, he said while leaving for Mahuva, where several Dalits have been admitted in hospital. Many others have been admitted at Community Health Centres (CHC) in Una and Bhavnagar, and the Ahmedabad Civil Hospital.
"We had informed the police as soon we got the first hint of possible attacks, but they remained absolutely inactive," Mevani alleged.
The people of Samter, the village from where about a dozen men were arrested for their role in the original flogging incident, have been terrorising lower caste people for last few days, Mevani added.
It's ironic that these attacks have occurred, in light of the fact that the Dalit Asmita Yatra did not feature one word against the upper castes or cow vigilantes who tormented the four Dalit cousins, the activist pointed out.
He clarified that all that the Dalit Asmita Yatra demanded was justice for the community, by way of land to cultivate, as they need a livelihood option after giving up their traditional job of lifting dead animals, skinning them and also cleaning the sewerage pipelines.
Violence on the highway
The tormented family of Balubhai Sarvaiyya and others are still feeling threatened after attending the alternate Independence Day rally at Una. They want the police to escort them back to their village, Mota Samadhiyala, after violence broke out on the highway.
The attackers have burnt two cars and stoned several other vehicles. The upper castes have also erected road blocks on the highway, through which the Dalit rallyists are returning from Una.
Dalit activists alleged that the police have not made a single arrest since the attacks began on Monday, when the marchers started dispersing after the rally at Una.
Edited by Shreyas Sharma
More in Catch
Dalits hoist flag at Una, but their battle for freedom has just begun
Political awakening: Una may just change the lack of Dalit leadership in Gujarat
Una Dalit march: Meet the men taking on Gujarat's Hindutva brigade