This story about the Delhi garbage strike will make your hair rise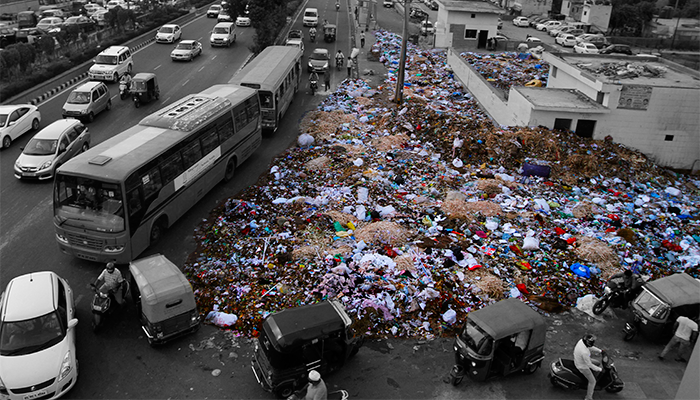 The stink
1,500 tonnes of garbage, 1,200 workers, a 12-day strike.
Not paid for months, sanitation workers refused to collect garbage
MCD doesn\'t have the money, state and Centre are passing the blame.
Delhi barely averted a potential health crisis.
The mess
Corporations are inefficient, heavily indebted.
AAP wants to milk the crisis for statehood demand.
Workers haven\'t been paid for 3 months, could strike again.
The clean up
State can waive the corporations\' loans, but can\'t afford to.
MCD can be reunified, administered better.
Central government can pitch in and help.
More in the story
Workers fear another crisis, prepare for agitation.
Modi government plans to curtail labour unions.
In the past few months, as sanitation workers intermittently struck work, Delhi's streets got swamped with unclaimed garbage, triggering fears of a health crisis.
It didn't take long for leaders of the Congress, AAP and BJP to troop out, brooms in hand, and launch competing 'cleanliness drives'. They came, they swept, and everyone went home happy.
Except sanitation workers. Their woes, it seems, are far from over.
The morning after the latest strike was called off on 14 June, a group of safai karamcharis, diligent and dedicated, were working at full tilt in Geeta Colony, East Delhi.
They were apologetic. "We are terribly ashamed that the people of Delhi had to suffer because of us. But the situation went out of hand. We had no choice," one of workers, Joginder Bhaut, said.
Who are these workers? What are their issues, their hopes, their fears?
On the ground
Raju, is from Ward 231.
He hasn't received salary for three months. And during this time, he was diagnosed with a liver infection.
"I had a suppurating liver, my hands were swollen. I went to the office and begged for my money. They snubbed me; they didn't even listen to me," Raju said. "Ultimately, I had to take a loan for my treatment. I now have a debt of Rs 45,000."
Sanitation workers spend most of their time at Dhalao Ghar, or community garbage dump. Not surprisingly, they are more prone to getting sick.
The Municipal Corporation of Delhi does provide its employees medical coverage. It has empanelled some 350 hospitals for treating them.
However, unlike state government employees who benefit from the 'Cashless Card' insurance scheme, MCD workers have to pay a lump sum amount to the hospital from their own pockets.
They can claim the amount from their departments later, but while they do, many go into debt.
"We should be natural beneficiaries of the Cashless Card scheme. We deal with the public's waste but when it comes to benefits, we can't avail public resources like any other government employee," complained Sanjay Gehlot, President, MCD Swachhata Karamchari Union.
Joginder Bhaut, works in Ward 228.
He has been a substitute employee since 1996. And there is no hope of being regularised anytime soon.
"I come from Kandli in Muzaffarnagar. I pay more for the commute than the Rs 300 I make as daily wages," said Joginder. "When I get work, that is."
"Most substitute employees get to work for not more than two days a month. We can't do other jobs as they have us on a hook," he added. "Some of us have been waiting over 20 years for a permanent position."
MCD has three categories of sanitation workers - substitutes, daily wagers and permanent. Substitutes are at the lowest rung and get work rarely, sometimes once in six months.
This means they often go weeks and months without getting paid.
"If not for the connivance and corruption of sanitation inspectors, something could be done," said Gehlot. "Our karamcharis are illiterate, they can be exploited."
Virender is from Ward 230.
He too has not been paid for three months. "Loans are mounting. There is no money for my children's fees," Virender said. "They need to stop politicising our lives."
"Before Arvind Kejriwal, at least the salary kept coming. Now, that has stopped. We will never vote for Kejriwal again," he added, claiming the sanitation workers had voted en masse for the AAP.
"If Kejriwal or Rahul Gandhi can step foot in a Dhalao Ghar, where we practically spend our lives, we'll blindly follow them anywhere," Virender continued. "Can they even touch or pick up a real broom?"
"Only Dalits can do this work. It's our traditional profession. But we're treated as vote banks. Nobody cares about educating or empowering us," said Gehlot.
Of the 30,000 sanitation workers in Delhi, nearly to 80% are Dalit.
Messy politics
The MCD, an autonomous body governing eight of Delhi's 11 districts - the others are with the New Delhi Municipal Corporation - was trifurcated into North, South and East corporations by the Congress government in 2011 in a bid to its wrest control from the BJP.
The BJP has ruled the MCD for the past 13 years. The corporations are partly under Centre's purview, while the Delhi government has minimal power over them.
Soon after the split, the corporations took a loan of more than Rs 2,000 crore from the then-Congress government to get going.
As for the pre-trifurcation MCD's accumulated grants of Rs 1,800 crore, North got Rs 700 crore, East Rs 335 crore and South the rest.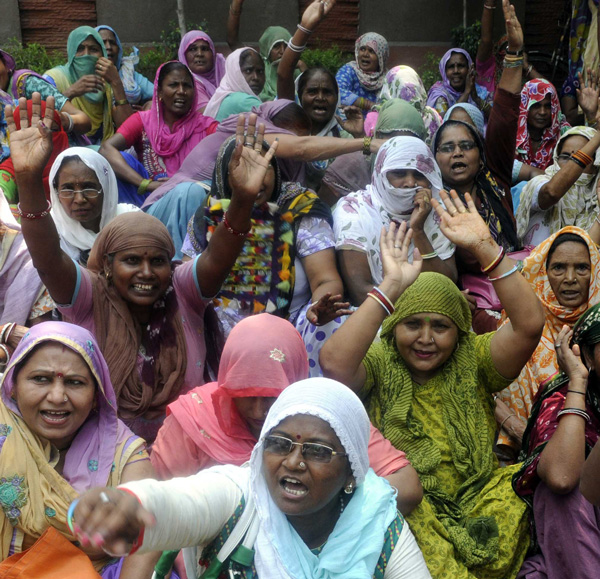 North and East, devoid of good sources of revenue, have taken loans from the state every year since, piling up huge debts.
The North now owes Rs 2,800 crore, about Rs 1,472 crore of it to the state and the rest to the Centre. The East is Rs 626 crore in the red.
In fact, the two corporations barely managed to pay salaries until the AAP came to power.
The South corporation, however, has managed to stay just above the water thanks to good sources of revenue. It owes no more than Rs 250 crore.
The state gives two types of grants to the MCD every fiscal. The Ways and Means grant can be utilised by the corporations as they please - to pay salaries or for other expense.
The other is the global share - 5.5% of the tax revenue collected by the state through transfer of duty, vehicle registration, parking charges, electricity tax.
And this is the bone of contention.
MCD owes the state government more than Rs 2,000 crore, but is asking for more
The corporations claim the AAP government isn't releasing the global share due them. The previous Congress government had adjusted this amount against the mounting loans it gave them.
Of the global share, 1.5% is a grant for municipal reforms and it's released at the government's discretion.
MCD hasn't received this share for the past three years. Indeed, since the trifurcation, they have got no more than Rs 7 crore for municipal reforms.
Resource crunch
To survive, the corporations have sold portions of their civic centres and diverted funds from plan heads - grants from the central government for education, health and urban development.
The North corporation alone has diverted over 450 crore, of the Rs 1,600 crore received, for payment of salaries. The MCD's main sources of revenue - property tax and advertisement - too are under a cloud.
Despite administering a huge area, MCD's ad revenue in the past fiscal was a meagre Rs 95 crore. The North, the biggest municipality, made just Rs 17 crore.
And revenue from property taxes has declined in the past three years even though real estate prices have skyrocketed.
Reasons: enforcement of property taxes have been trumped by populism and the MCD has failed to streamline the tax system.
The East and North corporations, for example, together spend Rs 125 crore on old-age pension even though it's not their core obligation.
Bureaucratic laziness and lack of accountability have further crippled the system.
Short-changed, claims MCD
The corporations claim their balance sheets are in the red because their sources of revenue have been drastically slashed in the past few years.
Their significance has been reduced with the decentralisation of the departments of public works, fire and electricity, as well as the Jal Board.
And most of their advertising sites have been handed over to the PWD, Delhi Metro and other government bodies. Transfer duties have also been reduced.
To make up the shortfall, the MCD hiked rates for services like parking, only to anger the public.
The government, however, denies that it's sitting on the funds. "We've dispersed our quarterly payments on time, last on 13 June. The next allotment is due in October," said Dilip Pandey, AAP's Delhi Secretary. "It's the MCD's fault if it hasn't paid the workers."
"They are asking us to forsake the debt amount. What about accountability? The Congress government gave a loan of Rs 2,000 crore to the MCD. They must be accountable for it. MCD is not above the law."
Besides, the state itself is facing a financial crunch. Its revenue targets for this fiscal are estimated to fall short by over Rs 4,000 crore. MCD, governed under a central Act is not the state government's liability.
Non-permanent workers get work rarely, and sometimes go months without getting paid
Yet, Pandey said, the MCD wants advance release of the annual global share as well as municipal incentives.
Even if the state finds the money, the MCD still won't be financially viable. The North corporation generates a revenue of Rs 2,000 crore. Its basic annual expenditure touches Rs 2,800 crore, with salaries and pensions of municipal employees alone taking over Rs 250 crore per month.
Similarly, the East needs Rs 1,300 crore a year for salaries, medicines in hospitals, streetlights and suchlike.
The Rs 493 crore released by the AAP government on 13 June, therefore, is cold comfort. Moreover, if all revenue goes into paying salaries, development work will be stalled.
The way out
In this situation, the corporations should ideally demand waiving of their loans. The MCD had, in fact, raised this demand with the Sheila Dikshit government - to no avail.
Another solution could be unification of the MCD, or bringing it under the state's purview, though that would tie it with the statehood issue. There is no resolution on the horizon though. Only more of the same mess.
Although withheld salaries have been released, the substitute workers are yet to receive theirs. Given the extent to which the MCD is mired in debt, workers anticipate another systemic crash, and soon.
"The commissioners have given to us in writing that we will receive our salaries by the 10th of every month. This is not going to happen," said Gehlot.
So, they are planning a massive demonstration against MCD commissioners at the Civic Centre Gate 5 on 15 July.
"Our woes do not end here. We will sit on dharna for years if we have to. They must address issues of pending arrears, substitute workers and health subsidy," Gehlot added.
Meanwhile, to break the BJP-Congress control over sanitation workers' unions, Kejriwal is reportedly establishing an AAP-backed safai karmchari union.
All 33 sanitation workers' unions in Delhi are backed by either the BJP or the Congress. The 1,200 workers who struck work in East Delhi recently were backed by the Congress.
"AAP is meeting with the head priest of Pachkuian Mandir, the biggest temple of Valmiki Samaj. The plan is to break our unions and form their own, to muster votes in the 2017 municipal elections," Gehlot said.
"We won't step back. But since we don't want to inconvenience the public, we will hold dharnas and protests in the coming months."
Forging the shackles
As if the sanitation workers' agitation wasn't crisis enough, nearly 2,000 government doctors have now gone on strike.
With the Delhi government imposing the Essential Services Maintenance Act to force the doctors back to work, the stage is set for another showdown between the AAP and the BJP.
The capitals' residents are certain to suffer as a result.
Soon though, if the Narendra Modi government has its way, even organising a strike might not be of much help.
It is pushing labour reforms that will curtail the exercise of this basic democratic right. A proposed amendment to the Industrial Relations Bill will make it necessary for labour unions to notify their employers six weeks before striking work.
The notice will kick-start a conciliation process, which won't be time bound. Any protest during this process will invite a fine of Rs 50,000 or a month in prison.