E-cigarette banned in India: Twitterati asks, 'Why not ban cigarettes as well?'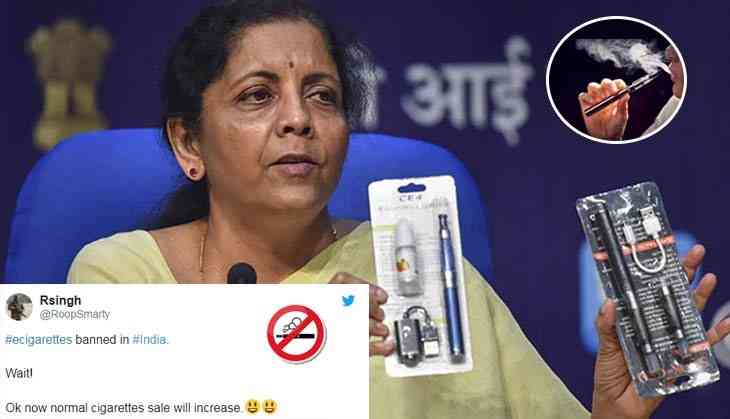 The Union Cabinet on Wednesday gave its green signal to ban electronic cigarettes or also known as Electronic Nicotine Delivery Systems (ENDS), in India.
Finance Minister Nirmala Sitharaman at a press conference said: The Union Cabinet has given the approval to ban e-cigarettes. It means the production, manufacturing, import/export, transport, sale, distribution, storage and advertising related to e-cigarettes are banned.
After this news broke out, social media gets active and started sharing their responses on the micro-blogging site. Several hilarious memes and jokes have surfaced the Internet. Some users were also asking to ban cigarette too. While some are digging at the decision taken by the government.
Check out how netizens reacted on banning e-cigarettes in India:
#ecigarettes owners to Government for not banning Cigarettes and Tobacco: pic.twitter.com/YhEu2rNchJ

— Pulkit (@voxxpopli) September 18, 2019
#ecigarettes banned in #India.

Wait!

Ok now normal cigarettes sale will increase.😃😃 pic.twitter.com/zzJh04R8Qa

— Rsingh (@RoopSmarty) September 18, 2019
#ecigarettes ban because chacha Nehru likes the regular 😂😂 pic.twitter.com/HLAWoOYNMq

— Ritik (@younglord_____) September 18, 2019
According to Government 👇

Pic 1: Tobacco cigarette is good for health. Let's not ban it.

Pic 2: E-Cigarette is not good for health. Let's ban it.

🤐🤐#ecigarettes#ecigaretteban pic.twitter.com/cGBQN2qNId

— Avinav☀️🏹🇮🇳♌ (@avinav_g19) September 18, 2019
Non smoker Nibba to his chain smoker friend.

Bhai ye beedi aur ciggerret #ecigarettes pic.twitter.com/qSOPLCWVG3

— Kabira Speaking (@thewordsofshiva) September 18, 2019
#ecigarettes are banned
Meanwhile tobacco company pic.twitter.com/pP9qRdRiYX

— Abhishek Gupta (@abhigupta_ak) September 18, 2019
After e cigarettes ban: pic.twitter.com/kXxzQOPawA

— KuSH (@KuSHashtra) September 18, 2019
A lot of chatter about #ecigarettes today after FM Nirmala Sitharaman's press briefing.

However, most of the people have no idea about #ecigarettes. Here's a lengthy thread about what ecigarettes are and how do they affect India.

— Pratish Pallath (@LightZoom) September 18, 2019
However, Congress slammed the government and said that decision has taken by the Modi-led government to appease US.
What's your view on banning e-cigarette in India?
Also Read: India bans e-cigarette: Congress slams Centre, says decision taken to appease US