Durga Puja Carnival is a big draw, Mamata promises grander event next year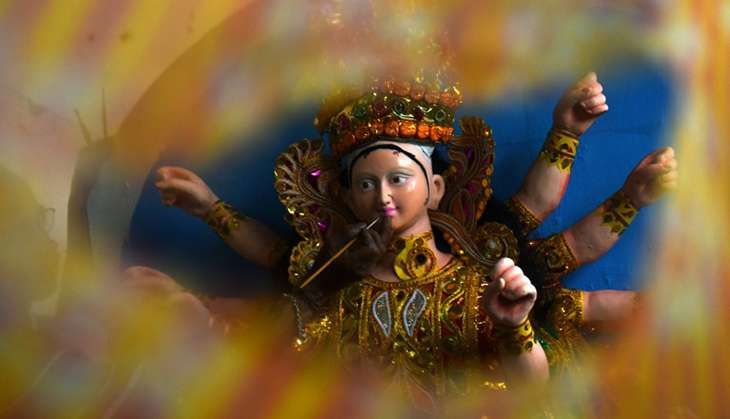 The first Durga Puja Carnival organised by the West Bengal government in Kolkata on Friday turned out to be a big draw. And encouraged by the public response, Chief Minister Mamata Banerjee promised a far grander bash next year that would see up to 75 puja pandals participating.
The carnival saw 39 pandals exhibited. The puja committees brought their idols and tableaux to Hastings Crossing, from where they were driven, in a procession, to the venue on Red Road. Each committee had three minutes to showcase its pandal. The carnival goers were also treated to various dances such as Chhau, Manipuri, Bharatnatyam.
The chief minister later asked the Kolkata Municipal Corporation and the cultural affairs department to set up an exhibition centre where these works could be preserved and displayed. "Many puja pandals can't preserve their art and craft works after the puja, so I feel that an exhibition centre should be set up to showcase Bengal's greatest carnival."
Also Read: Calcutta HC Durga Puja order: your honour, what exactly is minority appeasement?
The carnival was planned as part of Biswa Bangla, a marketing strategy of the TMC government to attract tourists and business. According to officials, the carnival is meant to "showcase Durga Puja for an international audience, especially those cannot make it to Bengal for the puja".
The government had made elaborate arrangements for the carnival. There were at least 2,000 seats for VVIPs, and some 20,000 for the general public. Consuls of various countries posted in Kolkata were in attendance.
Not impressed
The opposition CPI(M) though was not amused, and criticised the TMC regime for blowing public money on religious programmes. "The secular fabric of the country is damaged by organising such carnivals, that too in such an elaborate manner," senior party leader Surjya Kanta Mishra said. "Durga Puja is a festival that is held every year, so there is no need for the state government to spend a huge amount of money on such carnivals."
Moreover, Mishra alleged that by organising the carnival, the Trinamool Congress, in league with the BJP, was "trying to create disharmony in the state".
The sociologist Indranil Roy, however, is all for the carnival. "I feel the greatest festival of Bengal should be showcased so that it finds a place internationally," Roy, who teaches at St Xaviers College, said.
Also Read: Durga Puja - a time of mourning for Mahishasura's descendants