Don't rejoice or outrage at Nitish Kumar's Gharwapsi. Just laugh it off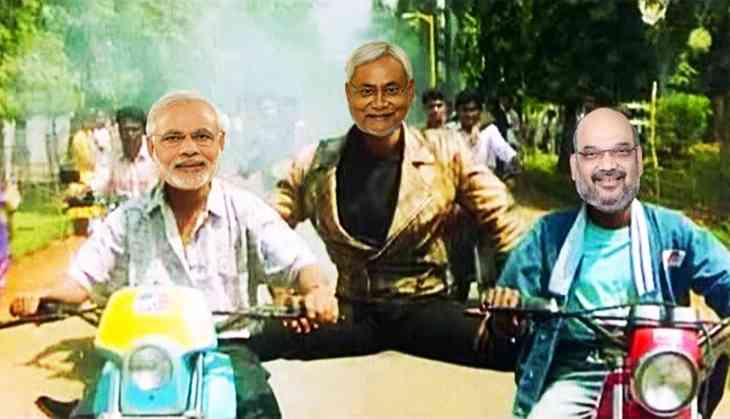 "In politics, nothing happens by accident. If it happens, you can bet it was planned that way" - Franklin D. Roosevelt.
Bihar's political scene has erupted post the resignation and reappointment of Nitish Kumar as Chief Minister within just one day. People on social media are having a laugh at the expense of the political situation in Bihar and it has inspired several cartoons.
His entry into the NDA dissolved the Mahagathbandhan or the "Grand Alliance' between his party JD(U) and Lalu Yadav's RJD. On Friday, 28 July, Nitish Kumar won 131 votes in his favour including the BJP, two independents and legislators of BJP allies, the Hindustani Awam Morcha (HAM)-Secular and the Rashtriya Lok Samata Party (RLSP).
Take one look at the trending tweets of #Gharwapsi and you'll notice a lot of cartoons and memes summing up the situation better than most. We've curated some of the best right here
Nitish breaks away! @mail_today cartoon #NitishQuits #LaluYadav #RahulGandhi pic.twitter.com/RowVA9tpQD

— Satish Acharya (@satishacharya) July 27, 2017
You dont have to fight with your enemies if you make them friends. #NitishKumar pic.twitter.com/fz3UrHs95U

— SAGAR (@sagarcasm) July 26, 2017
If only Lalu had tagged Nitish in memes, this breakup wouldn't have happened#NitishKumar#Bihar pic.twitter.com/5GEX7QlvV2

— Thetharkiknight (@Thetharkiknigh1) July 26, 2017
Great cartoon! pic.twitter.com/j4Ajv9w2jS

— Kavita Krishnan (@kavita_krishnan) July 29, 2017
Nitish Kumar's fights! #Nitishkumar@sifydotcom cartoon pic.twitter.com/sMjqmr2W4a

— Satish Acharya (@satishacharya) July 28, 2017
#NitishKumar ends #MahaGathbandhan #GharWapsi #BiharCrisis #NitishGharWapsi with #Modi #Mukhauta #BhagodaNitish in #BattlefieldBihar pic.twitter.com/PyNMVDUfRC

— charansinghsapra (@Charanssapra) July 26, 2017
BJP welcoming #NitishKumar pic.twitter.com/mwsB5H5EKI

— Phd in Bakchodi (@Atheist_Krishna) July 26, 2017
What Modi, Shah, Nitish and Bihar Governor did to Lalu. 🤣pic.twitter.com/LPY4KQdThB

— Spaminder Bharti (@attomeybharti) July 26, 2017
बोल उनके है पर शब्द हमारे है..#NitishGharWapsi pic.twitter.com/5m1XbUZjtb

— Amit Shah🚩🚩 (@amitshaah_) July 27, 2017
"Bhai #NitishKumar CM post quit karke aaye hai "

PM MODI : " Wo aaye nahi, bulaye gaye hai" pic.twitter.com/qRGEC06lzl

— 007 (@James_Beyond) July 26, 2017
Lalu when asked about the Great Bihar Mahagathbandhan. pic.twitter.com/6VtmRMxuEe

— Pakchikpak Raja Babu (@HaramiParindey) July 26, 2017
[Mahagathbandhan]

1. Rahul Gandhi
2. Mulayam Singh Yadav
3. Lalu Yadav
4. #NitishKumar pic.twitter.com/k4OBTSMMij

— Phd in Bakchodi (@Atheist_Krishna) July 26, 2017
STORY OF #BIHAR #NitishKumar
Lalu Yadav pic.twitter.com/E406nEFV3W

— Phd in Bakchodi (@Atheist_Krishna) July 26, 2017