Did you know what was an ancient Gujarati religious practice? Showering cash
Catch Team
| Updated on: 20 February 2017, 22:32 IST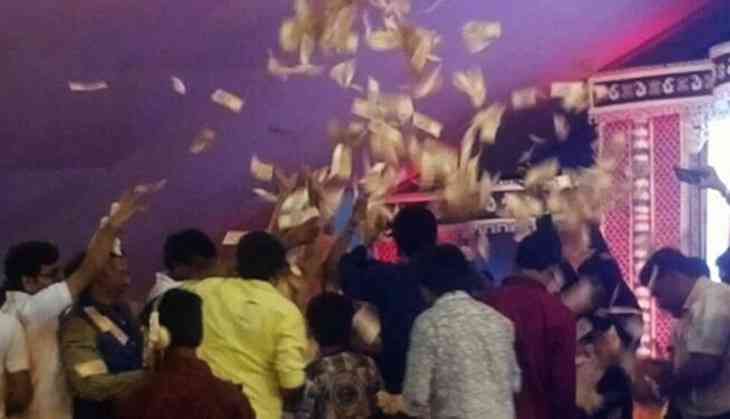 Currency notes being showered during Gadhvi's performance (Patrika)
Currency notes worth lakhs of rupees were showered during the performance of Lok Dayro singer Kirtidan Gadhavi in Gujarat's Vapi. This was at a Shrimad Bhagwat Katha event organised by the Shree Swaminarayan Shikshan Sansthan. Paying no heed to the controversy around the whole event, Gadhavi has called it an ancient Gujarati practice.
The Sansthan is celebrating a spring festival – Basantotsava – to mark the completion of its 35 years as well as 75 years of its founder Purani Swami. A week long Shrimad Bhagwat Katha event is organised under this festival. There are cultural programmes at night, one of which was a performance by Gadhavi.
The mesmerised audience, showered him with currency notes. The video immediately went viral and sparked a controversy.
Some people objected, not to the fact that notes were being showered, but that they were being crushed under people's feet at the event.
Despite the controversy, the organisesrs and Gadhavi remain unfazed. Notes were similarly showered during the performance of Maya Ahir on Saturday night. Among the people who showered the notes, was Kapil Swami, one of the organisers.
Gadhvi has defended the function, saying that showering notes at Lok Dayro events was an age old practice. He claimed that the money gathered is utilised for charity.
He said that this had nothing to do with the note ban, as "it did not adversely affect people's wealth and their capacity to donate for a religious cause".
Commenting on this issue, Rakesh Maharaj from Vrindavan, who is known for his sermons on the Bhagwad Gita, said that the controversy was meaningless.
"In Hindu tradition, doling out the wealth for religious causes is given priority over assimilating it for selfish use. The people who pour their notes in Dayro are doing so out of charitable intentions," he said.