Dalits in Gujarat turn the heat on cow vigilantes
Rathin Das
| Updated on: 10 February 2017, 1:48 IST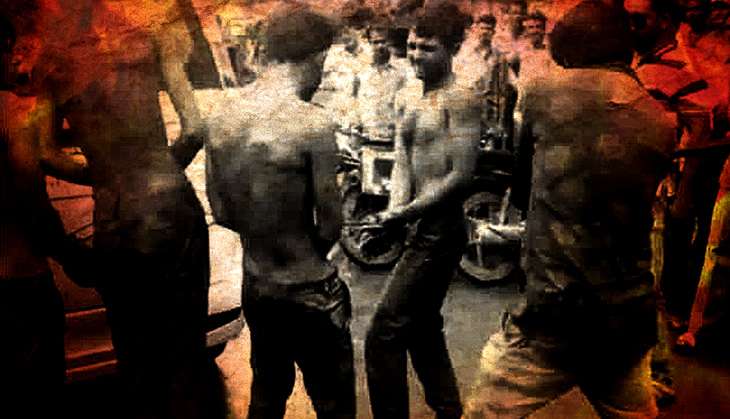 Why are they angry
Dalits are protesting against the atrocities in Una
A Dalit family was thrashed in Una for skinning a cow that had died naturally
Who attacked them
The Dalits were thrashed by Hindu cow vigilante groups
This is not the first incident of this sort in Saurashtra
More in the story
How are the Dalits protesting?
Is the government listening?
The public flogging of Dalits in Una last week by Hindu Shiv Sena activists has snowballed into a major crisis for the two-year-old Anandiben Patel government in Gujarat.
In Una, members of a Dalit family was beaten up for skinning a cow that died naturally. On Monday, Dalits took to the streets, resorting to multiple means to express their anguish over the incident.
While some torched state transport buses on Monday night, seven others attempted suicides at two different places to mark their protest against the humiliation the lower castes are being subjected to by Hindu vigilante groups in Gujarat.
In a grim reminder of what Munshi Premchand had penned in Sadgati nearly nine decades ago, Dalits in some towns have threatened to not remove any animal carcases - a dirty job they are forced to perform due to their abject poverty.
Reality check
The Dalits have also followed up this threat by bringing few truckloads of dead cows and dumping them at the compounds of government offices in at least two towns of Saurashtra. Reports of such protests from other towns with sizable Dalit population have not come in yet.
The protesters brought more than 25 dead animals, mostly cows, in mini trucks to the district collector's office in Surendranagar and vowed not to remove them till a real assurance of justice comes from the authorities.
In Gondal town of Rajkot district, where the five Dalit youths attempted suicide Monday morning, angry protesters brought several dead cows in tractors and dumped the carcases at the Government Revenue Officer's compound.
The agitating Dalits have also threatened to stop the removal of animal carcases from all villages and towns in future too, a move that may lead to serious health hazards - especially during monsoon when the high humidity can make the rotting bodies infectious very soon.
Road blocks
Dalits also expressed their ire by blocking a portion of Rajkot-Porbandar highway and set fire to two buses of the Gujarat State Road Transport Corporation (GSRTC).
However, the Dalits first allowed the passengers to get off before setting the buses on fire. There were no human casualties from the rampage in Saurashtra.
In other related incidents since Monday morning's suicide attempts at Gondal and Jamkandorna towns, animal bones and flesh pieces were thrown at the Mamlatdar (Revenue Officer) Office in Gondal.
The Bus Rapid Transit System (BRTS) stand and the telephone exchange at Rajkot were vandalised, stones were pelted at state transport buses in Dhoraji and Jetpur towns while police vehicles were also attacked in Shapar.
Much like BR Ambedkar, a few Dalit leaders threatened to convert themselves to another religion if atrocities against their people are not stopped immediately.
On the other hand, nearly 200 Dalits in Morbi district have applied for arms licence to protect themselves against attacks from Hindu vigilante groups.
Matter of life and death
The series of protests against the barbarity in Una started Monday morning with five Dalits arriving at the town's Ambedkar statue and drinking phenyl from bottles they had brought along.
The police intervened promptly and rushed them to the government hospital where they were declared to be out of danger.
Later, two other Dalits consumed poison near the crematorium at Jamkandorna town.
As the Una Dalit thrashing issue rocked Parliament with Bahujan Samaj Party (BSP) Supremo Mayawati raising it in the Rajya Sabha, the Gujarat government, too, engaged itself in a damage control exercise of sorts.
After consultations between the ministers and other top BJP leaders, the Gujarat government ,late on Monday, handed over the probe into the Una atrocities to the CID (Crime) and ordered the setting up of a designated fast-track court for speedy trial in the case.
One would need patience to find out whether the assurance of a speedy trial is able to douse the flames of Dalit anger sweeping across Saurashtra.
Edited by Jhinuk Sen
Also Read: Action alert: a 17.1 % increase in crimes against Dalits
Also Read: Horror show on repeat: Dalit girl raped 3 years later by same five men
Also Read: Gujarat's cow vigilantes don't love their Gau Mata, they just hate Dalits
Also Read: Gujarat: 7 attempt suicide, mob uses cow carcass to protest thrashing of Dalits by cow vigilantes