Dadri redux averted in Muzaffarnagar: attackers at large, victim arrested for cow slaughter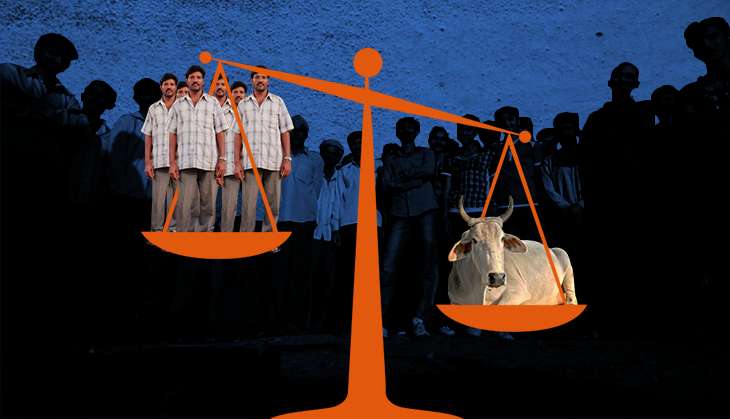 The incident
It could have been the case of another dead Muslim killed for eating beef
It was narrowly avoided when the family that was attacked managed to escape
A family was attacked in Kadali for allegedly killing a cow and consuming beef
More in the story
What do the cops have to say
How was the attack stopped before it got worse
Reports of an attack on a Muslim family's house in a village in Uttar Pradesh's Muzaffarnagar have come in just a month before the lynching of Dadri's Mohammad Akhlaq completes a year.
Not surprisingly, the reasons behind both the attacks are the same - suspicion of consumption of beef. The difference, however is, this time, the family that was attacked managed to escape. However, two members of the family are behind bars.
The incident took place in village Kadali, under Khatauli police station, on 30 July.
The incident
A large group of villagers descended upon the house of Zeeshan after they reportedly received information that he and his family had slaughtered a cow and had possibly also consumed beef.
The villagers allegedly created a ruckus at his house and demolished a part of it. Zeeshan and his family took advantage of the situation and fled, escaping the fate that befell Akhlaq and his family.
Muzaffarnagar SSP Deepak Kumar told Catch that it was Zeeshan's neighbour, also a Qureshi Muslim, who had informed other villagers about the slaughter of a cow in the house.
Soon, 30-40 villagers assembled at the house but Zeeshan ran away along with his family before the villagers could catch him.
Police has taken action in the case, but not against the villagers. Kumar said Zeeshan and a cousin have been arrested under the state's Prevention of Cow Slaughter Act.
Attackers go free
Although none of the attackers have been arrested, police has registered a case against them under Sections 147(rioting), 462 (mischievously breaking open a property), 427 (mischief causing damage) of the IPC.
Kumar told Catch it was raining when the villagers reached Zeeshan's house and since the wall was not cemented, it gave way on its own.
He informed that police confiscated a calf and meat from the house. He also said that he is sure that the meat was beef, but it has, nevertheless, been sent for forensic examination.
Past issues
The SSP was also keen to inform Catch about Zeeshan's background, saying that he was a butcher from the Qureshi community and had been to jail once before in another case of cow slaughter.
He blamed TV channels for running half truths about the incident. He also denied reports of communal tension in the village and said that the villagers had met and decided that they will not allow peace in their village to be disturbed.
Local media reports have suggested that some BJP leaders, including Muzaffarnagar MLA, Kapil Dev Agrawal, and chairman of Khatauli Nagar Panchayat, Paras Jain, have reportedly demanded quick arrest of all those guilty of cow slaughter, failing which there will be protests.
With inputs from Sadiq Naqvi
Also Read: Supporters of Dadri 'beef' murder use social media to wield their weapons
Also Read: Beefed up BJP, weak SP: Is Dadri heading for Muzaffarnagar 2.0?
Also Read: No remorse: villagers in Bishara say 'beef-eating' Akhlaq deserved to die
Also Read: Dadri lynching case: UP Police file chargesheet, beef not mentioned