Clear and present danger: ISIS spooks govt into action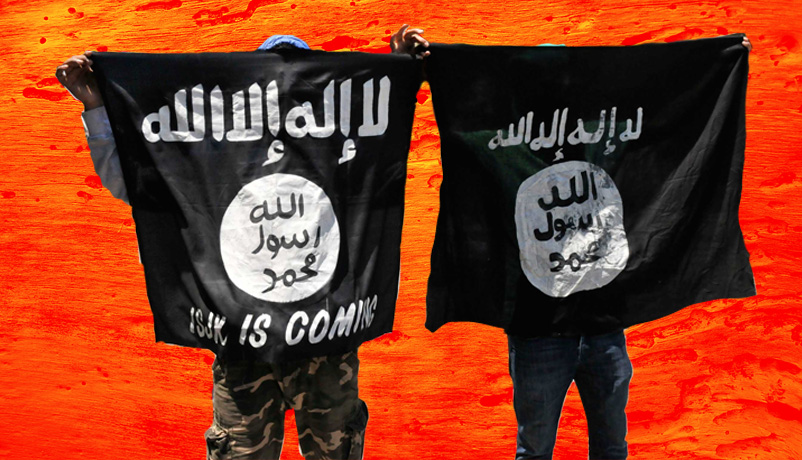 The meeting
The Home ministry met DGPs of 12 states and intelligence officials on 1 August
It was supposedly about radicalisation of Indian youth, but sources say ISIS was the main subject
Telangana and Maharashtra have a plan to tackle the ISIS threat, but UP and J&K lag far behind
The plan
Govt has identified 70 ISIS sympathisers and two handlers
It is keeping an eye on them in a hope that they\'ll lead to bigger fish
This is why there is no plan to arrest anyone, until an actual terror plot is hatched
The threat of radicalisation is being tackled through counselling by families and community elders
More in the story
How ISIS is spreading through a kind of franchise system among local terror groups
Analysis of the true scale of the ISIS threat to India and its possible Pakistan connection
ISIS is now an official, credible threat to India. For the first time, on 1 August, the Ministry of Home Affairs (MHA) held a high-level meeting with DGPs of 12 states and intelligence officials to review its policy on ISIS.
MHA says the meeting held on Saturday was to combat the growing radicalisation of youth in the country.
However, insiders talk about how the meeting was held basically to deal with ISIS and its growing influence over Indian youth, some of whom it has already managed to wean over.
Sources in the MHA say this meeting wasn't held to discuss the backlash expected in the wake of Yakub Memon's execution. It was in the works for a long time, first scheduled to be held on 18 July but postponed due to Eid.
The government is basically looking to develop its present strategy of countering ISIS's influence on Muslim youth through a de-radicalisation program, instead of going out and arresting every ISIS sympathiser.
Also on the agenda in Saturday's meeting was an emphasis on close monitoring of potential handlers and recruits of ISIS, in areas which are seen to be prone to radical influence.
Among other things, MHA is looking for an answer to the following questions.
How serious is the ISIS threat?
If there was any doubt, the terror group dispelled it by abducting four Indians in Libya on 30 July. Two have been reportedly released, while two are still in captivity.
Intelligence reports from across the world indicate that ISIS is itching to carry out a big attack in the country.
According to sources, the Intelligence Bureau sounded an alert over a big ISIS-backed attack in the country on 18 June. This threat was also confirmed by a news report, based on a document, in USA Today last week. The 32-page document was reportedly recovered from a Pakistani national.
Bruce Riedel, a retired CIA official and now a senior fellow at the Brookings Institute, was quoted as saying that a strike in India would magnify ISIS's stature and threaten the stability of the region. "Attacking India is the Holy Grail of South Asian jihadists," he said.
While the government is not said to be losing sleep over ISIS, it has begun to take the group and its activities in India very seriously.
What makes the threat posed by the group so serious is its inherent nature. ISIS is, unlike most terror groups in the world, basically a franchise-based system.
Local terror groups with the means and know-how can be won over and made to change their allegiance, as has already been reported from Afghanistan and Pakistan.
A former ambassador to a neighbouring country, who did not wish to be named, spoke on the credibility of the ISIS threat.
All doubts about ISIS being a serious threat were dispelled when it abducted four Indians in Libya on 30 July
"As of now, we have been very vigilant in monitoring the development ISIS in the region. In Afghanistan and Pakistan, ISIS has made some advances. Terror groups have replaced their banner with that of ISIS. The availability of militant outfits like Lashkar-e-Janghvi and Sipah-e-Sahiba, who have been targeting Shia Muslims, for similar reasons, will become its potential allies," the diplomat said.
The diplomat added that the terror strike in Gurdaspur has just exposed the vulnerabilities of Indian security, and it now makes sense for the Pakistani ISI to use ISIS and these other groups to mount another big attack on India.
According to a senior official at the MHA, "The next model of ISIS basically looks to develop sympathisers within India and carry out terrorism wherever they are. It wouldn't have been such a big challenge if all ISIS sympathisers in India were on their way out. Now, they're looking to stay in and create havoc."
The other aspect of ISIS - its image as an uncorrupted brigade of zealous Muslims working to create a caliphate - is also a great attraction for the youth.
"According to the feelings we have sensed on the ground, a lot of radical Muslim youth are fed up with the militancy backed by Pakistan's ISI. Some think that all that ISI has done is advanced its own agenda, and benefitted from their misery. But in ISIS, they see a clear goal that doesn't have any other ulterior motives, but to set up a society on Islamic principles," the official said.
As of now, 11 Indians, including four boys from Kalyan, Maharashtra, have joined ISIS, while 17 youth have been prevented from travelling to Syria and joining the terror group.
How can states deal with this threat?
Saturday's meeting was held with 12 states, including Andhra Pradesh, Telangana, Gujarat, Uttar Pradesh, Jammu and Kashmir, West Bengal and Bihar, where radical Muslim youth are said to be at particular risk.
While two states - Telangana and Maharashtra - are said to have already come up with strategies to deal with ISIS, other states lag far behind, particularly UP and J&K.
"Western UP has always been a tinderbox. It was perhaps the first solid hunting ground for Pakistan's ISI. But UP maintains that everything is in order there. The MHA doesn't insist that ISIS has started forming cells there, but it has been asking UP to at least begin keeping a watch over the elements there, so that we can react in time," the MHA official said.
The other case is of J&K, whose youth, particularly from downtown Srinagar, have repeatedly waved ISIS flags for the cameras.
"The argument given to us from J&K is that ISIS won't be successful there since Hurriyat separatists wouldn't want to let control slip from their hands. However, again in this case, we have been advising them to be more cautious."
G Parthasarathy, former High Commissioner to Pakistan, has been observing developments in this region closely. He, too, agrees that the threat of ISIS finding a foothold in Kashmir is not being taken seriously.
"Kashmir is automatically a fit hunting ground for ISIS; it should be monitored more carefully. There is some credible information about ISIS and militant organisations in Pakistan coming close through ISI. While this association is fairly new and crystallising, it cannot be ignored by India. As the Gurdaspur strike has shown us, our borders are porous," Parthasarathy said.
When and what should be the reaction?
The MHA official says that, as of now, all ISIS recruiting in India is happening online. "You will be amazed by how far ISIS has gone out to woo Indian youth, over Twitter and Facebook. For now, we are just keeping a watch."
The official added that the Indian strategy so far has been to avoid knee-jerk arrests. The strategy is to keep a watch over the groups and individual handlers, "to understand this devil better".
"It is not as if the position on terror has softened. But not immediately arresting all ISIS sympathisers does two things. First, if we arrest every recruit, we will break the link that can lead us to more substantial catches. Secondly, we've seen that if the potential recruits are given a chance to rethink, made to sit with elders, they always shun this extremist ideology."
Arrests will be avoided till a sympathiser reaches a threshold, which is of actually planning terror strikes in India. Around 70 people in India identified as ISIS sympathisers are under watch right now. Two ISIS handlers have also been identified; both have been traced to Gujarat.
While Telangana & Maharashtra already have strategies to deal with the ISIS threat, UP and J&K lag far behind
"We have tried as much as possible to not arrest the sympathisers and, instead, talk to families and community leaders of the youth, who we feel are being developed as ISIS recruits. So far this has helped us in all the cases," said the officer. MHA insiders call this the de-radicalisation strategy.
According to sources, using only this tool of identifying and persuading sympathisers of ISIS to wean off extremism, they have prevented 17 people from leaving India and joining terrorist groups, and have prevented the spread of this ideology to a great extent.
However, some feel that just relying on de-radicalisation won't help.
"We have to do more than just rely on de-radicalising those we find suspect. It is an ideological war [against ISIS] if anything. What we need to do right now is dispel conspiracy theories and rumours among the vulnerable Muslim youth that the present government is working to undermine them," said Sushant Sareen, senior fellow, Vivekananda International Foundation.
He added that while the number of youth who have gone to Syria may be small at the moment, the Indian State have to preempt a situation in which this number increases. "Let us not assume that this ideology will not find traction among the youth in India in the future. Let us be prepared and take preemptive action."