Bride won't stay in house without toilet, doctor tries to remove live foetus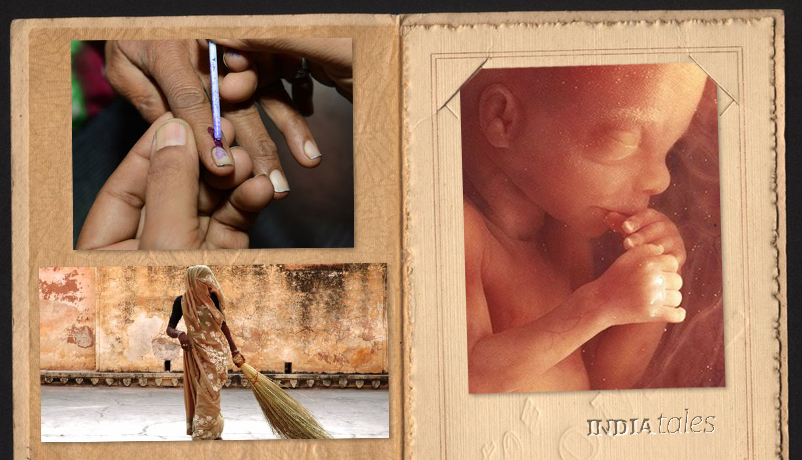 01
Betul's ambassador: bride who refused to stay in house without toilet
A woman who refused to live with her in-laws because they didn't have a toilet is now the cleanliness ambassador of Betul district, Madhya Pradesh.
Seema will be facilitated by the administration at a public function later this month. She had left her in-laws house in Chowkipura village because she was being forced to go out in the open to answer nature's call.
Her husband Mohan Patel tried his best to get Seema back from her parents' in Itarsi; he even went to a family counselling centre. Seema, however, refused to return until the family built a toilet.
When her story appeared in the local media, the village panchayat provided for labourers to build the toilet. And the local SHO is personally overseeing its construction.
The administration has assured that the toilet will be ready within a week, after which Seema "will be brought back with full dignity".
02
Cashing in: EC survey finds 80% Bihar voters ready to sell their votes
Despite all sensitisation efforts, a great majority of voters in Bihar would not mind exchanging their votes for money.
A survey done by the Election Commission with the help of Chandragupta Institute of Management has revealed that 80% of the electorate would, given the chance, consider selling their votes.
The survey, according to EC officials, covered as many as 4,500 voters across all assembly segments in the state.
The revelation is alarming considering that the EC has devoted much effort in an awareness campaign to ensure Bihar's voters exercise their franchise in a free and fair manner.
03
Jaipur hospital declares perfectly healthy foetus dead, tries to remove it
In another shocking case of medical negligence, doctors at a private hospital in Jaipur declared a healthy foetus dead and recommended an urgent surgery to remove it.
Vijay Thakuria of Sodhala Rokari had brought his wife for a routine check-up to the hospital, only to be told by Dr Vinay Suren that she was carrying a dead foetus and needed surgery.
The couple, however, decided to take a second opinion from another hospital, only to find the fetus was well alive. They went to a third hospital, which confirmed this.
They went back to the private hospital with these reports, but Dr Suren reportedly insisted that the woman needed to be operated upon urgently. The hospital staff even told Thakuria to pay Rs 35,000 for the surgery.
Thakuria, who had recorded this entire conversation on his phone, reported the matter to the police, who have registered a case of negligence against the doctor.
The hospital, meanwhile, has refused to comment on the allegations.