Brewing scandal? SC orders SIT probe into navy 'wife swapping'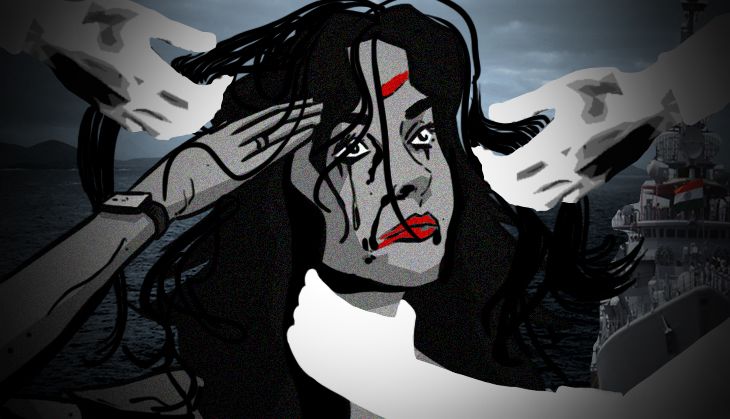 The Supreme Court on Thursday asked Kerala Police to set up a Special Investigation Team to probe allegations of "wife swapping" levelled by a naval officer's wife.
The woman had, in 2013, filed an FIR alleging that her husband, four other navy officers and the wife of one of them had sexually assaulted her "in the name of wife swapping".
Also read - Red Flag Day: Soldiers raped a 14 year old. Where's the outrage?
The petitioner had requested the Supreme Court to transfer the case to Delhi, where she is now based, and have the "scandal" investigated by the CBI. An Apex court bench, which included the Chief Justice, rejected both appeals as it felt "the facts and circumstances in which the offence is alleged to have been committed can be better investigated by state police".
The court directed that the SIT be headed by an officer not below the rank of a DIG and that it conclude the investigation into the 2013 FIR "preferably" in three months.
The woman had alleged that "wife swapping" was an euphemism for gang rape, and it was quite rife in the navy. She had been told her "cooperation" would help get her husband a good posting. The evidence she has presented in her petition suggests widespread and institutionalised exploitation of the naval officers' wives.
It includes formal invites to "wife swapping" parties hosted by the navy's Marcos unit; transcripts of a counselling session organised by the navy in which the counsellor is recorded as telling a survivor of sexual and mental assault to respect her husband and his colleagues "whatever be the case"; recorded of her husband abusing her.
The petition described the story of an IIT graduate who fell in love with a naval officer, found about the "parties", who was abused and abandoned by her husband, questioned about her sanity, became pregnant in the meantime, suffered a miscarriage, and was urged to take her life.
Life of misfortune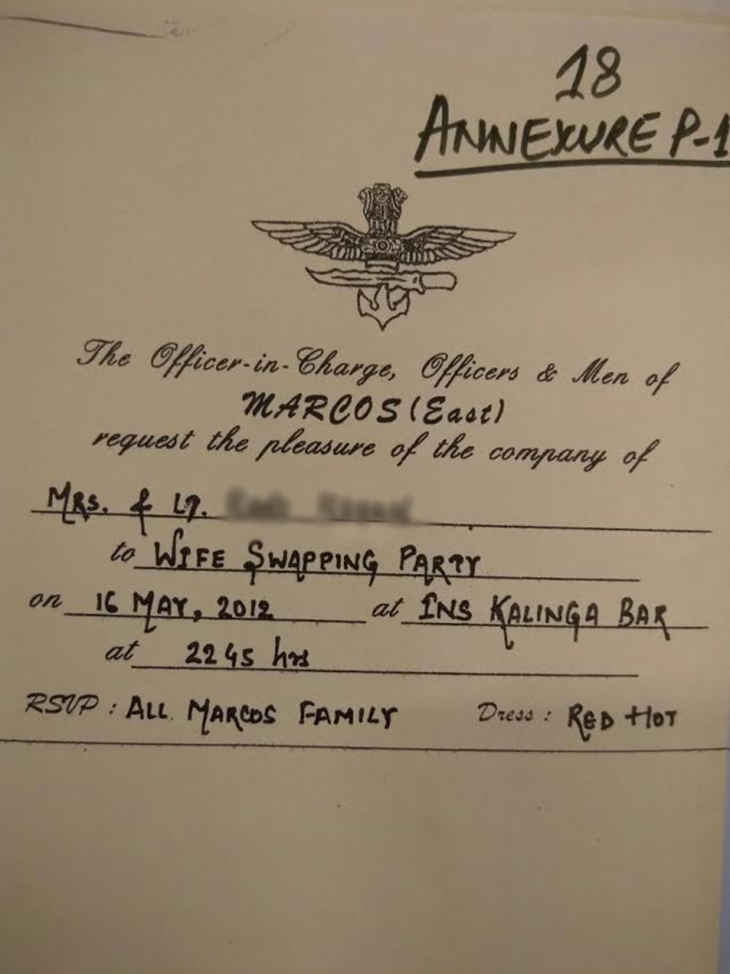 According to the petition, the woman's misfortune began in October 2008. She fell in love with a naval officer who exploited her sexually on the pretext of marriage, only to avoid her later. Following which, she filed a complaint against the officer.
After his family begged her to withdraw the case and the officer professed love for her, she married him in March 2012. Soon, however, he turned cold towards her and told her plainly to join the "wife swapping" parties. But she refused.
Then, in January 2013, she allegedly caught her husband in bed with the wife of a superior officer. When she objected, the other woman assaulted her; she broke her tooth and threatened to do more harm if she opened her mouth.
The woman complained to the chief of Southern Naval Command, only to be allegedly harassed. When she tried to register a police complaint, her husband and his colleagues told the police officer she was insane.
The real shocker, however, came in February 2013. Her husband took her to a room where three of his colleagues were waiting, and locked the door.
"Later on my husband told me I have to do sex with his friends or else they will do the rape," she said in her petition. "My husband tied me in a table so that I should not make any movement... His friends... caught hold of my hairs and told that now you are looking like a perfect bitch... I was helpless and begging my husband... after they satisfied their lust... my husband mercilessly started beaten me in cruel manner like an animal. (sic)"
The woman, who is an orphan, then decided to go to her in-laws in Hisar "for shelter". "My father-in-law started abusing me... saying you are a prostitute. I should better commit suicide so that his son will get married to the girl whom he has recently fixed... after abusing and beating me so much my father- and mother-in-law threw me out of the gate at 12 am. (sic)"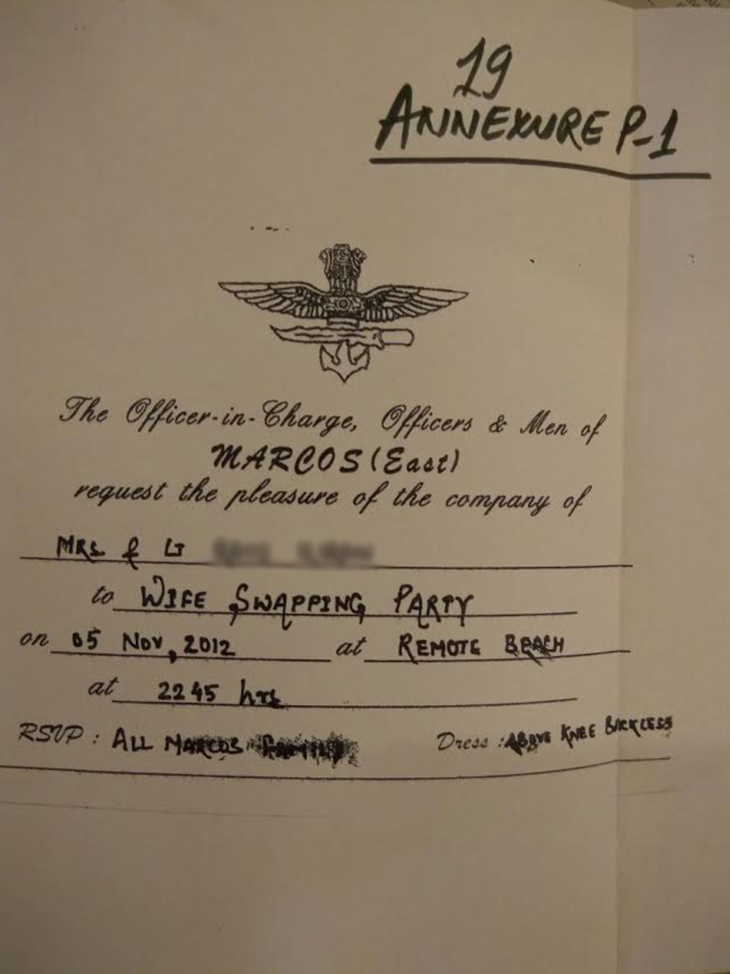 Mental agony
Her "mental stability" was questioned so often by her husband, and his friends, colleagues and parents, she actually had to get a mental fitness certificate, which she attached with her petition.
Exasperated from being rejected by everyone around her, she asks a question in her petition: "If it is culture of navy, why I was not told before marriage? Why can't you make a website for ladies about wife swapping so that before marriage we will have a knowledge about the parties and we would have not dared to marry a naval officer?"
The navy has repeatedly dismissed her claims as being a case of "marital dispute". The accused have not only tried to dismiss the charges as arising out of her "domestic issues", they have also accused her of filing "malicious complaints".
Yet, senior officials at Southern Naval Command allegedly tried to "settle" the matter by trying to counsel the woman and her husband. The counsellor, who, according to the petition, was from Sneha Family Counselling Centre, Naval Base, Kochi, reminded the woman of her "duty" as a wife to respect her husband and his colleagues "no matter what". She also wrote in her report that the survivor "requires expertise counselling and further management from a psychiatrist".
This petitioner isn't the only wife of a sailor who has complained about sexual exploitation by officers of the service. A few days after she went public with her ordeal, the wife of a lieutenant commander posted at Karwar naval base alleged that her husband had forced her "to get sexually involved with his colleagues and consume alcohol". She claimed her husband had threatened to post nude pictures of her online if she reported him.
Both survivors have suggested that sexual exploitation of officers' wives is institutionalised in the navy, but the fear of reprisal and loss of support keep them quiet. Now, it is for Kerala Police to unearth the truth.
The Indian Navy denied all the allegations in a press statement issued on the afternoon of Friday, 13 May: 'The Indian Navy strongly denies the allegations...The Kerala Police has also denied any influence by the Indian Navy in the investigation.'
More in Catch - 2 Navy personnel held for molesting a minor girl