Bike is on fire! UP Police did this brave thing to save three lives on highway; here's the viral video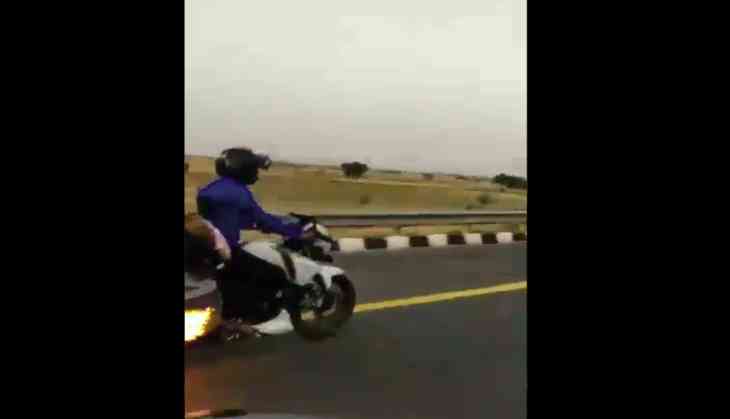 Uttar Pradesh Police has grabbed the news headlines for various reasons but this time UP Police has won the hearts of many for saving lives of three by averting a major accident on the highway.
Recently, a video is doing the round on the social media in which a Police van was chasing a bike which caught fire on a highway in Etawah.
However, bike rider didn't aware that his bike has caught the fire and hence, he was running it on the normal speed.
But, it was UP Police who noticed the fire and immediately came to action and tried to chase the bike to douse the fire.
Even police turned the siren and gave chase to the bike on the highway.
In the video, policemen were also shouting to stop the bike rider.
Don't believe us?
Here's the video uploaded by UP Police on Twitter:
#इटावा-PRV1617 आज 108 km से 112 की तरफ जा रही थी तभी एक बाइक सवार ने तेजी से क्रॉस किया जिसके पीछे बंधे बैग में आग लगी दिखाई दी जो तेजी से बढ़ रही थी,बिना कोई देर किए उस बाइक का 4 km पीछाकर रुकवा,बाइक सवार दंपत्ति को नीचे उतारकर आग बुझाया @Uppolice @UPGovt #SaveLife #HappyToServe pic.twitter.com/T2d6JiVGk7

— UP100 (@up100) April 14, 2019
However, the fire was caught in a bag that was attached to the bike.
Thanks to Up Police that none of the riders on the bike were injured.

The social media users also applauded UP Police for giving help on right time.
Here's how Twitterati reacted:



आभार सर , आपने साबित किया कि सेवा से बड़ा कोई धर्म नहीं !

— Satendra Shukla (सतेंद्र शुक्ल) (@satendrasuman) April 15, 2019
Life savers :)

Brave & extremely responsive 🙌

— Amrita Bhinder (Chowkidar) (@amritabhinder) April 15, 2019
नमन आप सबको उत्तर प्रदेश पुलिस सदेव आगे आपके वजह से ३ ज़िंदगी बच गई @myogiadityanath @dgpup सर @Uppolice पुलिस वालों को इनाम मिलना चाहिए💐💐

— चौकीदार पुनीत पान्डेय( मैं मोदी हू) (@punit0022) April 14, 2019
Really a great job 👍🏻

— Rajesh INC (@rajukcm) April 14, 2019
What do you think about this video? Comment
Also read: Have you seen this thrilling bus ride passing through the scary terrains of Himalayas? Here the hair-raising video