Bastar Police takes a page out of protesters' book, burns effigies of social activists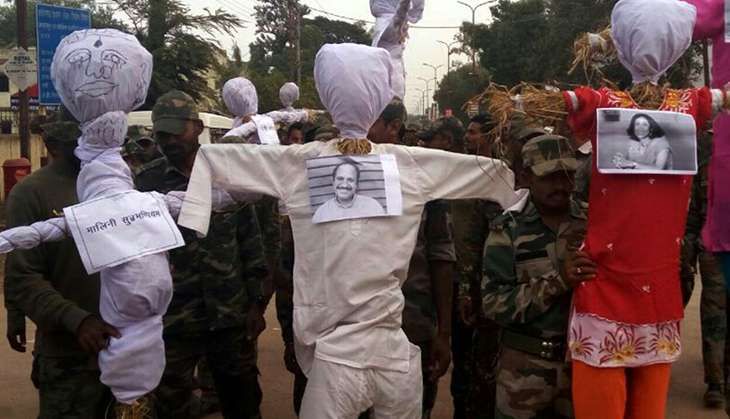 Rape, arson, false encounters -- the Bastar police have been accused of all these. But not this: Police personnel there burnt effigies of social activists Himanshu Kumar, Bela Bhatia, Nandini Sundar of Delhi University, Adivasi leader Manish Kunjam and Soni Sori in Jagadalpur, Dantewada, Bijapur, Sukma, Narayan and Kanker.
The organised manner in which the security forces burnt the effigies made it clear that they were fully prepared for it under a planned scheme.
The first time in the history of Chhatisgarh police, which struggled to snatch the effigies that are burned by politicians, were themselves igniting those very effigies.
Before burning the effigies the personnel took out a proper rally from the police line and raised slogans calling social activists Maoist supporters. The assistant security personnel also issued a typed-out statement alleging social activists Himanshu Kumar, Nandini Sunder, Bela Bhatia, Soni Sori and Manish Kunjam of being brokers working for the Maoists.
"These people recover money from contractors for Maoist in return of fat commission. Maoist are killing both the police jawans as well as innocent villagers thus creating obstructions in the way of development. Security forces have shared their woes of being harassed by Maoist and will continue to protest against the Maoist and their supporters," the statement says.
Vexed at SC's comment
AAP leader Sanket Thakur ascribes the burning of the effigy to a recent comment made by the Supreme Court. He said the way the SC raised questions on the role of Bastar IG Shivram Kalluri during the fire incident at Tadmetla, Kalluri can now be trying to prove himself 'innocent' with this orchestrated move.
In a press conference on Sunday, Kalluri took to task public representatives who had been criticising him and his methods and said that if his removal assured an end to the Maoist problem in Bastar then we was willing to step down.
Sanket Thakur pointed out that that the way Kalluri was functioning indicates towards only one thing - that the IG is trying to establish himself as the chief minister of Bastar and he may actually fight elections soon.
"The politicisation of police and armed forces is very unfortunate," the AAP leader added.
Journalist Kamal Shukla of the Sangharsh Samiti deems Kallari's new avatar as a threat to democracy. Shukla said that it is the primary duty of the police and armed forces to maintain law and order and ensure the safety of citizens. "But the police have proven that they are pawns in the hands of Kalluri by dancing to his tune. It will not be surprising if some day the powerful force may surround the house of a public representative and take him as a hostage," Shukla said.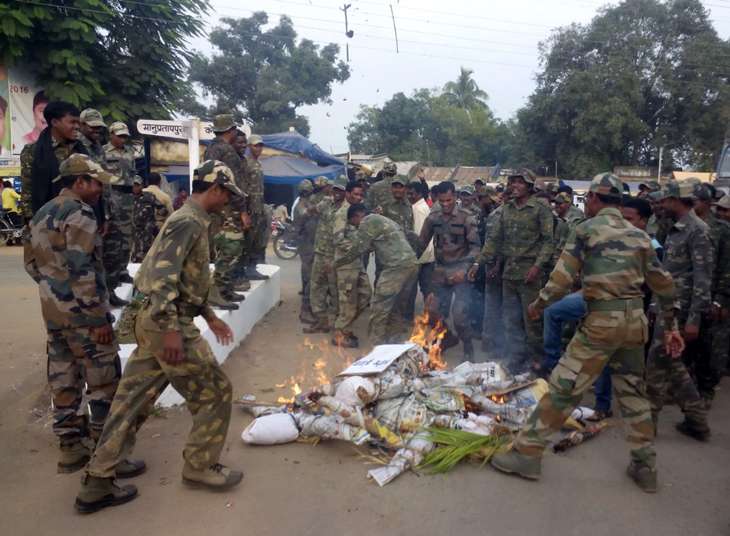 Rajkumar Soni/Catch News
Matter of protests
PUCL State Head Lakhan Singh called the effigy burning programme as an act of protest by the police. "The police have proved through effigy burning that they support the crushing of disagreements. Bastar has been far away from a democratic set-up, which is an already established fact, but now the police reaction goes to affirm that it has throttled the idea of democracy as well,"said Singh.
Arun Deo Gautam, OSD, Home Department stated that this whole act of burning effigies was not right and that the police have broken its code of conduct. He promised to take action against those reported to be involved.
Former police DG of State, Ramiwas too has expressed his dissent on the police action. "There is no room for dharnas, demonstrations, involvements or forming organisations in the police act. Those are found guilty of such misdeeds are liable to be punished," Ramiwas said.
Also read: Kalluri Mukt Bastar? Own comments and CBI probe may cause cop's downfall
Also read: IG Kalluri's reign of terror: there's hardly a place left for truth in Bastar
Also read: Bastar encounters: Is IG Kalluri's war against Maoists or Adivasis?