Jayalalithaa dies, Tamil Nadu grieves: There will never be another Amma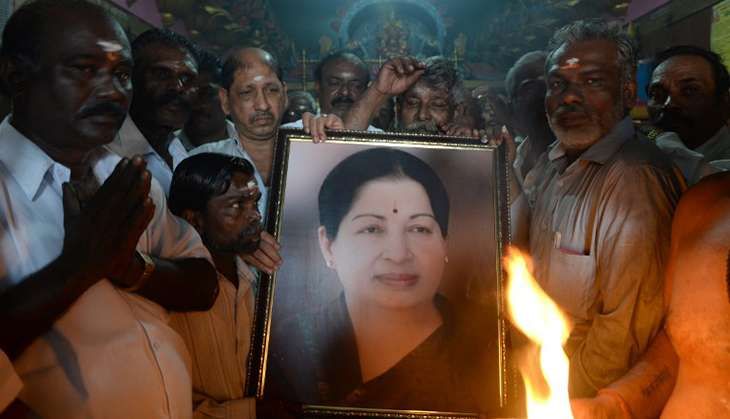 Tamil Nadu Chief Minister Dr. J Jayalalithaa once told Simi Garewal in a 2012 interview, "It's not so easy to wish me away. Many people would love to... If a fight comes my way I won't run away."
Jayalalithaa had been fighting her ill health since 22 September, 2016 when she was first admitted to Apollo hospital. It was a kidney failure last month, now followed by a cardiac arrest. And Amma battled for life, for two and half months and at some point, many would say, more than what was left of her health, it was the sheer power of her will to survive that made her rage through the fate of each day.
But at 11:30 PM of 5 December, while the hospital was surrounded by scores of her supporters who came to wish away her ill health with the power of their prayers, she breathed her last. Amma died amidst her loyal, trusted supporters and party workers. The party was her only family after all.
"Take my life away, but spare Amma's" was the prayer of one of her party workers, her face streaming with tears on television.
And as Tamil Nadu mourns right now, what stands out, more than the sycophancy, is the Tamil people's genuine grief, at the loss of someone who they loved enough to make their Chief Minister six times, whose very identity was fused together with their own.
Amma was never just a chief minister. She was the AIADMK Supremo, their Puratchi Thalaivi (revolutionary leader), someone who tore into Tamil Nadu's patriarchal politics with intelligence and stubborn defiance and who used her agency to uplift the life of the common man in as many ways as she could.
Early years
Behind her cool demeanour and tough exterior is a woman who will be remembered for a rare quality: the power to will herself to be anything she wants to.
In her tumultuous life of 68 years, after a rather lonely childhood either acing her studies at school or pining for her mother's love and attention, Jayalalithaa was forced to sacrifice her academic scholarship and take up a career in acting to keep her family from financial doldrums.
"Once I decide to do something, whether I like it or not, I must excel in it and do it superlatively well," she told Garewal in an interview.
And so just like that Jayalalithaa, went from being the best student to the most popular leading actress of her time. And from best actress to an ace politician.
In 1982, at the invitation of MGR, Jayalalithaa entered politics as the party spokesperson. In 1984, she became a Rajya Sabha MP. But the power of her persona and her swelling popularity with the masses made her act in ways that were too big for her boots. Her tumultuous relationship with MGR, swung between reverence, passion and power play. As MGR left no easy answers on his succession, it paved the way for her rise.
She fought like a wounded tiger. Taking in all the slander and mud slinging, Jayalalithaa's worst moment was being attacked in the Tamil Nadu Assembly by DMK MLAs in 1989 when she had become the leader of the Opposition. Her hair was pulled in clumps, her saree was torn, and she was beaten with shoes and the mike as the then chief minister M Karunanidhi, his two wives and the Assembly members watched the spectacle in silence.
"In films, a woman is an essential commodity. In politics they try hard to do without them," she had said.
When she left the Assembly, she swore to return as the Chief Minister of Tamil Nadu. In two years she fulfilled her vow. In 1991 she became Tamil Nadu's first woman Chief Minister, spitting on the face of patriarchy.
When being asked in an interview once if she intimidated men. She said, "Nowadays most men I meet are terrified of me," with stoic calmness.
Despite the charges of corruption contributing to her loss in 1996, she returned like a phoenix from the ashes after getting herself exonerated of corruption charges in 2001. And yet again in 2011 and again in 2016.
The mother she never had
If you ask people what Amma will be most remembered most for, there is no one answer. For the common man, she was synonymous with every thing that made everyday life possible.
Her towering figures rose across Amma canteens to Amma salt and Amma water to Amma grinders and Amma televisions to Amma laptops, baby kits, cement, seeds, fans, pharmacies, mobiles, call centres, cinemas, vegetable shops to Amma breastfeeding rooms at bus terminals for the convenience of working women on the go.
For lower and middle class Tamilians, it felt like you had a Chief Minister who knew exactly what you needed, who had her fingers on your pulse, anticipating your every need.
"When my mother died I was lost like a babe in the woods... I don't believe unconditional love exists in real life," Amma had said to Garewal stoically, reflecting on her tough life. She should see the nation mourning for her tonight.
Amma's political personality is now a permanent void in Indian politics. Her shoes are too big for anyone to fill. And for women to do her proud and pass the baton might take longer than we can imagine. Rest in peace Amma.