After consuming south Kashmir, militancy knocks again on Srinagar's door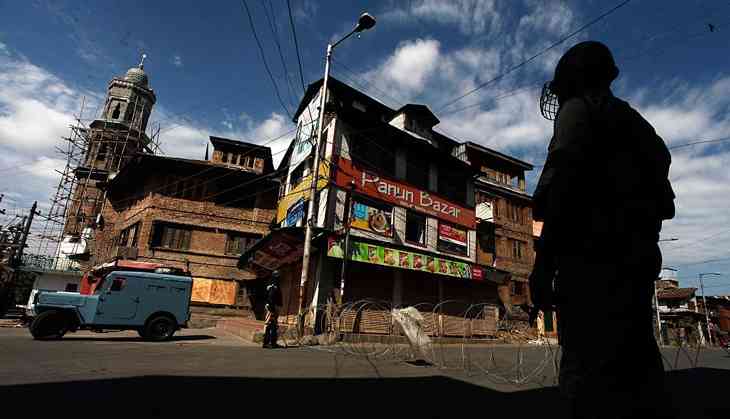 (Waseem Andrabi/Hindustan Times/Getty Images)
In 2010, security forces killed a Lashkar-e-Tayyeba militant Sajad Ahmad Khan in the Rajouri district of Jammu.
Though Khan was little-known in the Kashmir Valley, his death was a remarkable achievement for the security forces. Khan was the last militant from Srinagar city, hailing from Firdausabad Batamaloo. After him, the city was declared militancy-free. For seven years thereafter, no youth from Srinagar picked up arms, even though the city continued to hold its place as the Valley's stone-pelting hub.
But with two of the three militants killed by forces at Redbug, Budgam on Wednesday turned out to be from Srinagar – one of them from downtown Nowhatta. So, now, the city is back in the reckoning as a militant abode.
According to a security estimate, around eight youth from Srinagar city have joined the militancy over the past year. And but for "the lack of easy access to militant networks in the Valley", more would be willing to join.
The slain militants
The militants killed at Budgam were identified as Sajad Ahmad Gilkar of downtown Srinagar, Aqib Gul of Goripora in the uptown city, and Javed Sheikh of Saadpora, Narbal, on the outskirts of Srinagar.
Gilkar and Gul had joined the militancy just 18 days ago. Nazir Ahmad, father of Gilkar, traces his son's decision to pick up the gun to constant police harassment. "He was left with no other option," the father said, adding Gilkar had earlier been in jail for seven months, and had been released in January. Police had registered 15 FIRs against Gilkar, and slapped him with three Public Safety Act violations.
"On the day he went missing, he had gone to attend the court hearing. I called him up to enquire what had happened, he told me the judge had deferred the hearing to another date. But he didn't return home. I tried his phone again, but it was switched off."
However, according to police, Gilkar was part of the mob which had lynched Deputy Superintendent of Police Mohammad Ayub Pandith on Shab-e-Qadar, and had gone underground after the police launched a manhunt for him. Police also called him a "chronic stone-pelter", who would often be seen leading mobs of youth during protests at Nowhatta.
On the day he was killed, Gilkar had unsuccessfully tried to contact his mother through his father, who was not at home at the time.
Aqib Gul, 24, lovingly called 'Aaqee' by his family, went missing on 27 June after he left for the market to buy ice cream for his mother. Gul was an engineering dropout from Pune's Bharati Vidyapeeth University. He was now running a hardware shop at Nagam, Budgam.
Though his family had tried hard to bring him back, it could not establish any contact, and neither did Gul contact his family. In vain, they had published an appeal in a local newspaper to urge him to return home, but Gul didn't. However, like Gilkar, he also called home when tracked down by the security forces.
A large gathering of people attended their funeral prayers in Srinagar. Thousands of people also attended the funeral of Sheikh at Narbal. A banner displayed by the side of his coffin bore pictures of the slain Burhan Wani and the Islamist commander Zakir Musa.
Tragedy in the making
Should Srinagar plunge back into militancy, as looks likely now, it will drastically alter the security situation in the state. For one, it will bring violence back to summer capital of the state, which has been largely peaceful for the past decade.
Though Srinagar has been witness to several major attacks in recent years, including the one at Hyderpora which killed 11 security personnel, they have been few and far between, and carried out by militants from south Kashmir.
"Ever since the late 1990s, Srinagar has progressively ceded its leadership role in the militancy to rural Kashmir. And over the past some years, the youth of the city have been subservient to rural militants, and have hero-worshipped them," said a police officer. "But they have chosen not to pick up arms themselves so far."
The situation has now come to a point where Srinagar also seeks ideological guidance from the countryside. The religious contestation triggered by Zakir Musa now also plays out in the lanes of 'Downtown', as old Srinagar is popularly called in Kashmir. During the funeral of Gilkar, slogans in favour of both Hizbul Mujahideen and Musa were simultaneously chanted.
However, Downtown has always been witness to stone-pelting and mass protests. In fact, three successive summer unrests up to 2010 radiated out from Srinagar to other parts of the Valley. But the 2016 mass upsurge following the killing of Wani reached Srinagar after it had swept through south Kashmir.
Militancy, however, was the only trend that Srinagar had so far chosen not to follow. "This reality too is now changing, with the youth once again taking a shine to militancy," said the police officer. "We can only hope that the youth see reason, and the devastation their extreme choices can bring in its wake. It will be a big tragedy."