Adding fuel to fire: kin allege Pune ragpicker was killed for being Hindu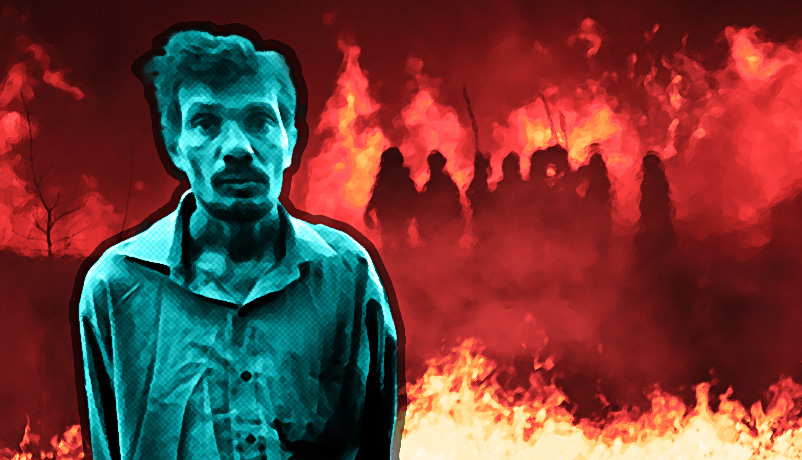 The death of a teenager, allegedly at the hands of three Muslim youth, threatens to become a communal flashpoint in Pune.
The relatives of Savan Dharma Rathod have alleged that he was "murdered" because he was Hindu. The 17-year-old ragpicker was reportedly set afire by Imran Tamboli, Zuber Tamboli and Ibrahim Sheikh in Kasba Peth, Pune, on 13 January. He succumbed to his injuries at Sasoon Hospital two days later.
Dharma Rathod alleged that his son had been forced to drink petrol and then set on fire by the accused "after they confirmed that he was Hindu".
Also read: Shiv Sena, BJP go to war over #OpenSpacePolicy. Prize is civic polls
The relatives claimed to have recorded Savan on his death bed saying precisely this. After the video was shown to leaders of the Banjara community, to which the Rathods belong, they met senior police officials on 21 January.
They claimed that the "modus operandi of the killing" was similar to that of ISIS terrorists and threatened to stage an agitation if the police's Anti Terrorism Squad wasn't tasked to probe the case by 27 January.
The police arrested the three suspects soon after. They have since been sent to judicial custody until 25 January.
According to sources in the police, Savan told them that the suspects "confronted him on the afternoon of 13 January while he was picking rags in the narrow lane of Kasba Peth".
Also read: What this incredible story of a beggar couple's 'riches' says about Mumbai
They reportedly wanted to know if was the "thief who had been stealing two-wheeler batteries in the area". They allegedly took him "to 3-4 spots before beating him black and blue. "They then forced him to drink petrol and even poured some on him. After which, they set him ablaze and fled the scene," a source said.
Savan somehow managed to grab a blanket left out to dry nearby and wrapped himself up in it. People in the vicinity saw him and informed the police.
On the record
Savan's family hails from Pandharpur in Maharashtra's Solapur district. According to his father, Savan had left home a week before the incident after a fight "over a petty issue".
Dharma rushed to Pune after being informed about the incident on 14 January. "When he narrated his ordeal, I was shocked. Savan told me they had asked his religion before setting him on fire," he alleged.
Also read: Industrial hubs beyond Mumbai & Pune in Maha? That's Fadnavis's plan
"After the incident was reported by the media, Banjara leaders came to the hospital. And they recorded what Savan had to say," he added.
Savan told me they had asked his religion before setting him on fire. I was shocked, alleges father
Ramesh Rathod, a leader of the Banjara Kranti Dal said, "Savan's condition was critical when we reached the hospital on 14 January. The police turned down our request to record his statement, saying he was the complainant. So, I recorded the statement. As per the Supreme Court's orders, now anyone can record the dying declaration of a person."
Ramesh alleged that Savan had been "set on fire only because he was a Hindu".
He also claimed that the police had tried to downplay the incident "for reasons best known to them". "This is the third such case in the recent past wherein people were killed just because they were Hindu," he said. "The first was in Kondhva, another near Parvati, and now this. All these incidents were hushed up by police."
Also read: BJP loses in Maharashtra nagar panchayat polls. Is it a big deal?
Ramesh added, "We have submitted a CD of Savan's statement to the court and demanded an ATS probe. If our demand is not met, we will launch an agitation on 27 January."
"We think the police are afraid of communal tension if the facts of the case are revealed."
The cops are afraid of communal tension if the facts are revealed: Ramesh Rathod, Banjara Kranti Dal
Deputy Commissioner of Police Tushar Doshi, however, trashed this suggestion. "The victim himself was the complainant in the matter and he never told us about the accused having asked his religion. Also, we have done a background check on the accused and have not found any links to communal activities."
He added, "The accused questioned the victim on suspicion of being a battery thief since the battery of Ibrahim Sheikh's mini-truck had been stolen some days back. The investigations so far do not indicate any communal angle to the incident."
Also read: Pak part of India's past, India part of Pak future: Dawn media CEO Haroon