Turning a blind eye to Kashmir will make it another Syria: Yasin Malik's open letter to US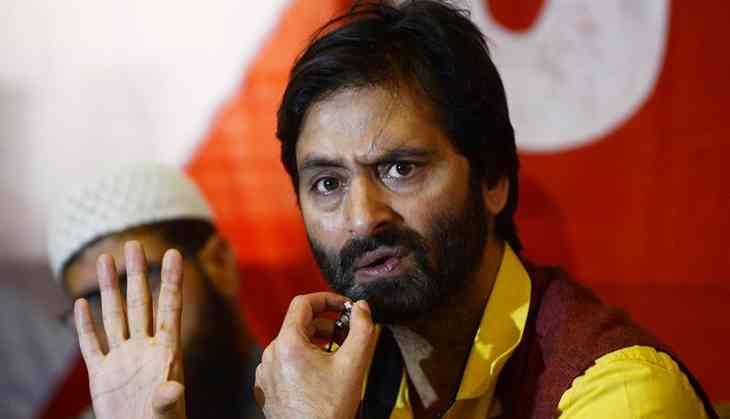 (AFP PHOTO/TAUSEEF MUSTAFA)
The Manmohan Singh government had agreed to discuss Kashmir with all stakeholders, separatist leader Yasin Malik said in an open letter to the United States government. The letter, released early Monday morning, comes days after Prime Minister Narendra Modi's Washington visit.
And that this list of stakeholders included Syed Salahuddin, the head of the United Jihad Council.
The United Jihad is an umbrella outfit which has been waging a war against Indian security forces in Kashmir. Malik said in his letter that he was encouraged by the US administration to pursue this line of negotiations.
Malik also claimed the move to include Salahuddin in negotiations had the nod from former prime minister Manmohan Singh. It was stalled by the then National Security Advisor MK Narayanan. Malik has complained in his letter that the US administration never pushed the Indian government to take the negotiations forward.
According to Malik, former PM Singh, who was first shocked by the idea of talking to Salahuddin – somebody responsible for violence in Jammu and Kashmir – reluctantly gave his nod after a one-on-one conversation with Malik which was also attended by the then home minister Shivraj Patil.
The meeting, according to Malik, had set the ball rolling for a dialogue with him travelling first to the US to talk to the officials to seek their support, and then later to Pakistan where he met with the then Pakistani PM Showkat Aziz and the then ISI Chief Ashfaq Pervez Kayani and sought their help in talking to Syed Salahuddin.
The meetings did not lead to anything more after Narayanan slammed the brakes.
Salahuddin was recently included in the US State Department's list of global terrorists after years of prodding by the Indian government. The about turn of the US administration has left both the separatist leaders and the Pakistani government seething with anger.
Also read: 'Global terrorist' branding will only elevate Syed Salahuddin's profile
The former militant and Chairman of the Jammu and Kashmir Liberation Front (JKLF), who gave up violence and entered into talks with the Indian government, has accused the US of being forgetful and short on historical memory. He said that the US, which was a beacon of hope for the downtrodden, had become selfish in its approach.
Here's what Malik's letter had to say:
Open letter to United States of America
"United States of America is the world's most powerful country. Its importance remains unopposed for now. However, it suffers from a curious case of forgetfulness: it is long on everything but short on historical memory. The US decision to declare Kashmiri leader Syed Salah Ud Din (sic) as a 'global terrorist' is a reminder to this very fact.
During my visit to US in 2006, I visited Liberty Island in New York Harbour and the image of the Statue of Liberty mesmerized me. I was told by my host that this statue represented the ideal that the US stood for. It was a beacon of hope for the downtrodden and the hopeless. But alas! All these good notions today seem to be like day dreaming as nations including US have started pursuing policies based on their selfish desires and not on principles.The philosophy of liberty represented by the Statue of Liberty have been concealed under the rubble of economic and security considerations.
During my US visit friends told me about freedom and liberty and how their lives stood enriched by these. This made me dream. I too had the valour of hope. I recollect encouragement of this dream by the US officials I met during my visit.
In February 2006, I met the then prime minister of India Man Mohan (sic) Singh in Delhi. Indian home minister Shiv Raj Patel (sic), Indian national security adviser NK Narainan (sic), Indian home secretary, principal secretary to prime minster TK (A) Nair, media adviser Sanjay Bharaw (sic), director and special director IB and prominent diplomat SK Lambha were also present in the meeting.
I presented a copy of 15 lakh signatures of Kashmiris that JKLF collected during its signature campaign to him. During the meeting Indian premier told me that India was trying hard to resolve Kashmir issue and for the same purpose they were having a fruitful dialogue with Pakistanis also. Prime Minister Man Mohan (sic) told me, 'Be assured Mr. Malik, I want to resolve this issue'.
In reply I said that if Indian state was ready to resolve the vexed issue then it should be ready to accommodate every stake holder in the process of resolution. I advocated the inclusion of united Jehad council (sic) into the process.
On hearing the name of UJC, Indian premier reacted sharply and said 'how can we have a dialogue who believe in violence'. I said whether one likes or not but if intention is to find a final solution then India should have no reservations to include every stake holder including Syed Ali Shah Geelani and the leadership of UJC in the process as APHC led by Mirwaiz Umer Farooq was already part of it.
I asserted that militant leadership was a reality and any ones liking or disliking cannot deny this reality and if any stake holder is kept out of the resolution process then we are actually giving them a genuine reason to sabotage that process. On hearing my argument, Indian premier asked me 'can you guide me on this issue'. I said that I wanted to discuss this delicate issue one on one and immediately Indian premier took me to a separate room with the request to include Indian home minister in the meeting.
During this one on one meeting, I told Indian premier that how successive Indian governments from IK Gujral to Vajpayee to HD Devegowda were engaged in talks with NAGA militants that too in a third country. I said that Indians neither asked NAGA's (sic) to surrender their arms first nor did you put any pre-condition of constitution. Even Indian forces don't enter the territories held (sic) by the NAGA militants. So if Indians have no reservation while talking to NAGA militants why they are shying away from taking to Kashmiri Militants.
Why these double standards? Convinced with my assertions, Indian prime minster asked me about the help I may provide in this regard and I said that I was planning to visit USA and there besides taking up this issue with American authorities I can also seek the help of a fellow Kashmiri living there.
Soon after this meeting I went to USA and had a meeting with US state department at capital hills (sic). Ghualm (sic) Nabi Fai of Kashmiri American council was also with me. US assistant secretary of state for south and central Asian affairs Christina B Rocca, Director Intelligence and research US state department Walter Anderson, executive secretary of state department Harry Thomas along with desk heads of India and Pakistan were present in the meeting.
I informed them about my parleys with Indian prime minster and the issue of making the resolution process more inclusive. I said that if international community was serious for the resolution of Kashmir dispute then Kashmiri militant leadership should also be taken on board. Christina Rocca instantly interfered and said 'Yasin! What you are talking about is illegal in USA'. I said look I am not going to debate on legality and illegality of this. My point is that if the ongoing process is a resolution process then we should take every stake holder on board because ignoring any stake holder is actually giving him or them a license to sabotage and turn this process into an assassination process. This cooled down her a bit and she said 'you should meet other people also on this issue and convince them'.
Soon I was invited to white house (sic) to hold a meeting with Elisabeth Millard, Special Assistant to US President Bush and Senior Director for South and Central Asian Affairs. The response was positive and before I left USA, I asked Fai sahib to remain in touch as we may have to travel to Pakistan also. I came back to Delhi where I met officials of US and British embassies and informed them about the happenings. They asked me to inform them before leaving for Pakistan so that they could inform their embassies in Islamabad.
Soon I was in Pakistan to attend a conference. Ghulam Nabi Fai had also arrived from USA. I met Pakistani Prime Minister Showkat Aziz .The then ISI chief general Ishfaq (sic) Pervaiz Kiyani who later became Pak army chief was also present in the meeting. I asked them to support the idea of including UJC leadership in the negotiation process. In the meantime a prominent personality from US Michael Krepon, from an American think tank 'Stimson Center' had met UJC chief Syed Salah ud din.
Everything was running smoothly as I arrived back in Delhi. During my meeting with Indian prime minster, premier himself had provided me the name and number of an official whom I was supposed to contact for any communication with prime minister. I contacted the person and asked him to send an envoy to USA to meet Ghulam Nabi Fai. This envoy was never send (sic) as Indian NSA Mr. Naranian (sic) had halted the whole process. I was in Delhi attending the 50th birthday of famous TV anchor Rajat Sharma.
Here ex-media adviser to Indian prime minster Mr. Sanjay Bharwa (sic) met me. He hugged me warmly and said 'Yasin I loved the way you described Mr. Naranian (sic) before the prime minister.'
He was referring to my reply to Indian premier who on the outset of my meeting with him had introduced Mr. Naranian (sic) to me and I had said that I knew him through the book of a former Indian intelligence officer who has written many things about him.
My remarks were not taken well by Mr.Narainan (sic) as once an ex-adviser to Indian government PN Dhar once told me that politicians liked my assertions during my meeting with Indian premier but bureaucracy didn't and sabotaged the whole process. The fact that pained me was that USA and UK knew each and every thing visa-vise (sic) the process and hence should have questioned Indians about why they failed the process but they chose to remain silent.
On this I once met the first secretary at US embassy in New Delhi and asked him why they didn't asked Indians about the same. His reply came as a surprise to me. He said 'look Yasin, India is an elephant and an elephant moves by itself and cannot be moved by any one'. I told him that if they knew this much about India, why did they engaged with them in the first place. I told him that same was done to JKLF in 1994, when US, UK and European envoys convinced us to shun the gun and provide peace a chance.
They assured us that in case we do it, they will ensure space to our peaceful political struggle. They guaranteed us that resolving Kashmir issue will be their foremost priority but what happened was a total failure on their part. On the persuasion of US, UK and European envoys, I took the most unpopular decision of unilateral ceasefire endangering my and the lives of my colleagues. This was a decision that threatened to jeopardize my political career, my integrity and could have negated my struggle and sacrifices but despite all odds and provocations by Indian forces to go back on the path of violence I stood firm to (sic) my decision.
More than 600 of my colleagues were gunned down by Indian forces after this but no one from the international community intervened. I and my colleagues propagated peaceful struggle through historic signature campaign, Safer I Azadi (sic) and other political programs resulting in a historic transformation in 2008 when people of Jammu Kashmir as a nation transformed their struggle from a violent to a non-violent outlook.
I along with my people was hoping that USA and rest of the international community will acknowledge this good change and intervene but nothing like that happened. Indians crushed this mass uprising with their military might killing 72 innocents in 2008, 45 in 2009 and 128 in 2010 with impunity . No one questioned this state sponsored violence against unarmed civilians as policies based on morals and human instincts were fast disappearing and taken over by the policies based on economic benefits, big market deals and security cum foreign policy matters.
What is more distressing is that from 2010 mass uprising, the diplomats from USA and Europe who from 1990 till 2010 used to visit Kashmir and meet resistance leadership frequently , suddenly stopped meeting the resistance camp and instead have been meeting the collaborators from then. This is apparently the outcome of India US strategic partnership deal and this is yet another example of the obliviousness of the international community.
This is a sorry state of affairs but a bitter fact that this kind of selfish attitude has proved detrimental to humanity and it has a potential of ruining nations and destroying regions. I hereby want to draw your attention to another fact about the history of the freedom struggle of the people of Jammu Kashmir. From 1947 till date, despite many provocations, Kashmiris have never pursued any global agenda regarding our struggle.
We have always strived for a peaceful resolution of disputed nature of Jammu Kashmir but neither India nor the rest of the international community have acknowledged our peaceful struggle. From 2008, thousands of our young educated youth are facing the wrath of Indian oppression. They are being arrested, put in jails under black laws, tortured, blinded, their families are humiliated by Indian forces and police resulting in many of them joining the armed struggle.
We want to ask India and the international community a simple question that who is responsible for this annihilation of our young generation. Who choked peaceful political space on (sic) them, disregarded their peaceful defiance and pushed them to the wall? Isn't this a (sic) high time when international champions of human rights, liberty and humanism introspect their role on Kashmir? Aren't we humans and part of human civilization, if yes! why then sacrifice us to fulfil your needs and aspirations of economic benefits?
Here I must add that during their long battle for freedom and liberty, Kashmiris have always adhered to the international norms and covenants and never taken any step that violated any international norm. I want to ask every one 'if peaceful pursuing of a peoples struggle for freedom is ignored, and those leading it are clubbed to (sic) international terrorism what will be its outcome'.
Aren't you leaving a nation with no hope? Aren't you pushing them to the wall and leaving them in the hands of anarchy and lawlessness? Don't you think that your attitude of ignorance may put this whole region into jeopardy? Don't you think that isolating Kashmiris may turn them unaccountable? Sorry but this is true; international community especially USA by turning a blind eye towards Kashmiris will benefit none. By ignoring Kashmiris, disregarding their political struggle and now tagging them with international terrorism what will anyone achieve? In my view this may enhance anarchy and create another Syria like situation in this region. At the end I will only say that 'History is not determined by interests and power but by ideals and ideas'.
We are all tourists on this earth. We too will pass but ideas will remain. The most powerful ideas of our times are freedom, liberty and self-determination. Great powers rise and fall but ideas have a permanency that excels time and spans generations. The seeds of the idea of freedom and liberty have been sown in my land. It will surely sprout one day. But it may then be too late for the US to be on the right side of history.
It will have chosen interest and power but history will have settled on freedom. The US will have, however, disregarded the ideals of Thomas Jefferson, one of the founding fathers of the great country who said, 'The last hope of human liberty in this world rests on us. We ought,for so dear a stake, to sacrifice every attachment and every enmity'."
Muhammad Yasin Malik (Chairman JKLF)