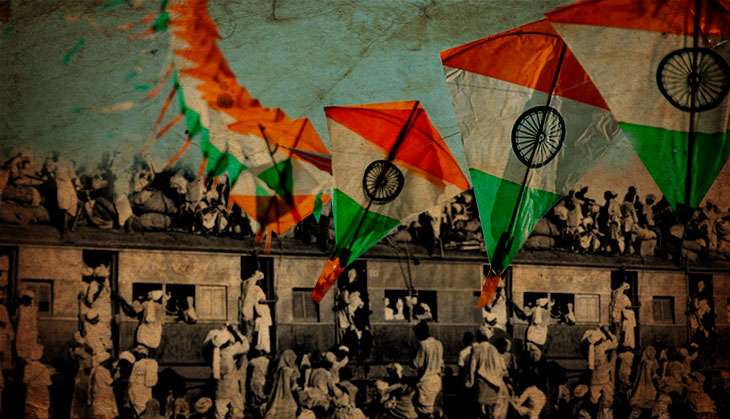 If Baldev Singh had a choice he would have perhaps not liked to come into this world on 15 August, 1947. The day that sealed the fate of his family who had to flee Pakistan, leaving behind hundreds of memories and everything that was theirs.
When Baldev Singh was barely 21 days old, his mother was put on a bullock cart, with him in her arms, and the family began their bloody journey to India. But the bullock cart with a Sikh woman on board attracted too much attention and soon she had to to surrender that little luxury too. Weak from childbirth, Baldev Singh's mother had to walk, and sometimes crawl, much like others in the family, to escape a gunshot or the sting of a sword.
That the family survived the journey was courtesy their loyal Muslim servant, who helped them cross the border and even lived with them in India till he was reported to the authorities.
Col (retd) Baldev Singh (File Photo)
Col (retired) Baldev Singh turns 70 on 15 August this year. He has no personal memories of the Partition of India, but his mind is full of stories.
"We were a well-to-do family and lived in a village called Jehangirpur in Lyallpur district. My father was in the army. We had to leave behind our home and our belongings to save our lives," Singh tells Catch.
The going was not good for his family for the first few years. "My mother would tell me that they used to eat roasted chana (yellow gram)," he recalls.
Footprints of Partition
Singh doesn't think it is a big deal to have been born on the day India got Independence from its British rulers. Even though he keeps bumping into many who do.
"Oho! You were born on August 15, 1947!" he mimics the oft repeated line in Punjabi and laughs.
Singh is a happy man. He has not let the many ugly stories of Partition affect him. He is happy that India has shaped up so well after Partition. He is happy India is doing much better than many other countries of the world, including Pakistan.
"We have come a long way. We have progressed a lot and we are doing much better than Pakistan," says Singh.
Of course, there are incidents that bother him - such as the demolition of the Babri Masjid and the 1984 anti-Sikh riots.
"Ordinary people do not want riots. Our politicians instigate them. The media is also to be blamed for sensationalising such events," he says.
Having served in the army, Singh is brimming with pride about all things Indian. He recalls how he fought the 1971 war and how India won in record time, taking 93,000 prisoners of war.
Ask him about his idea of an ideal India and he quips, "People should look up to us. Not us at them."
He also has a word on our reputation of being a corrupt nation: "We are less openly corrupt now. But we need to check this."
The Partition baggage
Balbir Gulati was born in a camp in No Man's Land in September 1947 after his family was forced out of Lahore. His sister Narinder Singh, who was around seven years old at the time, recalls, "We tore up my mother's dupatta to cover her. A Muslim man gave her food when he saw her condition."
Narinder witnessed the bloody carnage when she crossed over. She received the news of her grandfather being butchered with several others.
"We never found his body," she says, sadness seeping into her voice.
"When we were leaving Lahore we were asked to carry all our valuables to the camp, which we did, and they took it all. When we reached India we had nothing. My family used to sell caps and envelopes."
Gulati, a retired engineer, says he is happy to be born in free India. "I appreciate this. We got our Independence from the British after a lot of struggle."
On some prodding, he says that Partition should ideally not have happened.
"The bigger a country, the better. If Pakistan and India were one country, we would not have had a crisis like Kashmir, which is a never-ending dispute. Or other disputes with Muslims."
He blames the politicians for all the ills plaguing India.
Independence special: 15 professions in India on the verge of extinction
Bearing the brunt
Rasheed Masood is India's first parliamentarian to be found guilty in a criminal case after the Supreme Court ruled that lawmakers convicted for offences that carry a sentence of more than two years be immediately disqualified.
In September 2013, a special CBI court held Masood guilty of fraudulently nominating undeserving candidates to medical seats. He was sentenced to four years in jail on 1 October, 2013.
Incidentally, Masood was also born on 15 August, 1947.
Rasheed Masood (File Photo)
"I am happy with the way India has progressed and you can see the development as soon as you step into a village. However, we are lagging in more ways than one. Our moral progress has not kept pace. The difference between various communities is being highlighted time and again - this wasn't the case before India was partitioned. We all coexisted beautifully," says Masood.
He accuses the Narendra Modi government of accentuating these differences.
In some ways, the journey of Baldev Singh's, Balbir Gulati's and Rasheed Masood's lives are also Independent India's journey. Where politicians are not above the law, where the voice of the common man counts, where people wish to coexist peacefully, and where people want to see India at the top.
On our 70th Independence Day, nationalism explained by our national heroes