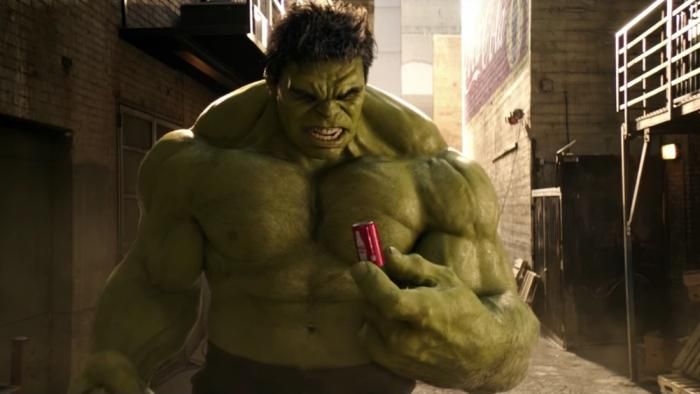 Coca Cola introduced the world to Coke Mini at Super Bowl 50, but everyone turned out to be more interested in the stars of the commercial, than the can of bubbly.
Marvel's heroes rarely get it wrong. The ad begins with Ant Man sneaking into Bruce Banner's lab, steals the last can of Coke from his fridge and makes off with it. Whatte daredevil. Mark Ruffalo doesn't make an appearance, neither does Paul Rudd, but he's done Ant Man's voiceover. Hulk, of course, didn't require anyone dubbing for it. We don't see Bruce and Hulk only grunts.
Chasing the wily Ant Man down the streets, turning half the city into rubble and dust. But who cares as long as we get to see two of our favourite superheroes fight it out.
In the meantime the internet has dissolved in a puddle of happiness.
This ad is amazing https://t.co/jLB00PpkN3

- tina (@tinatbh) February 8, 2016
So I guess I'm gonna ship Hulk and Ant Man, now.

- Wil Wheaton (@wilw) February 8, 2016
That Ant-Man & Hulk #CokeMini commercial was my fave of the night - everybody does love #PaulRudd

- Grace Randolph (@GraceRandolph) February 8, 2016
The Ant-Man/Hulk Coke spot just won #SB50 and now we need an Ant-Man/Hulk buddy comedy pic.twitter.com/7qykjlYa7v

- Tim Baysinger (@tim_bays) February 8, 2016
Ant-Man and Hulk fight over a Coke and don't you love it? You love it, right? Because you love it. So love it. #SB50

- cinemasins (@cinemasins) February 8, 2016
100s of thousands of dollars in property damage, possible loss of life, because Ant Man stole Hulk's coca cola. #SuperBowl

- Puppy Monkey Jones (@thecinemasnob) February 8, 2016
HULK AND ANT-MAN BROMANCE CONFIRMED

- #BlackComicsMonth (@SageTerrence) February 8, 2016