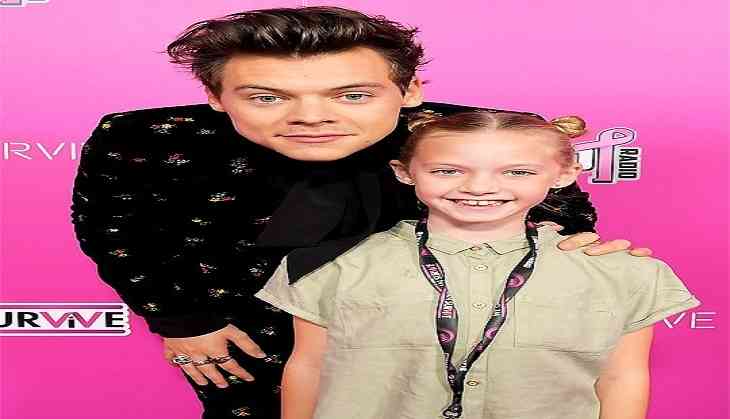 The former One Direction singer Harry Styles faced an embarrassing moment onstage during his 'We can survive' tour. Harry Styles was performing in L.A on 22 October when this incident took place. The singer was on his tour for spreading awareness regarding breast cancer, at the Hollywood Bowl.
This incident was captured on camera by someone in audience at the concert when Harry was singing 'Kiwi' his recent hit. Styles was kneeled down in front of the stage as usually they do while performing, when the overzealous fan reached out and grabbed his crotch. The singer was startled by the weird action and immediately got up.
Though he did not stop performing and continued as a professional proving that the show must go on. But clearly, the pop star was more careful during the later part of the concert as he avoided the going near the areas where fans were standing.


Harry was touched inappropriately during kiwi, absolutely disgusting. #WeCanSurvive pic.twitter.com/kdo6nv1i2m

— JustLikeAna (@kiwisbaby28) October 22, 2017
WTF!!! When your favorite artist is close to you, this does not justify you touching him in this way. #RespectHarry pic.twitter.com/0PdUGR6nN2

— ً (@___VXXIIS) October 22, 2017
After the #Metoo trending all over the internet, this incident took place just the next week. It seems there has been no impact of the world standing together against any sexual assault whatsoever. Twitter had a lot to say about the mishap that happened to one of the favourite One Direction star. It did not take much longer, when the hashtag #RespectHarry began to trend on Twitter. Fans took a stand for the singer and posted there opinions along the hashtag.
Check out Twitter reactions on the incident:
It's sad that we still have to do these trends cause people still can't respect Harry. Call this what it is. Sexual assault #RespectHarry

— nocontrolprojec (@NoControlProjec) October 22, 2017
Harry is NOT a womaniser or a sexual object! Please respect him ❤️he has a kind soul and doesn't deserve hate or any abuse #RespectHarry

— Alicia Jazmin Lexie. (@AliciaOffic) October 22, 2017
Harry Styles is not a womanizer and he is not a sexual object either. #RespectHarry https://t.co/hkvSEXa8L2

— Luke Waltham (@lukewaltham) October 22, 2017
Sunday reminder that @Harry_Styles loves you and wants you to treat people with kindness and respect, especially him. #RespectHarry pic.twitter.com/LALE5V5B3o

— Nellie (@SlowHandedWoman) October 22, 2017
harry is getting harassed in his own concerts whereas he's teaching you all about peace & love omfg#RespectHarry pic.twitter.com/VuEBhjuZcW

— Ameera🌹// 251 days (@issaharrys) October 22, 2017