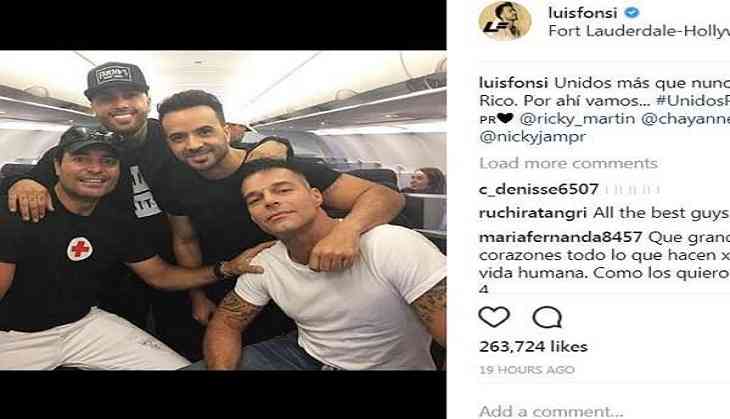 It now seems that celebrities are taking the matter in their own hands when it comes to provide aid to Puerto Rico.
Artists including Luis Fonsi, Ricky Martin, Nicky Jam, Chayanne and more stars all headed to Puerto Rico to help all of the victims of Hurricane Maria.
Chayanne shared a video that showed them putting water and other necessities on the back of a truck to go into the hands of those who need it most.
Ricky Martin also shared a photo on his Instagram page sitting near Chayanne, Nicky Jam and Luis Fonsi on the aircraft.
He captioned the snap, "Here we go #PuertoRico #allin4PR."
Fonsi also shared the same photo and captioned it as, "FINALLY WE ARRIVED. It's time to work. United we are bigger."
On Sunday, Jennifer Lopez also announced all of the efforts that she and boyfriend Alex Rodriguez had accomplished for the island.
She captioned the photo, "Last night!! #AllIhave for you Puerto Rico!! USD 1.5 million from me and @arod and working around the clock! More to come soon!! All good things! #loveoneanother #helponeanother."
Hurricane Maria has been the most powerful storm to hit Puerto Rico in almost a century.
The place is still facing a humanitarian crisis, and many of its people remain without power and water.
At least 16 people on the island have been reported killed and there was widespread damage to homes, roads and infrastructure.
-ANI