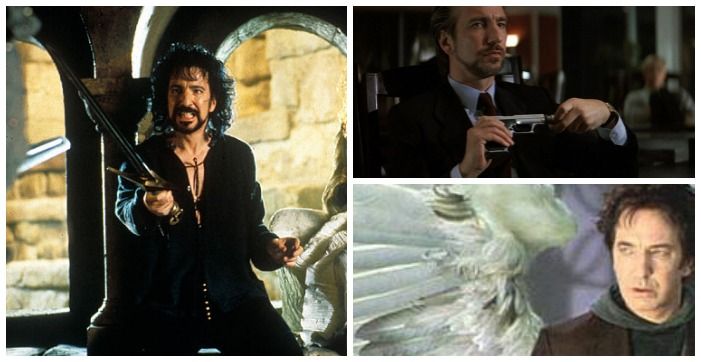 It is only 14 January 2016, and cancer has already claimed another British icon. Alan Rickman, British director and actor par extraordinaire succumbed to cancer at the age of 69 this Thursday.
While for most of us, Alan Rickman will go down in history with his portrayal of the very complex character of Professor Severus Snape of the Harry Potter series, it is pertinent that we shed light on the plethora of phenomenal work that he has left behind.
During his acting career that spanned 30 years, Alan Rickman has made his presence felt in mainstream cinema as well as on the stage as a part of the Royal Shakespeare Company. He shot to global acclaim in the year 1988 with Die Hard, in which he shone as Bruce Willis' adversary Hans Gruber.
While playing negative characters seemed to be his forte, his roles in Robin Hood: Prince of Thieves and Rasputin as proof, his portrayal of the quintessential family man in Love, Actually and the modest Col Brandon in Sense and Sensibility, have been extremely endearing.
Interestingly, Rickman also won the prestigious Golden Globes in 1996 for Best Actor in a Miniseries or Television Film for Rasputin: Dark Servant of Destiny.
He has also played the role of Metatron, the Voice of God, in the 1999 Ben Affleck and Matt Damon starrer Dogma. In Sweeney Todd: The Demon Barber of Fleet Street, he appeared as Judge Turpin and in Perfume: The Story of a Murderer, he fits perfectly into the shoes of a father, desperately trying to protect his daughter from the killer on the loose.
Despite the fact that Rickman made his mark in mainstream cinema, it was his contributions as a theater giant for which he was most well-loved. His performance in Les Liaisons Dangereuses won him well deserved accolades, including a Tony. He played the parts of Antony opposite Helen Mirren's Cleopatra, the title role in Ibsen's John Gabriel Borkman and also appeared on the Broadway production of Noel Coward's Private Lives. His Broadway stint also included his appearance in Seminar as a creative writing professor.
Alan Rickman's directorial ventures include the well loved Scottish drama The Winter Guest and A Little Chaos, starring Kate Winslet. Rickman also directed the award-winning play titled My Name is Rachel Corrie.
There almost isn't any realm that this incredibly talented actor as left unexplored. He lent his voice to Marvin, the Paranoid Android, in The Hitchikker's Guide To The Galaxy, and Absolem, the Blue Caterpillar in Tim Burton's rendition of Alice in Wonderland. He has also appeared in the music video for Texas's 2000 hit In Demand, and reappeared in another music video, replete with vocals this time around, in the year 2005.
Alan Rickman's acting talent spanned a variety of media, and his death marks the loss of an irreplaceable icon in the British arts.
Goodbye, Professor Alan "Metatron" Gruber of Nottingham.