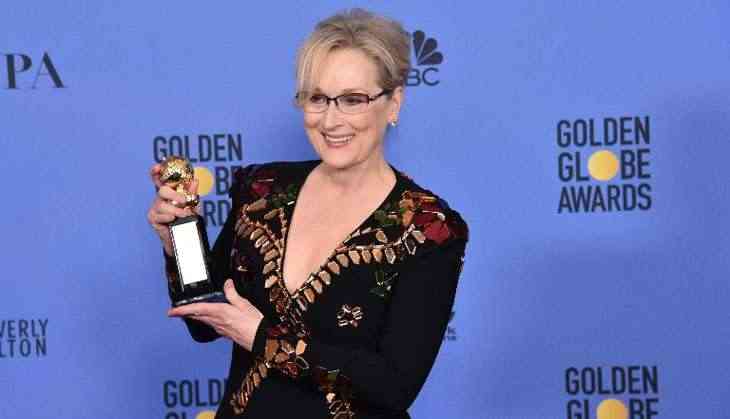 Two days after 'female empowerment' dominated the star-studded ceremony of 'Golden Globes', the #TIMESUP movement was still very much on stars' minds at the National Board of Review Awards.
To start the conversation at the awards, Meryl Streep did start the talking, but in a slightly different way.
According to The Hollywood Reporter, Streep took the stage to accept the award for Best Actress for her role in 'The Post' and took the opportunity to acknowledge and address both genders.
Streep started her speech by saying, "I love men. Yeah, I know it's the year of the woman and everything, but all of my mentors have been men."
Before signing off, the legendary actress threw in an anecdote that came from Daniel Ellsberg, who was the whistle-blower from the Pentagon Papers.
She said, "You know, this moment for women? This #MeToo? This Time's Up? This is your Pentagon Papers moment."
The 'Florence Foster Jenkins' star ended her speech with a message to all the ladies out there and said, "I think the movie really did meet its moment in time, and the time's up. So let's go, girls!"
Female-driven storytelling was recognized throughout the awards, whose winners were announced in November. 'Lady Bird's Greta Gerwig triumphed in best director, while 'Wonder Woman' director Patty Jenkins and star Gal Gadot were given the Spotlight Award for the superhero movie's accomplishments.
Here's the full list of winners:
Best film: The Post
Best director: Greta Gerwig, 'Lady Bird'
Best actor: Tom Hanks, 'The Post'
Best actress: Meryl Streep, 'The Post'
Best supporting actor: Willem Dafoe, 'The Florida Project'
Best supporting actress: Laurie Metcalf, 'Lady Bird'
Best original screenplay: Paul Thomas Anderson, 'Phantom Thread'
Best adapted screenplay: Scott Neustadter & Michael H. Weber, 'The Disaster Artist'
Best animated feature: 'Coco'
Best breakthrough performance: Timothee Chalamet, 'Call Me By Your Name'
Best directorial debut: Jordan Peele, 'Get Out'
Best foreign language film: 'Foxtrot'
Best documentary: 'Jane'
Best ensemble: 'Get Out'
Spotlight Award: Patty Jenkins and Gal Gadot, 'Wonder Woman'
NBR Freedom of Expression Award: Angelina Jolie and Loung Ung, 'First They Killed My Father'; John Ridley, 'Let It Fall: Los Angeles 1982-1992'.
--ANI