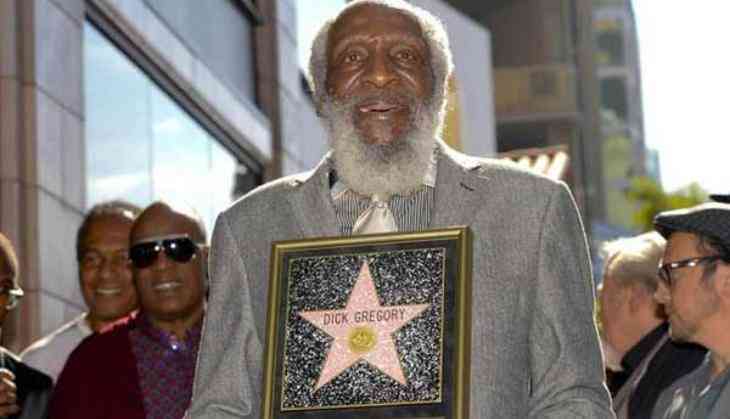 Legendary comedian and civil rights activist Dick Gregory dies at 84
Dick Gregory, known for his groundbreaking comedy, who parlayed his career as a stand-up into a life of social and political activism, died Saturday of heart failure. He was 84.
According to The Hollywood Reporter, the comedian's son confirmed the news of his death by issuing an emotional statement via his father's representative.
The statement read, "It is with enormous sadness that the Gregory family confirms that their father, comedic legend and civil rights activist Mr Dick Gregory departed this earth tonight in Washington, D.C. The family appreciates the outpouring of support and love and respectfully asks for their privacy as they grieve during this very difficult time."
As per the statement, Gregory was recently hospitalised.
Stefe Jaffe, who was his publicist for nearly 50 years shared that a full statement and details of Gregory's funeral will be released Sunday.
Richard Claxton Gregory was born October 12, 1932, in St. Louis. Raised by his single mother, Lucille, he did odd jobs to help support his family and used humour as a defence against the neighbourhood bullies.
Regarded as the first African-American comic to perform regularly in front of white audiences, Gregory appeared on all of the top TV talk shows of the 1960s and '70s.
The St. Louis native cynically satirised racism and other social ills during his routines. As a way to mine his always timely material, Gregory followed a lifelong habit of stripping articles out of newspapers and magazines.
Gregory's big break came in 1961 when he was booked into the Playboy Club in downtown Chicago as a one-night replacement for Professor Irwin Corey, a white comic who didn't want to work seven nights a week.
He stayed on at the Playboy Club for three weeks, which turned into three years and the attention got him a profile in Time magazine.
He was invited to perform on 'The Tonight Show' in 1962, but Gregory said he wouldn't go unless he was able to sit down next to host Jack Paar after his routine and be interviewed.
After the Tonight Show appearance, Gregory noted that his salary jumped from 250 USD for seven nights of work (three shows a night) at the Playboy Club to 5,000 USD a night.
The actor also ran for mayor of Chicago in 1967 but lost to Richard Daley, then entered the race for U.S. president a year later.
Survivors include his wife Lillian, a secretary whom he had met at a club in Chicago. They were married in 1959 and had 11 children.
-ANI