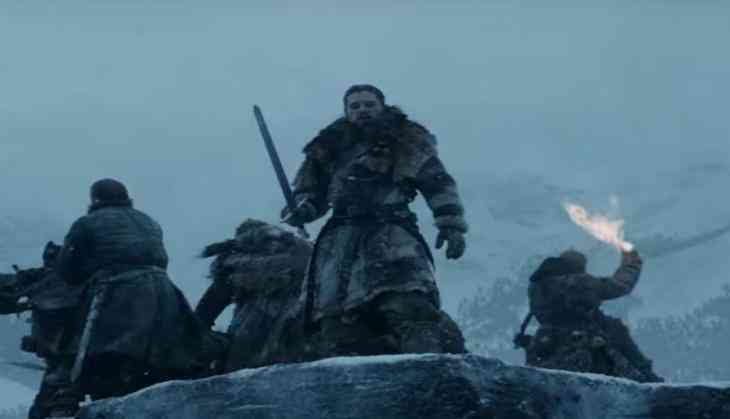 HBO blockbuster series 'Game of Thrones' has been an achievement since its inception.
And it is not just with the television ratings, but also with the visuals that they show to capture the imagination of a person.
Episode six of Season 7 of the series showed the company led by 'King of the North' Jon Snow in a battle with the White Walkers on a frozen lake.
Yesterday, the official YouTube channel of 'Game of Thrones' uploaded 'Inside the Episode' video showing how the makers made a 'fake' frozen lake to stage such a fantastical scene.
The visual effects team used three and a half thousand bags of fake snow to build a fake lake to bring reality to the scene.
The work done the visual effects team was so good that one of the actors Kristofer Hivju, who portrays the role of Tormund, confessed the lake to be a real one.
The video also revealed that how the makers made a wight bear and why they wanted to have him in the show since long.
Even in the Episode 4 of the series` ongoing season, the team had to use a lot of effects to show the fire breathing dragon laying wrath on the armies of Lannisters and Tarly.
In the video, Alan Taylor discussed how tricky it can be to tell a story amid stuntman and green screen chaos.
The director said that their "story is seven guys on a rock being attacked by wights, and trying to tell the clear story that your task is to defend a perimeter and, as you lose, your perimeter's going to fall back and fall back - [so it's about] how do you hold order against pure chaos?"
Not just the effects, the prosthetics they use for making 'White Walkers' nearly took five-six hours for the actors to put on and then move to the set.
The make-up department had to make duplicate prosthetics for each and every white walker they shot with, which took almost four weeks to complete.
'Game of Thrones' returns with the season finale episode this Sunday.
-ANI