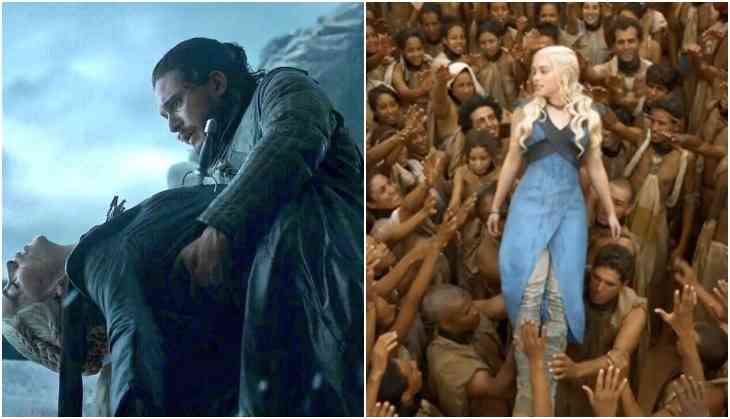 Game Of Thrones has been the most discussed and loved series in the whole world and after following the journey of 8 seasons, now finally the climax of the show has come out. Well, we have a major spoiler for the fans who are keen to watch the last and climax episode of Game Of Thrones.
Well, It's over, actually Not. The final and last season of Game Of Thrones comes to an end on last Sunday (Monday for Indian viewers). This has really become trouble for the Indian fans as the spoilers for the show have started coming. The hardcore fans of the show will surely get disappointed with a major spoiler of the show.
sometimes Duty is the death of love
#GameOfThrones pic.twitter.com/j6pFoLuYMv

— 𝔸𝔹𝔸𝔸𝔻𝕀 V (@Sileo_ksa) May 20, 2019
Joking aside, I believe a lot of ppl on the production crew of #GameOfThrones would've greatly benefited from, at least, one more season of well paced writing that worked well with their award winning set piece action.

These were the real heroes. D&D really did them dirty. pic.twitter.com/bkRXUcvBGd

— Alexander Heller (@AFXHeller) May 20, 2019
Some pictures of the show are getting viral on social media and that is the proof that one of the most loved characters Daenerys Targaryen has died in the climax episode. There is a picture that is rounding on social media where Daenerys Targaryen can be seen in Jon Snow's arms having a knife in her back. It is somehow like Baahubali first ending for Game Of Thrones.
May this shot be studied in film schools forever #GameofThrones pic.twitter.com/l27M40IHXV

— Syd ☀️ (@SydReviews) May 20, 2019
This surely disappoints the fans who wanted to see Daenerys Targaryen sitting on the throne. Well, it didn't happen and Jon Snow, the another most loved character is also not going to sit on the throne if believe to the rumours and the theories coming out just before the premiere of the last episode in India.