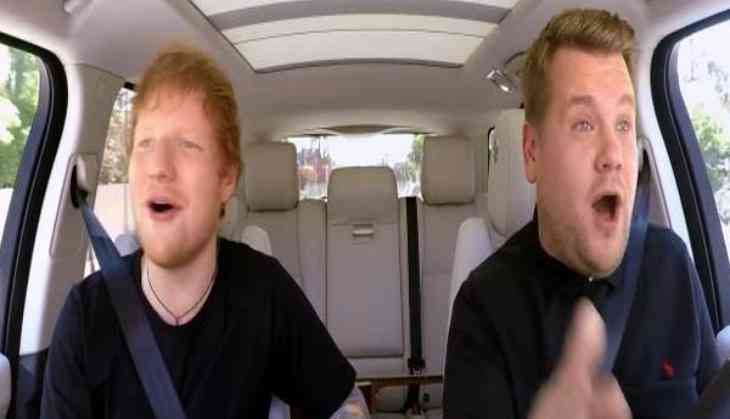 Ed Sheeran joins James Corden for a 'Carpool Karaoke' (ANI)
Singer Ed Sheeran was the latest one to join 'Late Late Show' host James Corden for his ' Carpool Karaoke' segment.
The video, posted on 'The Late Late Show with James Corden' YouTube channel, shows Corden putting on Sheeran's hit 'Shape of You,' as he picks the latter up for hitting the roads.
"I told you it's a sexy song," the host said as Sheeran reached over and placed his hand on Corden's thigh.
Other songs performed included 'SING' and acoustic performances of 'Will Your Mouth Still Remember the Taste of my Love?', Justin Bieber's 'Love Yourself,' and One Direction's 'What Makes You Beautiful.'
The duo also had a contest to see who could fit the most Maltese chocolates in their mouth, with Sheeran coming out the victor as he managed to cram in 55 of the treats in his mouth.
On a related note, Corden, opened his Tuesday night show on the rainy streets of London with a message of defiance and unity. His show will remain in London throughout the week. This came following the terror attacks in the last two weeks during an Ariana Grande concert in Manchester and near the London Bridge.
"I'm so sad when I think about all the times since I took this job that I had to open our show talking about such atrocities. Trying to find the right words to say is impossible because there are none," the host, who is from London, said in an advanced clip released on Tuesday. "But this time it felt incredibly close to home."
"Some people might say it's a strange time to do a variety show from this city," he added. "I couldn't disagree more."
-ANI